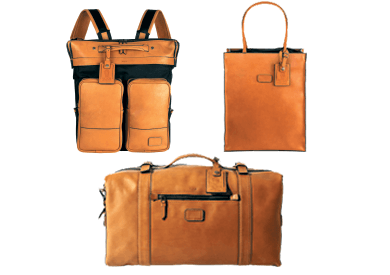 Celebrating 40 years of American travel accessory label Tumi
FAMED for its ultra-resilient suitcases and travel bags made from ballistic nylon, Tumi has been endearing itself to fans for decades. The brand was founded in 1975 by Charlie Clifford, who went on a stint with the Peace Corps in Peru and was inspired to name the company after a Peruvian ceremonial knife.
Tumi started out as an importer of leather goods from South America to the United States, with Clifford's vision being to revolutionise travel through the introduction of stylish, functional and durable bags and accessories that would make life on the road easier and more enjoyable.
Nowadays, Tumi not only produces suitcases and bags, but a variety of accessories including belts, pens and electronic equipment. It has become a mainstay in departmental stores and has over 120 stores in 75 countries around the world.
To mark its 40th anniversary, Tumi has unveiled an exclusive limited edition collection called 1975 — the embodiment of meticulous craftsmanship, technical innovation and functional superiority, paying homage to the brand's heritage and original designs. Each piece within the collection is crafted from natural, full grain cowhide leather incorporated with ballistic nylon.
The anniversary event took place at The Gardens Mall in Mid Valley City, Kuala Lumpur, last Monday, and saw the introduction of three new "global citizens" — a term Tumi uses to refer to its brand ambassadors — from the Asia-Pacific region. Each individual is a leader and influencer in his respective field, travels frequently and do so with the aid of Tumi products.
Hailing from Malaysia, Vincent Tan and brothers Bryan and Ryan Loo make up Tumi's first global citizen trio. Bryan is the chief executive officer of Taiwanese bubble tea brand Chatime in Malaysia while Ryan and Tan are the founders of The Capsule Hotel, a unique hospitality concept originating from the Japanese idea of living large on a tiny footprint. Inspired by travel and architecture, the brothers' newest venture in partnership with Bryan is a socially responsible hotel called The Container.
In Hong Kong, Benedict and Jamie Ku are seen as the city's trendsetting couple and embody the definition of global citizen. Always on the go, the creative director and managing partner, respectively, of Buzz Concepts bring the authenticity of other destinations to Hong Kong through the creation of unique entertainment spaces where other global citizens can converge.
Seoul sisters Ji Yeon and Ji Seon Lee are the creators of Korean fashion label J Apostrophe. The brand is inspired by a feminine avant-garde and is created for modern women around the world. The fashionable duo travel frequently to New York, Hong Kong, Milan and beyond to research trends and get inspired.
All brand ambassadors use Tumi products during their hectic work schedule travelling around the world.
"It is as if Tumi bags have been designed with our busy schedules in mind, which is very rare. All the tools and gadgets we need to bring our ideas to life are perfectly organised and accessible," says Bryan.
During the 40th anniversary event, customers got the rare opportunity to "travel through time" by witnessing 40 years' worth of Tumi design ingenuity — innovative, forward thinking designs that have helped and continued to drive Tumi to be where it is today. In addition to this was a special showcase of creations by renowned product designers who were invited by Tumi to imagine what the next generation of travel and lifestyle bags would look like.
---
Tumi's 1975 collection is now available at Tumi stores across the country. For a list of store locations or to purchase products online, please visit www.tumi.my.
This article first appeared in The Edge Financial Daily, on April 23, 2015.