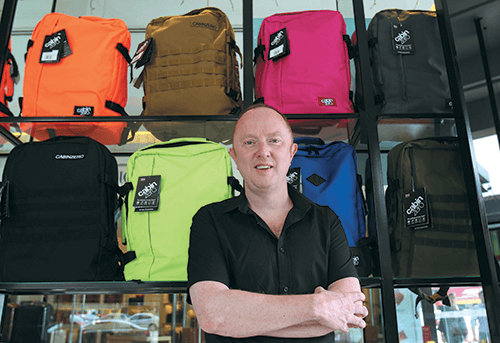 WHEN Neil Varden took his first trip to India in 1993 after finishing university to "find himself", he never thought that the six weeks would affect the course of his life, but it did. What he also found was — apart from a love and fascination for the South Asian nations — that he hated travelling with the large backpack he had to lug around for the trip. 
"It had an external frame," says Varden, who is British. "It was way too much and it broke," he recounts. 
Nevertheless, he was determined to go back to India, this time with a better bag. Within six months he was back, visiting places like Manali, Dahamsala, Amritsar, Madras and Sri Lanka. This time, he went with a large travel bag with an internal frame. 
"And again, something broke," adds Varden, "It is really disappointing when you're travelling for months on end, for a bag to break within a week or two into it. In those days in India, it was very difficult to get replacements." 
Once more, while enjoying his favourite goan prawn curry on the shores of Anjuna Beach, he decided he needed a smaller and more lightweight backpack. After that second six-month trip, Varden took yet another trip back to India, this time with that lightweight and lockable bag he had in mind.  
The accumulated year-long adventure in India would ignite his passion for travelling, but also birth his "zero hassle" motto. "I decided then that for me the best way to travel is to go 'minimalist', with a small bag and ideally not having to check it in," says Varden.  
More than 11 years after, the former IT graduate designed and created the CabinZero classic, the lightweight cabin-sized backpack he had fruitlessly tried to find years ago. Retelling his story to live it! while on a recent visit to Kuala Lumpur, the former IT graduate shares that his unforgettable first travels to India and the burgeoning shift to low-cost airlines inspired him to create that ideal backpack he had in the back of his mind years ago. 
"The design is inspired by the airlines, according to the dimensions, to make sure it will fit," says Varden of CabinZero's simplistic shape.  
"People are less keen to pay the extra fees for the low-cost airlines… so you don't want to be carrying a trolley bag which might weigh 50% of your [handcarry] allowance," he adds, pointing out that he made sure his bag designs weighed below one kilogram at around 650g to 700g each. 
Currently based in China, Varden confesses that the design process was a long one, mainly due to difficulty in finding the right manufacturer. "It was like a hobby that turned into a nightmare, really," he quipped, "I didn't know anything about making bags." But the one thing he was determined about was the quality. "For me personally, because of my story, quality is so, so important. If anyone has that problem, it's like a no quibbles guarantee," he adds. 
The first bags were launched in 2012, and soon Varden found that he had a following. So confident is he that 
CabinZero offers a 10-year guarantee to his customers, with an extension to 25 years if they 'like' the brand's page on Facebook. "Touch wood, we haven't had a problem," he says with a smile. 
The idea is simplicity, and this extends from aesthetics to the functionality, with all its three styles and two different-sized bags. "We keep it quite simple, mainly two inside pockets and one laptop sleeve pocket," explains Varden. He says that the classic style is still their bestseller, while the vintage leather look and military style with webbing on the front provides variety. 
The water-resistant bags also come with a unique code which can be registered online. This allows a pairing and connecting of any kind-hearted finders to owners of the lost CabinZero backpack. The system also links directly to airlines' baggage tracing systems. While Varden is adamant that the bags are not meant for checking in, if it is and the airline loses it, the tracer will help the retrieval process.  
Having been personally testing an upcoming yet-to-be launched messenger-style bag, Varden is excited about the next stage of products and accessories for CabinZero. Working with a UK design team, he admits that while he is anti-trolley bag, it will nevertheless be on the cards. "I get asked that a lot," he smiles in resignation, "I am not keen to do it, but it will definitely happen. But not for a while." 
He also hopes to introduce unique designs or products catering to specific markets in the 20 over countries that carry the brand's bags. In Japan especially, he observes that corporate workers use the backpacks for work commute rather than travel. "Some also use it as a gym bag," points out Varden. 
An advocate for travelling "as light as possible", Varden insists that the world is now global enough that one doesn't need to bring much at all. 
"I think too many toiletries is just ridiculous, and too many clothes as well. People don't need everything that they use back home. If I need something, I'll buy it. I enjoy going shopping! So why not?" he reiterates. 
If he had it his way, Varden would be travelling without any luggage at all. "My big problem now is that I have to travel on business," he laments, "So I have to take things with me, which is a pain really. I wish I could just go somewhere with one of our smaller version [bags]. Just a couple of days' worth of clothes, a pair of trainers and wear my flip flops on the go." 
---
CabinZero bags are available in Acquire, Bangsar Village II, Bangsar Baru, KL as well as in a pop-up store on the ground floor of the same mall. For more information, call (03) 2287 1261. To learn more about CabinZero, visit www.cabinzero.com.
This article first appeared in The Edge Financial Daily, on June 10, 2015.