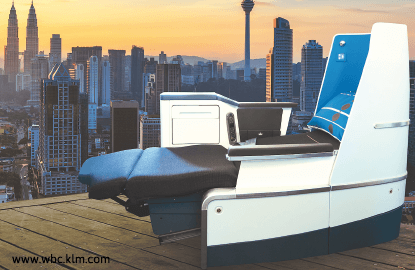 This article first appeared in The Edge Financial Daily, on April 11, 2016.
Long haul flights can take a toll on travellers and no one likes arriving at their destination weary from travel. If you are flying with KLM Royal Dutch Airlines, expect to travel in unbelievable comfort with the new World Business Class (WBC) seats.
"We are excited to present the KLM World Business Class seat as it is now commercially available on KLM flights from Malaysia. I believe our customers will appreciate and enjoy the new features and design while travelling on board with us," said Aude-Lise Combier, the Malaysia country manager for Air France KLM at the Dutch airline's pop-up event in The Gardens Mall last month.
For the ultimate in comfort, try out the KLM's new full-flat sleeper seat for a well-rested and comfortable journey, which are being gradually equipped on the B777-200ER and B777-300ER flights. Enjoy your flight reclined fully flat on a bed position, with a pillow and snooze or check out in-flight entertainment on the 17-inch touch screen. The new design also boasts a privacy screen between seats, a nifty storage section for your personal belongings and in-seat power outlets to charge your devices for a worry-free journey. 
The refurbished WBC cabin interior features new carpeting, panel decorations, curtains, lighting, blankets and cushions, using warm colour palette and sustainable material to transit its look from the traditional business formal style.
The airline has partnered a number of Dutch designers in the refurbishment of the cabin. In a move to make travellers' time in the flight more pleasurable, the basic necessities are taken up a notch by combining practicality with aesthetics. Hella Jongerius designed for the carpets, curtains, pillows and full-flat seat, Marcel Wanders crafted the tableware and Viktor & Rolf came up with the chic amenity kits. The meals on board are prepared in cooperation with Michelin-awarded Dutch top chefs while the wines are selected by famous wine specialist Hubrecht Duijker. 
Carbon footprint is inevitable in the aviation industry but KLM Royal Dutch Airlines strives to do as much it can to mitigate the effects of carbon emission. "Sustainability and corporate social responsibility is a key aspect for the group. We have retained our position as best sustainable airlines, awarded by the Dow Jones Sustainability Index over the past 11 years," says Combier as she explains the sustainability efforts practiced by the airline. 
Besides the upcycled carpeting that is manufactured using high-quality recycled material (including old KLM stewardess uniforms used to spin new yarns which were then incorporated into the blue details of the carpet), "We pay a lot of attention, as well, to the weight of the tableware, the trolley and so on by switching to something stronger yet lighter. We can save 100kg per flight," explains Combier. A lighter flight reduced the amount of fuel burned to operate it and subsequently lower carbon emission levels.
---
Visit wbc.klm.com for more information on KLM's World Business Class seats.