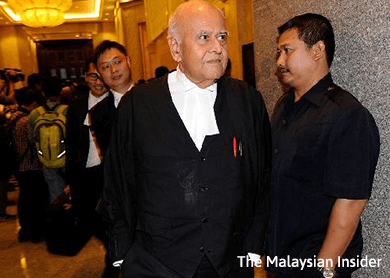 (July 23): It is unfair for the Immigration Department to bar citizens from going abroad without giving reasons, a retired judge and lawyers said, adding that the freedom to travel is a fundamental right enshrined in the Federal Constitution subject to limitations.
Aggrieved parties should challenge such arbitrary decisions so that the court can determine the limits to the powers of any arm of the government, they said.
Retired Federal Court judge Datuk Seri Gopal Sri Ram said the right to travel was a fundamental right but it had to be balanced with security of the nation and existing  laws.
"If a criminal is charged and wants to escape, the department can stop him from traveling," he said.
A group of citizens who wanted to travel for the purpose of participating in illegal activities could also be stopped.
"This is good reason to stop them from going overseas because their action may have some prejudicial effect on the nation," he added.
However, the authorities could not strip a person's right to travel without reason, as this would be unfair and an abuse of power, he said.
Sri Ram said this in response to Petaling Jaya Utara MP Tony Pua who was stopped by Immigration officials from boarding a flight to Indonesia at the klia2 terminal yesterday.
Others who are said to be under travel bans are Pandan MP Rafizi Ramli and The Edge Media Group owner Datuk Tong Kooi Ong.
A few civil society activists as well as PKR's Batu MP Chua Tian Chang, better known as Tian Chua, are also said to be under travel bans. Some of them are not under a complete ban, however, and in some cases are only prevented from traveling to either Sabah or Sarawak.
Sri Ram, who left the bench in 2010, said the aggrieved parties should file for a judicial review.
"There is only one case on this matter but the court ruled in favour of the authorities because the appellant had a criminal case," he said, adding that it must be tested again whether the rights to travel had been violated.
Sri Ram said the department had a duty to inform those who had been blacklisted by serving a notice.
"This is a civilised thing to do the moment such decision is made. The aggrieved party has a legitimate expectation ," he said.  
Lawyer S.N. Nair described what happened to Pua at the airport was a form of arrest because the MP's movement was restricted.
"By not allowing him to travel, it is arguably in a larger sense a form of arrest to keep him within the country," he added.
Nair said Pua must file an action to review the administrative decision of the department.
"He should also ask for damages for any loss suffered as a result of being absent from his overseas assignment," Nair, said, adding that on the face of it Pua's case was an arbitrary abuse of power.
Lawyers for Liberty executive director, Eric Paulsen, yesterday said such action against Pua, Rafizi and Tong appeared to be politically motivated due to their criticism and exposes on 1Malaysia Development Bhd (1MDB).
Lawyer Syahredzan Johan said the Immigration department director general had power to stop citizens from leaving the country but it must be based on specific laws when it involved income tax evasion or failure to repay government education loans.
"The department can blacklist a person if the Inland Revenue Board inform them that a certain person should be prevented from traveling overseas for failure to settle income tax," he said.
Syahredzan said travel ban could also be issued if the National Higher Education Fund Corporation (PTPTN) authorities gave the nod on those who refused to settle their educational loans.
The activists who are reportedly under a limited travel ban are Bersih 2.0's Maria China Abdullah, Negara-Ku patron Datuk Ambiga Sreenevasan, and Hishamuddin Rais. They have been told to refer to the nearest Immigration office if they wanted to go abroad.
Also said to be blacklisted is SRC International Sdn Bhd managing director and former 1MDB chief investment officer Nik Faisal Kamal Ariff. – The Malaysian Insider