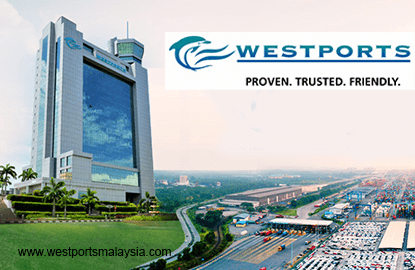 KUALA LUMPUR (Aug 6): Westports Holdings Bhd said today that the Transport Ministry has approved its 15% container tariff hike that will take effect on Sept 1 (first phase).
Also approved was its second phase tariff hike of another 15% that will take place on Sept 1, 2018.
The revised tariff covers container terminal handling charges for import, export, transhipment, shifting and restow, storage charge for container and handling charge for heavy lift or uncontainerised cargo, said Westports in its filing on Bursa Malaysia today.
Westports said the container tariff revision has been approved and was gazetted on June 12 and Aug 3 this year and the letter of approval from the ministry, dated Aug 5, was addressed to Port Klang Authority.
"The revised tariff covers many components and the phased implementation is to ensure that sufficient notice has been given to industry players to realign their processes," said Westports.
"The tariff revision is crucial to ensure the future growth of Port Klang, which has always been supply-driven on terminal facilities and expansion. Port Klang was ranked the world's number 12th busiest port in 2014. It will remain as one of the most efficient and competitive ports in the region," it added.
The last revision of the key container tariff items at Port Klang was about 14 years ago, it also noted.
At the midday break, Westports was up nine sen or 2.15% at RM4.28, with 2.68 million shares done. The current price gives it a market capitalisation of RM14.6 billion.