This article first appeared in The Edge Financial Daily, on November 27, 2019.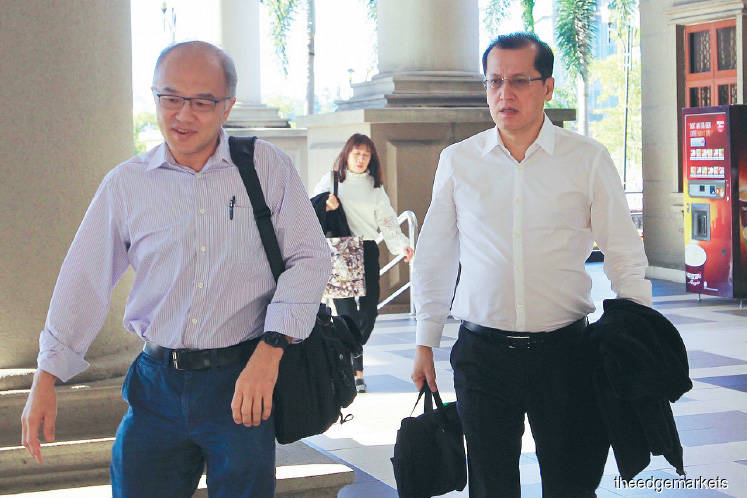 Gan (right) arriving at the Kuala Lumpur Courts Complex yesterday. The Transmile accounting scandal took place more than a decade ago. Photo by Shahrin Yahya
KUALA LUMPUR: Transmile Group Bhd founder Gan Boon Aun had advanced at least RM35 million of his own money to 20 different dormant firms, only for the amount to be transferred back to a subsidiary of Transmile, to show auditors that the company had business transactions, the Sessions Court heard yesterday.
Deputy Public Prosecutor (DPP) Mohd Hafiz Mohd Yusof showed to the court Gan's bank statements and how the money was first transferred to a third-party company called Primatasi Sdn Bhd before being distributed to the 20 firms, which had an issued capital of only RM2 each.
The amount was then transferred back to Transmile Air Services Sdn Bhd to make it seem like there were business transactions between the companies, Mohd Hafiz said during his cross-examination of Gan.
The DPP also pointed out that one of the directors of Primatasi was Gan's cousin Gan Beng Luan.
"I am suggesting to you that all these payments were done to show to auditors that Transmile had genuine transactions with these fictitious companies," Mohd Hafiz told Gan.
"I disagree. Without the payment vouchers [and] charter contract agreement, I cannot verify [these transactions]," Gan replied.
Mohd Hafiz then said: "I am suggesting to you that you have in fact made some advances to the company to sort out the accounts of the company."
But Gan again disagreed.
Gan, also formerly the chief executive officer of Transmile, on Nov 6 pleaded guilty to an alternative charge of being a director of Transmile when the company, with intent to deceive, furnished a misleading statement to Bursa Malaysia in 2006.
However, he denied certain facts of the case presented by the prosecution. He claimed that he did not have any knowledge of the accounting issues — untrue statements and irregular transactions — prior to Transmile reporting its quarterly results to Bursa.
As a result, the court rejected Gan's guilty plea on the grounds that the plea was made with certain repudiations of the facts of the case.
Sessions Court Judge Hasbullah Adam fixed Jan 10 for further hearing of the case.
The Transmile accounting scandal took place more than a decade ago.
In April 2007, Transmile's external auditor Deloitte found something amiss in the company's accounts and refused to sign off the financial year 2006 (FY06) accounts due to a lack of supporting documents for certain transactions.
The auditor found itself unable to obtain relevant supporting documentation from the management for certain transactions linked to trade receivables and related sales. Deloitte was also unsatisfied with the validity of transactions done in relation to property, plant and equipment.
Subsequently, Transmile's revenue was found to be overstated by more than RM500 million for FY05 and FY06. An investigation was launched and a special audit was conducted.