This article first appeared in The Edge Financial Daily, on July 11, 2019.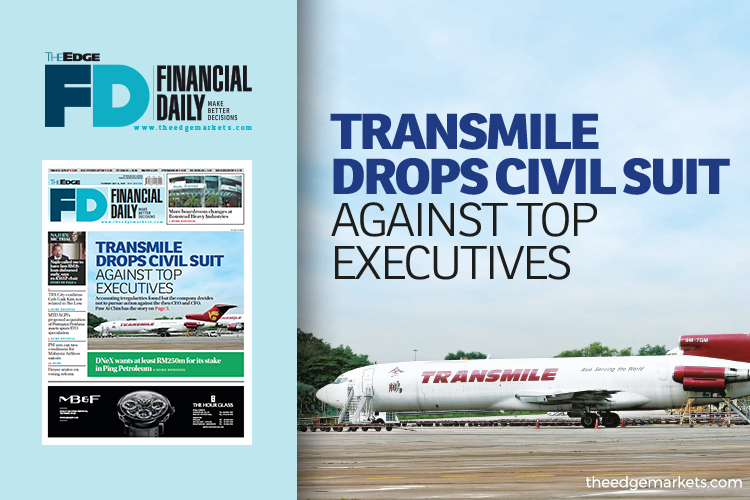 KUALA LUMPUR: Transmile Group Bhd has decided to withdraw its suit against its former chief executive officer (CEO) Gan Boon Aun and former chief financial officer (CFO) Lo Chok Ping for failing in their judicial duties and trust towards the company.
The firm was embroiled in an accounting scandal 15 years ago that was viewed as one of the worst corporate scandals in recent corporate history.
The withdrawal came after the decision by shareholders at the company's extraordinary general meeting last month. However, the rationale to drop the lawsuit was unknown at press time.
A filing with the Companies Commission of Malaysia showed as at end-2017, some 52.86% stake in Transmile stated as "others". Trinity Coral Sdn Bhd, controlled by tycoon Robert Kuok, held a 17.16% stake, followed by Kuok Brothers Sdn Bhd (0.83%) and Pos Malaysia Bhd (9.18%).
It is also not known which shareholders supported the decision to withdraw the lawsuit.
When contacted, lawyer Rodney Gan Pei Rong, who appeared on behalf of Transmile Group Bhd and Transmile Management Sdn Bhd, confirmed the matter.
Rodney said a Notice of Discontinuance was filed in the High Court yesterday, and High Court Judge Datuk Ahmad Bache gave no order as to costs.
Counsel Talitha Shim, representing Lo, when contacted confirmed the withdrawal as well.
Air cargo firm Transmile filed a civil suit against Boon Aun and Lo for failing in their duties and trust towards the company in April 2010.
Boon Aun, currently facing criminal charges related to the accounting scandal, and Lo were named the first and second defendants in the suit.
In 2010, Transmile claimed Boon Aun and Lo had breached their duty of fidelity and trust to the company by grossly overstating its revenue and making questionable payments and receipts pertaining to transactions between Transmile's two wholly-owned subsidiaries — Transmile Air Services Sdn Bhd and Grouptech Sdn Bhd — and several third parties.
Transmile also claimed the defendants breached their duty of care for failing to put in place proper internal controls. In the same suit, Boon Aun was named solely for breach of fiduciary duty.
"These breaches by the defendants have caused the company to suffer loss and damage, such as exposing the company to inquiries and prosecution by regulatory authorities, causing the company to suffer reputational loss thereby affecting its future business prospects and ability to generate income, and causing the company to be classified as an affected company under Practice Note 17 of Bursa Malaysia Securities Bhd as a result of the company defaulting on its loan repayments," said the air cargo firm then.
The company is claiming for damages to be assessed and paid by the defendants and/or by each of them in such proportion as may be determined by the High Court. It is also claiming RM10.6 million in special damages from the duo.
To recap, in April 2007, Transmile's external auditor Deloitte found something amiss in the company's accounts and refused to sign off the financial year 2006 (FY06) accounts due to a lack of supporting documents for certain transactions.
The auditor found itself unable to obtain relevant supporting documentation from the management for certain transactions linked to trade receivables and related sales. Deloitte was also unsatisfied with the validity of transactions done in relation to property, plant and equipment.
Subsequently, Transmile's revenue was found overstated by more than half a billion for FY05 and FY06. An investigation was launched and a special audit conducted.
Boon Aun, Lo and former executive director Khiudin Mohamed were slapped with criminal charges too.
In July 2007, Boon Aun, Lo and Khiudin were charged with abetting the company in making a misleading statement to Bursa in its quarterly report. The trio claimed trial.
In May 2008, the prosecution withdrew the charge against Lo after he paid a compound of RM700,000. Khiudin was acquitted of the charge in 2016.
Boon Aun was called to answer his case by the Sessions Court on March 16, 2011. The trial of the case before Judge Hasbullah Adam will resume on Oct 22 and 23.