This article first appeared in City & Country, The Edge Malaysia Weekly, on December 7, 2020 - December 13, 2020.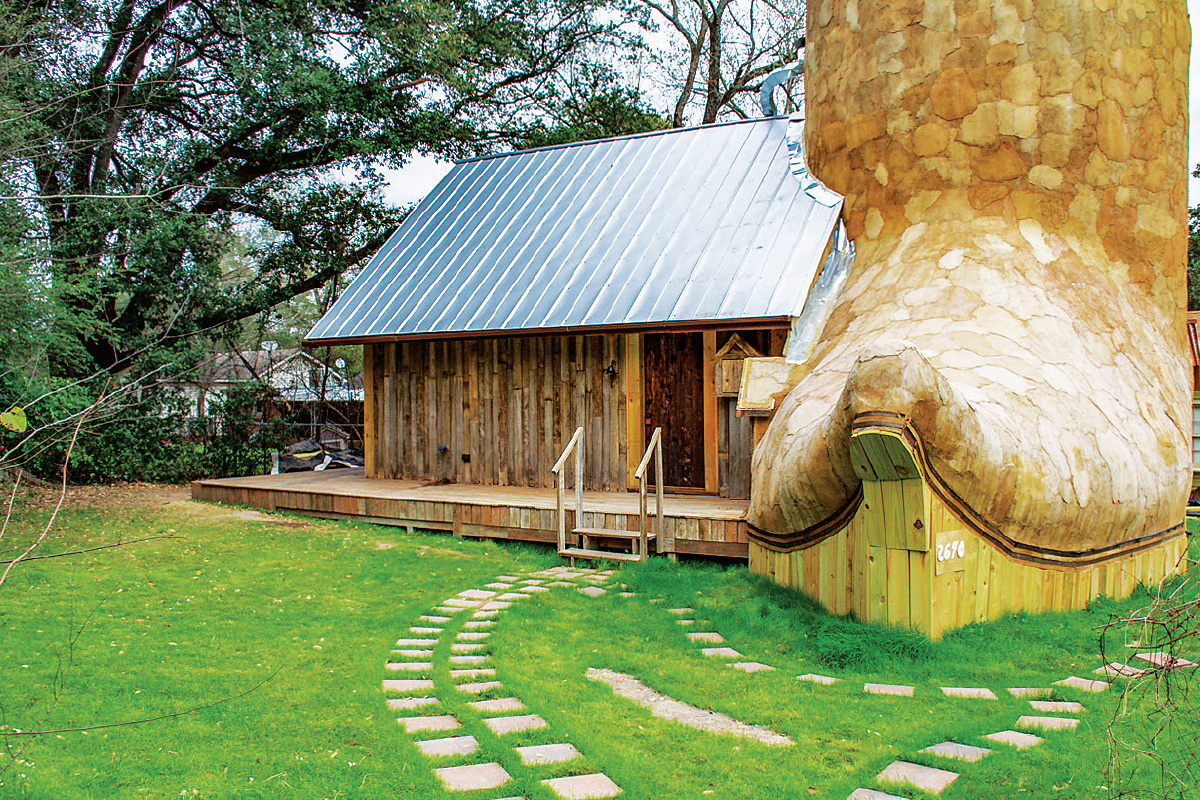 For most people, things such as licence plates, used lumber, bottle caps and shards of ceramic tiles and mirrors are trash. For Dan Phillips, however, founder of a for-profit construction company known as Phoenix Commotion in Huntsville, Texas, these items are treasures and can be used as construction material to build affordable houses.
"I have always suspected that an entire house could be constructed from what went into the landfill. As a child, I went to the dump and came home with many things, and they were free. It's amazing what people throw away. As this idea percolated over the years, it became a no-brainer to build a house from recycled materials," says Phillips.
These days, materials must be sourced before they reach the landfill, he adds, as municipalities do not allow scavenging because of potential liability. "But it is easy enough. You just put the word out that you are looking for a sink, a toilet, used lumber … whatever that can be used in building a house."
He believes that everyone wants to be a builder but many get sidetracked. He never lost touch with this dream, however, and 20 years ago, he and his wife, Marsha, resolved to build houses using recycled materials.
And so, Phoenix Commotion was born. Phillips is the lead craftsman and mentor to his employees. His other roles in the company include making design decisions, developing the plans required to obtain a building permit, arranging for financing and sourcing for materials. Marsha helps with designs and gives him feedback.
"Marsha is the only one I trust to give me a straight answer. She is always honest in giving me feedback on the designs. She also kept the home fires burning when we were just starting out," says Phillips.
The company targets three groups — single parents, low-income families and artists. "Deteriorated neighbourhoods are typically low-cost, and that is where houses are needed. So, I decided to target underserved populations and hire only unskilled workers. Essentially, I am using one social problem to solve another, but the main mission is to keep usable building materials out of the landfill," says Phillips.
Since the company's inception two decades ago, he has successfully completed many beautiful and unique houses. While making the houses look exceptional, he also ensures that they meet the local building code.
"It is a continual challenge to make sure the houses we build are sustainable and also pass the building code. Working with the inspectors helped tremendously. They are always on board and want us to be successful, but in a code-compliant way," says Phillips.
Another challenge is financing. "The banks want to know how much money I need, which is reasonable. But predicting the amount is difficult. Although the materials are largely free and the labour force is at a minimum wage, financing is still needed, as some things have to be purchased," he explains.
Looking at the houses that he has constructed, it is surprising to learn that Phillips has no knowledge or experience in engineering, architecture or construction.
He did a bachelor's degree in English Literature, then a master's degree and a doctorate in dance. His work experience includes riding in the rodeo, driving a cab, travelling with a carnival, working for the forest service and being a dance instructor at Sam Houston State University. During the Cold War, he did intelligence work in West Berlin as an interpreter/translator.
After he resigned from his job as a dance instructor and before starting Phoenix Commotion, he started a business with Marsha restoring artworks and antiques. "That experience served me well as I developed a feeling for rescuing degraded building materials," he says.
The way the company operates is either by building for a client or building to sell for anyone. "In the latter scenario, we build knowing that the houses can be sold because the selling price is below market. We can do that because, well, we can!" says Phillips.
"There is no way to predict what a house will sell for, but generally, the price tag is between US$40 and US$60 psf."
As for the land that the houses sit on, he says it is either bought by the company, owned by the client, or deeded over to him with the proviso that the land owners will be compensated for it once the house is sold.
Apart from building houses, Phillips has been the artistic director for Smither Park, a folk-art park in Houston, for the past seven years. Recently, Sam Houston State University commissioned him to install 65 mosaic medallions from recycled materials. He also developed 25 riddles, with the answers to be embedded in the mosaics.
A boot, a hat and a house on a tree
Among the many houses that Phillips has built, three significant structures are the Boot House, Hat House and Tree House. These houses are named after their shape and location: the Boot House is a scaled-up version of Marsha's boot, the roof of the Hat House is shaped exactly like a cowboy hat, and the Tree House is on a sprawling Bois d'arc tree.
Other houses include the Cork House (built mainly out of wine corks), Bone House (with furniture, door handles and decorative items made out of animal bones) and License Plate House (with a roof made out of licence plates).
Completed in 2006, the 320 sq ft Tree House has an adjoining art studio. The first issue to overcome was obtaining a building permit, and every project requires a blueprint to get one, says Phillips.
"We were on ladders and ropes, and hanging from branches 35 ft off the ground to get measurements for the foundation of the tree. Finally, I asked the inspector whether we could simply build the platform and then make the blueprint. He agreed. It was a relief!"
The second issue was the lack of technical information on how to safely penetrate a tree. The advice from arborists and the local forester was to predrill holes, use stainless steel lag screws and pull the drill bit out of the tree immediately, as it would start closing in and heal.
Once the tree house started to take shape, Phillips says, they relied on the advice of the inspectors, all of whom were seasoned builders, got the roof on and installed the undercovering with suspended scaffolding.
For the sewer, the pipe is run under the causeway approach of the house into a lift station and then to the street.
Phillips says the Bois d'arc tree does not grow straight but twists, weaves and curls. Thus, the branches are used for the balustrade, closet door and railing up to the second storey of the house, where the bedroom, with a wine cork floor, is located.
For the Boot House, Phillips says he had always wanted to build a house that looked like a shoe, based on the nursery rhyme, "There was an old woman who lived in a shoe".
"When you build round, everything changes. But the majority of the materials were recycled. We made use of warped lumber and basically sculpted the house," he says.
The 900 sq ft house was completed in 2017 and the team worked closely with inspectors to achieve the shape while still being compliant with the building code.
"During construction, we walked back and forth across the street to make sure it looked like a boot. After all, if it didn't look like a boot, we would have failed. It was very stressful and involved a lot of trial and error," says Phillips.
The material used for the exterior of the Boot House is stucco while 60% to 70% of the framework used framing lumber.
With that project complete, Phillips resolved to build a house that looked like a cowboy hat on the vacant lot next to the Boot House. The 900 sq ft Hat House was completed in 2018.
"Like Boot House, we used a cowboy hat as a model and scaled it up. The material used was stucco, over a system of struts and expanded steel," he says, adding that many parts of the Bois d'arc were used for the spiral staircase that leads up to the deck on top of the hat.
The major problem to solve was the pitch on the roof. "It had to have enough pitch so that rain would not pond, and yet still look like a hat. Ultimately, we ended up installing three layers of room to get it to drain properly," Phillips explains.
For the wall coverings, discarded highway signs, road maps and derelict fencing were used, while the bathroom is covered with mirror shards.
Phillips is currently repairing his own house as the Covid-19 pandemic has stalled everything and there are no plans yet for other projects.