This article first appeared in The Edge Financial Daily, on September 30, 2019.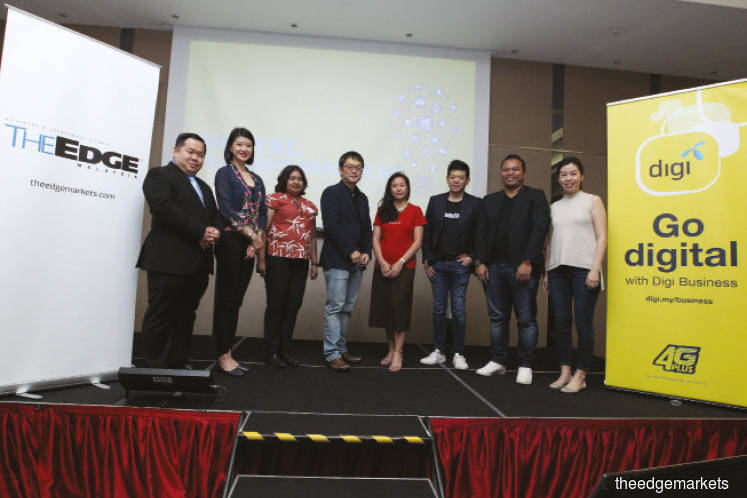 (From left) Lim, Low, Enterprise editor Jennifer Jacobs, Teh, Worq co-founder and CEO Stephanie Ping, Leow, Baiza, and The Edge Communications Sdn Bhd general manager for advertising and marketing Fong Lai Kuan at The-Edge Digi forum in Kuala Lumpur on Saturday.
KUALA LUMPUR: While the pace of change is accelerating and many companies are becoming roadkill on the information superhighway, there is still time for small and medium enterprises (SMEs) to transform and hop on the digital bandwagon. And with all the help available (some of it for free), their digital journeys need not be either difficult or expensive.
Digi Telecommunications Sdn Bhd chief business officer Eugene Teh said the company adapted the nature of its business based on insights into mobile phone usage.
In his session entitled "Digital Transformation: Getting it Right", Teh said that based on global studies and research, mobile phone users touch their phones 2,617 times and spend an average of 150 minutes on their phones.
He was speaking at The Edge-Digi forum on "Digital Transformation: Myths, Realities and Relevance" here on Saturday.
"We used to hear people talk about laptop and internet penetration, but recently I don't think we hear it as much anymore because what we see is that the smartphone has taken over. In fact, 93% of all Malaysians access the Internet via their smartphones," he said.
The insights pushed Digi to rethink its customer interaction.
"Whether it's with a customer on the website or a customer that needs to pay bills or a customer complaining to customer service, it has to be mobile first. An example is the MyDigi app, which today has three million monthly active users," said Teh.
"It was initially used to check their data quota or to pay bills, but now we are also using it to manage complaints," he said.
Digi also changed the way its partners reach and acquire customers, said Teh.
Digi has about 10,000 people who represent the company and sell its plans nationwide, which Digi has now moved fully on to its Mobile Sales App.
"Whether it's on a mobile phone or tablet, now the sales process for Digi is 100% paperless. They can sell a prepaid line in 20 seconds and a post-paid line in two minutes," Teh said.
Next up was Ficus Venture Capital Sdn Bhd co-founder and managing director Baiza Bain, who spoke about the "Digitalisation of SMEs for regional market access and scale-up".
He said that incredibly, while Malaysians spent nearly US$2 billion on online purchases just last year, SME Corp Malaysia had revealed that just 44% of Malaysian businesses provide e-commerce solutions.
"Malaysians clearly love to shop online, and they spend primarily on travel, accommodation, flights, fashion and, of course, electronics. But what I find quite disheartening is that while just 44% of local businesses use e-commerce, the data show that another 33% don't plan to include an e-commerce element into their businesses," he said.
He said there is a number of possible reasons for this. Having engaged with countless businesses in the course of his career as a venture capitalist and previously as the head of private equity at a large, locally-founded international bank, he said business owners are still put off by the so-called "techno-babble" that they have come to associate with the technology and start-up scene.
"But in truth, e-commerce isn't at all difficult to understand or implement into your business. If you ever intend to venture into the e-commerce space, I recommend that you attend the host of free, e-commerce workshops that are conducted by major online marketplaces like Lazada and Shoppee. A lot of these courses are free of charge because they are constantly trying to attract more vendors to sell on their platforms," he said.
In many ways, technology has redefined human connections. Intelligent interfaces improve engagement patterns, allowing for more seamless methods of interaction.
All these advancements have enhanced how humans build connections, said Joan Low, the founder and chief executive officer (CEO) of Thoughtfull World Pte Ltd, during her presentation entitled "Mental health: Can human connections be digitised?"
"Regardless of what industry you are in, be it healthcare, manufacturing or retail, we all depend on customers.
"Those days, we knocked on doors, asked friends and family or even looked into Yellow Pages to look for prospects. We asked them for lunch and for coffee and even remembered their spouses' birthdays. We looked for as many ways as possible to establish relationships," she said.
Today, the human touch is still relevant despite the continual improvement in technology, added Low, who runs a mission-led start-up focusing on mental health.
"Why do we still have to do this even though we have technology? It is because at the very core and foundation of the business client acquisition and client retention cycle lie human connections and emotional connections.
"This is something that technology is yet to replace. But what it can do is enhance these interactions by 10, 20 or 50 times more than what it used to be. Technology has helped us to build deeper and more meaningful relationships in a shorter period and at a faster rate," she said.
Traditionally, companies scale beyond their home countries' shores only after they have already secured a relatively strong market share there. This was not the case for personalised photo book service provider Photobook Worldwide.
Its CEO Leow Wee Jonn said that being a fully digital company, Photobook had to expand to other countries to find more business.
"I think a lot of people would think that naturally, companies would only start embarking on a global expansion because they are already doing very well. For Photobook, it was the complete opposite. Malaysia was a tough place to do online business back in the mid to late 2000s when the company was founded.
"The business has been fully online from day one. Back then, getting someone to send their most private photos and provide their credit card details to another party online was very tough. However, we took the risk because we believe we have a solid product. And being a fully digital company, scaling is not as challenging as it would be if we were an offline business," said Leow.
This is why the company expanded to Australia and Canada, which proved to be much better markets compared to Malaysia.
"It was only from 2013 onwards that the proliferation of the Internet, logistic providers and payment options made Southeast Asia a very good market for e-commerce players like us," said Leow.
Although the company is statistically successful today — having completed more than five million orders to-date — Leow stressed that its digital journey was not a straight line.
The company had to fail and scrap many previous products to be able to finally identify what consumers wanted and see how they could provide it. For instance, it failed to introduce a mobile app for the platform twice. Only the third version of the app was successful, said Leow.
"Many people assume that once they have a good idea and develop this idea into an app, for example, it will immediately be downloaded more than five million times region-wide. If this is the case, then many of us would be billionaires by now. It is not that simple; we have to fail many times before getting it right. Thankfully, we did not give up. If not, we may not be able to be where we are now," said Leow.
How can entrepreneurs be successful in their digital transformation?
Leow advised founders, CEOs or anyone with a leadership role in a company to be obsessive about their digital journey.
"When I am obsessed with something, I think about it day and night, I talk about it to all my family members and friends, and I constantly look it up online to learn more about it.
"To me, obsession is good because when we spend so much on it, we are able to become subject matter experts within days," said Leow.  
The need to find solutions would also help in navigating the tough terrain that is the world of business today.
The final speaker, Michael Lim, Crowe Growth Consulting Sdn Bhd's managing director who spoke on "Transformers: Myth or reality? Navigating through today's disruptions", pointed out that businesses are either disrupting others or getting disrupted, so they should review their strategies to ensure success.
Lim suggested business owners review their resources — relationships, ideas, capital and entrepreneurs — and adopt strategies relevant to their businesses. For instance, companies that have ideas, entrepreneurs and relationships with active users should adopt the commercialisation strategy. If they can use these resources to innovate, they will naturally attract capital.
"Opportunity seekers are those that have cash but no entrepreneurs. An example is Alibaba, which acquired Lazada. The cost of building an e-commerce website and acquiring users is high. [But] Alibaba has capital and e-commerce is something it does very well. [So instead of competing with Lazada in Southeast Asia,] it acquired Lazada," Lim said.
Meanwhile, old companies that have plenty of relationships and capital but are dying will need revitalisation. Sometimes, this could mean looking for people with ideas from another industry or selling existing intellectual property to revitalise the business.
Finally, those that have ideas and talent but no relationships or capital will have to hustle.
"These entrepreneurs will go pitching almost every week. If you don't have relationships but you have a great idea and people, you've got to be an entrepreneur," he pointed out.