This article first appeared in The Edge Malaysia Weekly, on March 16, 2020 - March 22, 2020.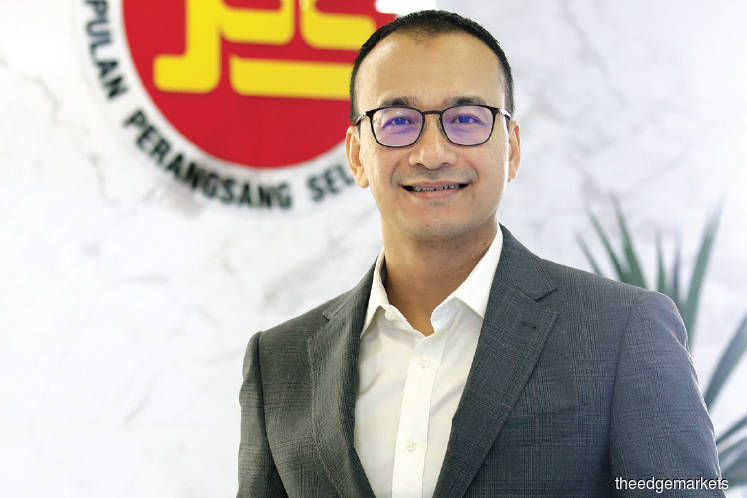 Fariz: We are a public-listed company first, in the way we operate
Photo by Sam Fong/The Edge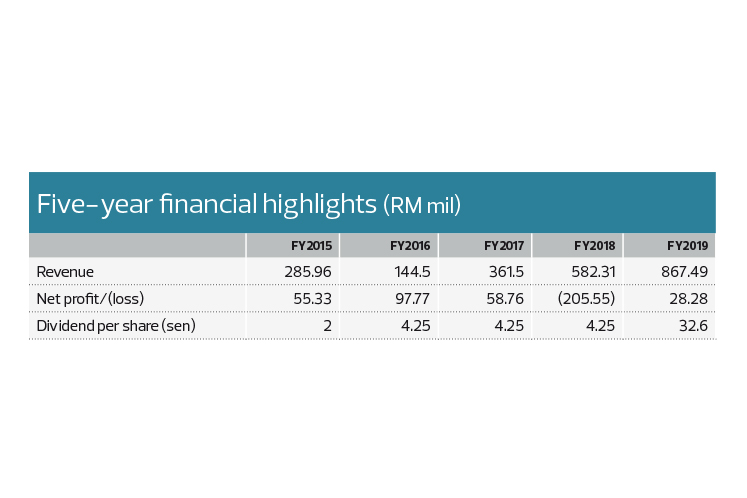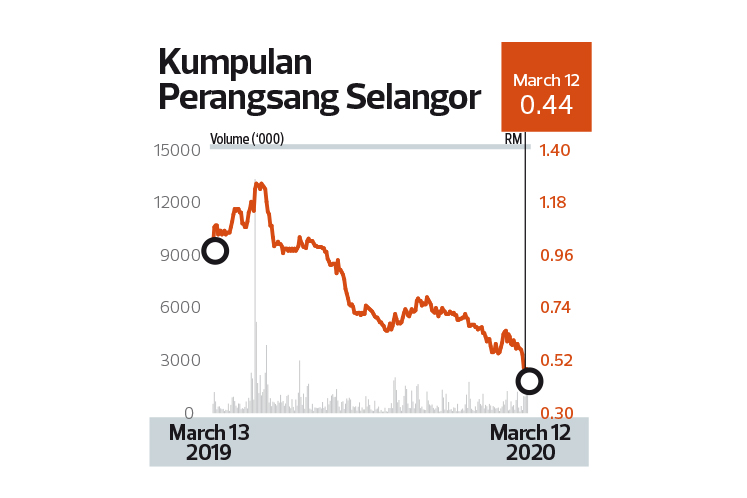 Source: Bloomberg
KUMPULAN Perangsang Selangor Bhd (KPS), controlled by the Selangor government, has morphed into a company that is unlike the infrastructure and utility player it was not too long ago. Since 2016, under its business transformation plan (BTP), KPS has been busy making acquisitions in new fields to create sustainable income for the group.
Indeed, four years of hard work have paid off. KPS now believes it has the numbers and a strong investment portfolio to convince investors and the public that it has turned into a company with a regional business presence.
"We don't own Selangor assets anymore and we don't generate anything from the state. We have done so many acquisitions [in recent years] and none of them is a Selangor-related or Selangor-influenced investment," managing director and group CEO Ahmad Fariz Hassan tells The Edge in an interview.
"We are a public-listed company first ... in the way we operate. I'm happy that we have not been influenced or given handouts [because of our Selangor-linked status]. We want to show people that we can stand on our own two feet."
After a blip that saw KPS record a net loss of RM205.55 million in its financial year ended Dec 31, 2018 (FY2018), the company returned to the black in FY2019 with a net profit of RM28.28 million. The net loss in FY2018 was attributed to the loss of share of associates, specifically from the sale of Syarikat Pengeluar Air Selangor Holdings Bhd to Pengurusan Air Selangor Sdn Bhd.
Currently, KPS is heavily invested in the manufacturing sector but the investment holding company also has several other divisions such as trading, licensing and infrastructure.
Its latest acquisition is an 85% stake in Taspack Industrial Sdn Bhd, through its wholly-owned subsidiary Century Bond Bhd (CBB), in November last year. Taspack is involved in the end-to-end production of offset carton boxes and in printing instruction manuals for the manufacturing sector.
The new business, says Fariz, complements that of CBB. Complementarity is an important aspect of KPS' acquisition decisions. "Our acquisitions are done very selectively and they have to be investments that make sense to us, where they build on the base that we have already built," Fariz explains.
Last year, KPS also acquired Toyoplas Manufacturing (M) Sdn Bhd, an end-to-end plastic injection and moulding solutions provider. It is in the same industry as KPS' subsidiary CPI (Penang) Sdn Bhd, which it had acquired a year earlier.
Fariz deems the current investments in KPS' portfolio as a "comfortable" number. Thus, the group is in no hurry to buy more companies this year, although it will be on the lookout for opportunities that represent a good fit.
KPS' gearing stands at 0.7 times at present, which, Fariz says, the company plans to pare down to 0.2 times over the next five years. Its cash and bank balances and short-term funds stood at RM271.76 million as at Dec 31, 2019, while borrowings totalled RM616.61 million.
"We go into companies where we know we can take on the debt or companies that have strong enough cash flow to cover the debt. So right now, we are looking at ways to address the debt level so that it improves our return on equity. The focus from this year is to improve our ROE," explains Fariz.
RM1 billion revenue target for 2020
KPS is on track to achieve revenue of RM1 billion this year, which is one of the five targets its major shareholder set for the group when the BTP was rolled out. Revenue rose 49% year on year to RM867.49 million in FY2019.
KPS' single largest shareholder is Selangor state-owned Darul Ehsan Investment Group Bhd with a 57.9% stake while Perbadanan Kemajuan Negeri Selangor holds 5.5%.
"We are fairly confident that we can achieve the (RM1 billion revenue) target but we are also cognisant of how the Covid-19 outbreak will impact us," says Fariz.
The epidemic has impacted its manufacturing business. Its recent acquisition, Toyoplus Manufacturing, has plants in Shanghai, Dongguan and Nanning in China. Like other factories, they were instructed by the Chinese government to stop operations for seven days, which cost KPS some RM4 million in revenue, Fariz points out.
"But what is of more concern — and we are preparing ourselves for the possibility — is if this (epidemic) prolongs. We will probably have more clarity of the situation during the second quarter.
"It's a global issue affecting manufacturers all the way to end users. So, I think we will be able to see what the impact is in the second quarter. By then, we will have a better idea of how worried we should be about this," he says.
On its part, KPS has in place contingency plans to mitigate the impact of Covid-19 on the group's revenue.
What happens after the group meets its RM1 billion revenue target? Realistically, investors will not be able to see 49% growth every year, Fariz says, adding that such a rate of growth is not sustainable. The group's recent fast-growing revenue has been largely contributed by its new business additions each year.
However, he notes that even without the acquisitions, the companies in KPS' portfolio have been growing organically, by 14% a year, as well.
"All the companies that we buy must be able to stand on their own. Then, we will see if there are opportunities to create 'monsters' from the companies that we have. That's where the synergies come in. You will still see growth in both KPS' top and bottom lines."
In the manufacturing division, besides companies like Toyoplus, Taspack, CBB and CPI, KPS also has Kaiserkorp Corp Sdn Bhd, which owns King Koil Licensing Co Inc. It has set up its first manufacturing facility in Phoenix, Arizona, and secured a spot in the stores of a major retailer in the US.
Potential of other divisions
KPS is not putting all its eggs in one basket. There are other businesses that it has been working hard on, one of which is infrastructure, under which sits its pipe replacement and rehabilitation subsidiary Smartpipe Technology Sdn Bhd. This company has signed a joint-venture agreement with Menteri Besar Kedah Inc to address the state's non-revenue water and to ensure sustainable water solutions. They are in the midst of finalising a deal.
Fariz says Smartpipe is also in talks with other states whose authorities are keen to collaborate. However, the country's current political situation may scuttle KPS' plan.
"We are still hoping that things will go through as planned. We have a number [of plans with Kedah] and the projects are worth a significant amount. If it happens, I'm fairly confident that we can hit the RM1 billion revenue target," says Fariz.
The general rule of thumb is RM1 million for 1km of pipe replacement.
On the proposed acquisition of its associate Sistem Penyuraian Trafik KL Barat Sdn Bhd (SPRINT) by the Minister of Finance Inc for RM1.98 billion, Fariz says the deal is still pending. However, KPS is not too concerned about it.
"SPRINT contributed RM7 million to RM8 million to group profit last year. Based on our calculations, if we receive the purchase consideration and if we receive approval to use that money to pare down debts, we will probably net off RM9 million in interest charges. So, it roughly works out to be the same amount as profits.
"But I guess cash flow-wise, it's better [to dispose of it] because we don't have the actual RM9 million in interest charges going out. So, if it happens, great. If it doesn't, we will continue to keep it on our books," Fariz explains.
That said, he is realistic that this year is going to be a challenging one because of the external headwinds and domestic concerns. KPS is working hard at what is within its control — costs.
"We have to ensure that we still can protect and conserve the margins we have projected. We are developing our team members as well. And when all these headwinds blow over, we are ready to take KPS to the next level," says Fariz.