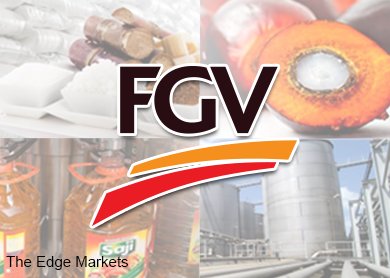 KUALA LUMPUR (Nov 27): Felda Global Ventures Holdings Bhd (FGV) ( Financial Dashboard) slipped into the red for the first time since its listing on June 26, 2013, posting a net loss of RM9.33 milion for the third quarter ended Sept 30, 2014 (3QFY14) from a RM22.9 million net profit a year ago, dragged down by higher commodity futures trading losses and fair value changes in land lease agreement (LLA) liability.
In a statement to Bursa Malaysia today, FGV said higher finance costs and taxes also led to the group's first quarterly loss.
Revenue for 3QFY14 was, however, higher at RM4.32 billion, versus RM3.22 billion a year ago.
FGV said commodity trading losses for 3QFY14 rose to RM105.5 million from RM237,000 a year ago, while fair value changes in LLA liability increased to RM98.9 million from RM41.05 million.
FGV's cumulative nine-month net profit fell to RM286.16 million, from RM482.33 million a year earlier. Revenue however climbed to RM12.13 billion, from RM8.89 billion.
In a separate statement, FGV Group President and Chief Executive Officer Datuk Mohd Emir Mavani Abdullah said 3QFY14 revenue growth came on consolidation of Felda Holdings Bhd (FHB) and Pontian United Plantations Bhd's (PUP) income.
"Not only has the injection of FHB and PUP into FGV had an immediate, positive impact on the group's revenues, it has also allowed FGV to acquire greater alignment and control of the entire plantation value chain, and attain higher operational efficiencies and synergies," Mohd Emir said.
Looking ahead, he said FGV's revenue could gain from higher crude palm oil (CPO) prices in the coming quarters.
Mohd Emir said CPO export tax exemption and biodiesel policies would also support FGV's outlook.
"Revenue growth is anticipated to increase, as CPO prices are expected to continue rising into the first quarter of next year (2015).
At the same time, ongoing acquisitions of palm plantations with the optimal age profile, as well as our annual replanting programme of 15,000ha, will continue to ensure FGV's plantation profile and yields steadily improve in the years ahead, Mohd Emir said.
FGV shares fell 10 sen or 3% at 12.30pm to settle at RM3.40, for a market capitalisation of RM12.4 billion.
The stock has declined 24% this year, underperforming the FBM KLCI's 2% loss.