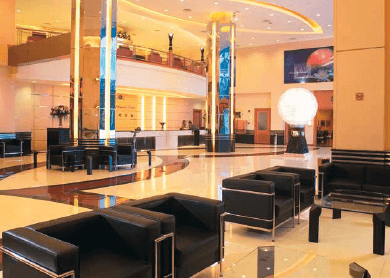 IN this world nothing can be said to be certain, except death and taxes, or so the saying goes. This is why some analysts and investors believe in Nirvana Asia Ltd, the largest integrated death care service provider in Asia.
While it did not get off to a good start when it listed on the Hong Kong Stock Exchange last December — it hit a low of HK$1.71 on
Dec 30, far off its issue price of HK$3 — Nirvana has recovered and has been trending upwards this month. It closed at HK$2.69 last Friday. Its average trading volume since listing has been 10 million shares.
Industry observers believe Nirvana, like many other Hong Kong-listed companies, is benefiting from a recent move by the authorities to allow Chinese mutual funds to invest in Hong Kong stocks.
Additionally, analysts covering the company think it still has upside potential, given its attractive valuation. "Nirvana is trading at a forward price-earnings ratio (PER) of about 16 times, which is below the global average of about 23 times. The stock, I believe, is undervalued," says an analyst with a foreign research house.
"It is more an earnings growth stock than a dividend play. Having said that, its dividend payout has not been shabby. The company has a 30% dividend policy and I reckon that it paid out better-than-expected dividends [in FY2014] to make up for foreign exchange losses. Its earnings are mostly in ringgit but the earnings numbers are in US dollars. So, its growth is actually higher than what you see on paper."
The group proposed a dividend of HK$0.05 per share, representing 48.6% of the profit for the year, attributable to the owners of the company in FY2014. At its close last Friday, Nirvana's dividend yield stood at 1.86%.
Analysts polled by Bloomberg have a "buy" call on it with a 12-month consensus target price of HK$3.48.
In a May 5 note, UBS Research says from a valuation perspective, the company looks attractive at its present level. "In terms of its forward (2015/2016) PER, it is trading at a significant discount to its global peers. This is unjustified as Nirvana's 2015/2016 net profit growth of 24%/20% is comparable, if not superior, to that of its regional peers (based on consensus estimates): Fu Shou Yuan (26%/21%); Lung Yen (12%/21%); and Invocare (11%/11%)," it adds.
Earnings-wise, the group's total adjusted profit for the financial year ended Dec 31, 2014 (FY2014), attributable to the owners of the company, was US$44.6 million, up 28.5% from FY2013.
As at Dec 31, 2014, the group had net cash of US$214.8 million versus net debt of US$3.4 million in 2013.
"It is a cash business," says the analyst with the foreign research house, adding that the group's cash pile is from its recent initial public offering.
The business itself is an interesting business, the analyst points out. "The whole idea of pre-selling works out quite well, given the pricing, which means solid margins. Nirvana uses an agency model, which helps lower costs and increase margins. It sells through agents and incentivises them to drive the business. This helps manage the fixed operating cost quite well as the agents are only paid when they make a sale.
"Additionally, the penetration rate of pre-selling remains low in Nirvana's main markets of Malaysia and Singapore. In this country, the penetration rate is less than 6% and in Singapore, it is less than 2%. So, there is potential there," he says.
Nirvana's pre-need sales accounted for 83.8% of its US$206.7 million contract sales in FY2014 while as-need sales contributed 16.2%.
In FY2014, Nirvana saw its gross margin rise 0.9 percentage point year on year to 70.5%. Executive director Jeff Kong says the improvement was driven by product mix, selling price growth and economies of scale. "We have achieved high economies of scale through the multiple locations we operate in and we have managed to reduce the cost of sales over revenue by continuously improving our site development and land utilisation plans.
"We used to buy small pieces of land but now with better financial strength, thanks to our IPO proceeds, we can buy bigger and more strategic land that will boost our margins," he says, adding that the group has a total landbank of 2.2 million sq m.
"Currently, Nirvana has a network of 11 cemeteries, 12 columbarium facilities, six on-site crematoria and two funeral homes in Malaysia, Indonesia, Singapore and Thailand. We aim to capture a bigger market share for our businesses in Malaysia, Singapore, Indonesia, Thailand and China through expansion. Leveraging our extensive operational know-how, we trust we can replicate our proven business model in both our home market and new markets across Asia," Kong tells The Edge over the telephone.
He notes that for now, the group is operating only in east Jakarta. "We are acquiring land in west Jakarta and exploring investment possibilities in other locations with a significant Chinese population, such as Medan and Surabaya."
Nirvana opened a cemetery near Bangkok, Thailand, in March and has extended its reach to Huizhou, China, where it plans to commence operations in the third quarter of the year. According to Kong, the group is actively pursuing growth opportunities in new locations in China, Vietnam, Indonesia and Malaysia. "We achieved encouraging sales growth in 1Q2015 and earlier in the year, the company was named Best Small Cap by Hong Kong's FinanceAsia," he says.
In its first quarter ended March 31, 2015, Nirvana's contract sales rose 11.3% to US$40.2 million. In ringgit terms, contract sales increased 22.3% to RM145.7 million, thanks to stronger sales in Malaysia, Singapore and Indonesia. The death care service provider has not released its financial results for 2015 as Hong Kong-listed companies announce theirs every six months.
On the performance of its IPO, Kong says it is difficult to pinpoint the reason for the decline in Nirvana's shares. "…it could be due to various factors, such as stock market sentiment and US dollar fluctuations. While the depreciating ringgit will impact us on the reporting front, we raised HK$2 billion in IPO proceeds last December. We plan to spend about US$81 million on expansion this year, which means our cost of investment in ringgit, Singapore dollars and rupiah is now cheaper."
Meanwhile, UBS Research expects the death care sector to be resilient, particularly in the as-need market where demand is inelastic. "We expect Nirvana to extend its dominance in the Malaysia and Singapore markets, and increase its regional footprint over the next three years, where we estimate it will achieve an earnings compound annual growth rate of 17%. We believe the successful implementation of Nirvana's regional expansion initiatives will be the key driver of the stock," it says.
Nirvana was listed on Bursa Malaysia as NV Multi Corp in 2000. However, it was taken private by group managing director and CEO Datuk Kong Hon Kong and Portwell Investments Ltd in 2010 at 78 sen a share due to low trading volume. The stock was trading at 64 sen apiece on the day before the privatisation offer.
This article first appeared in The Edge Malaysia Weekly, on May 25 - 31, 2015.