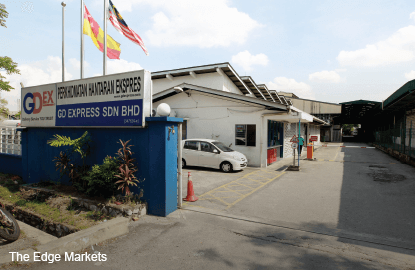 This article first appeared in The Edge Malaysia Weekly, on February 22-28, 2016
On the cover of GD Express Carrier Bhd's (GDex) latest annual report is the carefully chosen image of a charging bull, not unlike Wall Street's famous bronze statue near the New York Stock Exchange. In good times, the bull is a symbol of the kind of "boundless energy" that, according to GDex, has helped it post record profits and its shares to rally since its listing in 2005. In bad times, the bull shows GDex's "raw power" to tackle problems head-on.
Such spirit must have its admirers, one of which, it appears, is Yamato Asia Pte Ltd. This Japan-based company, which forked out RM549.8 million to become GDex's second largest shareholder, is also in the business of door-to-door parcel delivery. Last month, GDex offered Yamato up to a 10% stake or 124.89 million shares in the company through a private placement at RM1.74 apiece. Two weeks later, Yamato raised its stake to 22.84% after purchasing another 53.7 million shares from GDex's managing director Teong Teck Lean and 137.4 million shares from Singapore Post Ltd (SingPost).
At RM1.74 each, the shares have been valued by Yamato at over 70 times FY2015 earnings. This price, derived from the five-day volume weighted average price, is not far from what the shares would have fetched on the open market.
GDex posted a 26% increase in net profit to RM6.3 million in the first quarter ended Sept 30, 2015 (1Q2016), while its top line grew 17.6% — growth rates that investors have come to expect of the company. It can actually boast compound annual growth rates of 36.4% for its profit and 19.2% for its revenue over a six-year period. But even with such robust growth rates, GDex's earnings have yet to catch up with its valuations.
As a fund manager points out, "It is true that the parcel delivery business is growing. Assuming that GDex can achieve double-digit growth in earnings every year, it will need four to five years to halve the current PE (price-earnings) ratio. Then, it needs another four to five years to bring its valuations close to those of its peers.
"You have to wonder if, at the current valuations, the share price has already factored in earnings for the next 10 years. To me, there is little likelihood of a further share price upside."
The vast gap in the valuations of GDex — currently trading at a PER of over 68 times — and others in the courier and logistics industry is hard to ignore, although neither the former's business model nor its growth trajectory is comparable. For instance, integrated logistics solutions provider Tasco Bhd and Tiong Nam Logistics Holdings Bhd are trading at a PER of only 11.7 times and 7.5 times respectively while the PER of national postal service Pos Malaysia Bhd is just 13.2 times. Also worth noting is that GDex's two substantial shareholders — SingPost and Yamato Holdings Ltd, which operate in more mature markets — only have a PER of 18.1 times and 25 times respectively.
Also, not all will be as convinced as Yamato that GDex is worth such lofty valuations when looking at its dividend yield. In its financial year ended June 30, 2015 (FY2015), GDex declared a dividend of one sen — or a payout ratio of 20% — despite making a net profit of RM28.3 million on revenue of RM196.8 million. This translates into a dividend yield of 0.67% based on GDex's closing price of RM1.67 last Thursday. By comparison, Pos Malaysia, Tasco and Tiong Nam boast dividend yields of 5.85%, 2.96% and 3.28% respectively.
"Even assuming a 100% payout ratio, GDex's dividend yield can be considered unattractive," says the fund manager.
Nevertheless, many see longer-term value in GDex because it is a growing company with a foothold in the booming e-commerce sector and it has an appetite for regional expansion. Yamato's willingness to pay such a handsome price for a stake in it can be read as the endorsement of an international courier service player of GDex's potential.
GDex's first attempt at overseas expansion was back in 2009 when it signed a memorandum of understanding to partner Laos' national postal company, Enterprise Des Postes Lao, in developing international and domestic express delivery services for the Laotian market. The venture was eventually called off but GDex's intention to go abroad is no secret. In FY2015, the company pumped in RM18.3 million to scale up its operations, including opening its first trade representative office in Jakarta.
Having raised RM217.3 million from the private placement of shares to Yamato, the company can do more now. Of the sale proceeds, RM180 million has been earmarked for "capital expenditure and business development". It is understood that GDex is looking to actively expand in Southeast Asia through mergers and acquisitions. Its first targets are expected to be Indonesia and Thailand.
RHB Research Institute points out that Indonesia, in particular, is a high growth market for e-commerce. In fact, Euromonitor estimated that sales in the republic grew to US$1.1 billion in 2014 from US$151 million in 2009. Most of this activity was centred around Jakarta. If an acquisition materialises, GDex could see new revenue streams that could justify its rich valuations.
GDex and Yamato will also sign a business collaboration agreement next week. Based on filings with Bursa Malaysia, the two companies will work together to offer Yamato's clients wider coverage by leveraging GDex's extensive network, cooperate on the line-haul business between major centres and cross-border logistics between Malaysia and Singapore, and develop a greater Asean presence.
The close working ties between GDex and Yamato are positive but their impact on GDex's earnings can be difficult to quantify at this point. Recall that SingPost first entered GDex in March 2011 with a 27.08% stake. In turn, SingPost saw the entry of Chinese e-commerce giant, Alibaba, in May 2014. Despite that, volume contribution from SingPost has been minimal and GDex has yet to benefit from the Alibaba effect. Based on GDex's FY2012 annual report, the disclosure of related-party transactions shows only RM252,945 of revenue was derived from SingPost. In FY2015, the sum was down to RM178,907.
Yamato will appoint a non-independent, non-executive director to GDex's board, although there are no immediate indications that the former will play an active part in the latter's development. Yamato has its own express delivery service brand, called Ta-Q-Bin, in Malaysia that serves most major locations across the country. Ta-Q-Bin's clientele features household e-commerce names like Lazada, Zalora and Rakuten, placing it in direct competition with GDex.
Bloomberg data shows mixed calls from analysts and a consensus target price of RM1.70, indicating that GDex's promise of regional expansion and growing e-commerce activities may have already been priced in.