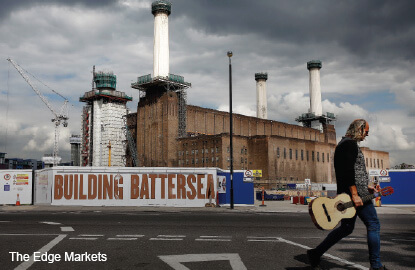 This article first appeared in Corporate, The Edge Malaysia Weekly, on June 27 - July 3, 2016.
FOR most Malaysian wage earners, the impact of Britain's vote to leave the European Union (EU) is arguably the fate of the Employees Provident Fund's (EPF) 20% stake in the gargantuan Battersea project in London. By extension, the spotlight is cast on S P Setia Bhd and Sime Darby Bhd, which each own a 40% stake in the iconic £8 billion redevelopment project. And they are not the only Malaysian developers with exposure to the global real estate hot spot.
With stocks down across Asia as investors fled to safe havens, pending clarity of the divorce that could drag on for two years, and the pound sterling plummeting to its lowest in 30 years against the US dollar, it is no surprise that S P Setia was among the top losers, with its share price plunging 19 sen or 6% to RM2.98 last Friday. Shares of diversified conglomerate Sime Darby were also down as much as 2% most of last Friday but recovered to positive ground near the closing bell.
Eco World Development Bhd, whose soon-to-be-spun-off unit Eco World International Bhd (EWI) has three projects worth £2.19 billion in the UK — the mixed-use Long City Island development in East London, Embassy Gardens in Nine Elms and Wardian London facing the Canary Wharf — also saw its share price fall 5.4% or seven sen to RM1.22 last Friday.
Should investors be worried? It very much depends on the strength of the British economy and its customers even as the UK works out the terms of its divorce from the EU. While a weaker pound against the ringgit means lower translated profits from their UK operations, a weaker pound may well spur an appetite for purchases, experts say.
On the surprise outcome of the UK referendum held last Thursday, Sime Darby says Brexit is not expected to impact the Battersea Power Station project and the group is confident that the development will continue to generate interest in the longer term.
"Sime Darby would like to reiterate its long-term commitment as a shareholder of the Battersea Power Station project, London's largest and most anticipated development. [We are] confident that London will continue to remain a key investment destination and financial centre," it says in a statement.
EWI executive vice-chairman Tan Sri Liew Kee Sin is even more sanguine, choosing to view the referendum outcome as the removal of an uncertainty that could have caused some investors to hold back previously. He is bullish about Asian currencies stretching further in the UK.
"A weaker pound sterling will in fact help our Malaysian, Singaporean, China and Hong Kong-based customers by bringing down their cost of investment. Furthermore, customers from these countries buy London properties for reasons which have nothing to do with whether the UK is a part of the EU," he says.
London's position as a prime destination for global real estate investment is unlikely to change, given that many of the fundamental drivers of demand are still intact, he adds.
As the UK's accounting rules permit profits from development projects to be recognised only upon handover to purchasers, the post-Brexit weakness of the pound is not expected to have an immediate negative impact on EWI's financials post-listing on Bursa Malaysia's Main Market.