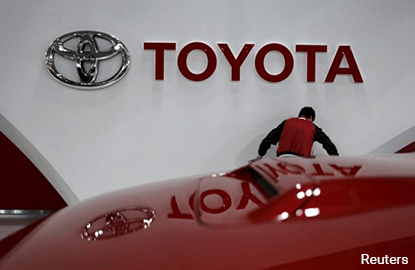 (Feb 6): Toyota Motor Corp raised its full-year forecasts — albeit falling short of analysts' estimates — as the carmaker sought to navigate rising protectionism under US President Donald Trump and as the yen's volatility weighed on prospects for exports of its Prius and Lexus models.
Operating profit will probably be ¥1.85 trillion in the year through March, up from its previous forecast of ¥1.7 trillion but about 10% lower than what analysts projected. The Toyota City, Japan-based automaker on Monday reported a 39% decline in third-quarter operating, also missing estimates.
Even with the benefits of a weaker yen boosting repatriated profits, Toyota must contend with possible trade tensions after Trump criticized the automaker's plans to build a Corolla plant in Mexico. The attack broadened with the US leader rebuking Japan for sending the US hundreds of thousands of cars from what he said were "the biggest ships I've ever seen" while American carmakers struggle to sell their vehicles in Japan.
'It's difficult to give any impact forecast from Trump's administration at this point," Tetsuya Otake, a Toyota managing officer, said in a briefing in Tokyo on Monday. "Toyota will cooperate with its group as it watches the moves from Trump's administration."
Toyota exports more vehicles to the US than its two largest Japanese peers, Nissan Motor Co and Honda Motor Co. The carmaker makes most of the Lexus luxury cars in Japan even as US is the brand's largest market. It also ships the Tacoma pickup trucks from Mexico to the US. In comparison, most major carmakers produce the majority of the vehicles sold in China locally, due partly to the tariffs China levies on car imports.
Trade tension
Japanese carmakers face a "significantly greater risk" from frictions over the trade imbalance with the US than from revisions to the North American Free Trade Agreement with Mexico and Canada, Takaki Nakanishi, an analyst at Jefferies Group LLC, wrote in a report last month.
Prime Minister Shinzo Abe met with Toyota President Akio Toyoda on Friday, where they discussed current affairs, according to the automaker chief.
Abe, who is scheduled for a summit with Trump in Washington on Feb 10, told the US leader in a phone call that 75% of parts in the Toyota Camry model sold in the US are made locally, which is a higher proportion than the 'Big Three' US manufacturers.
The yen has weakened about 6% against the US dollar after Trump swept to victory in the US presidential elections and traded at 112.71 yen against the dollar as of 4.38pm in Tokyo. Toyota has based its full-year earnings forecast on ¥107 per dollar and ¥118 per euro. In November it had based the full-year earnings forecasts on ¥103 per dollar.
US spending
Toyota will invest US$10 billion in the US over the next five years, maintaining its pace of spending during the last half decade, joining other manufacturers in highlighting projects in response to pressure from Trump to create jobs in America. The spending includes a US$600 million investment to expand its Indiana plant, adding 400 jobs, the carmaker said last month.
Toyota last year lost its global No 1 sales title to Volkswagen AG due mainly to its performance in the US and China. Toyota sold 2.4 million vehicles in the US last year, down 2% from 2015.
While sales of SUVs surged on lower gas prices, demand for the Prius hybrid car fell 26%. Demand for the current Camry sedan has also fallen ahead of the introduction of a redesigned model later this year.
Sales in China expanded at a slower pace than the overall market and fell behind Honda for the first time.