This article first appeared in The Edge Financial Daily, on September 11, 2017.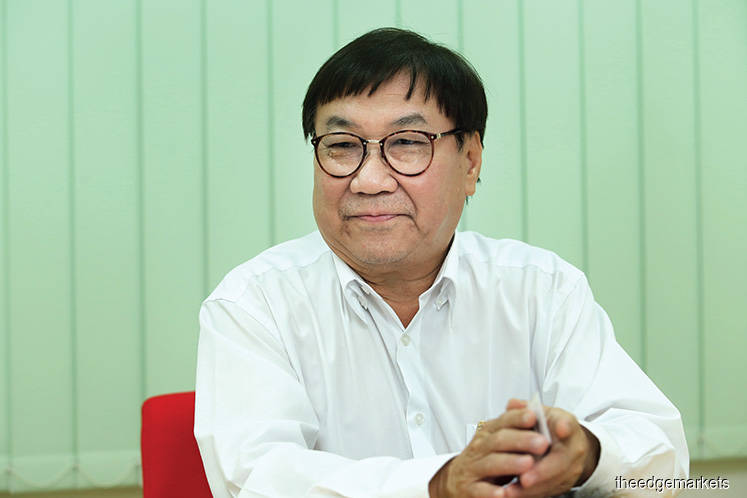 KUALA LUMPUR: Established in 1979, Toyo Ink Group Bhd clocked in a peak annual revenue of RM110 million for the financial year ended March 31, 2011 (FY11). But its top line has since deteriorated due to tough economic conditions.
"Revenue has been going south, while expenses, salaries and capital investments are going up. Margins are being squeezed. With all things considered, we decided to embark on our diversification programme. That was in 2008," its managing director Steven Song told The Edge Financial Daily in a recent interview.
Those efforts resulted in the printing ink and material manufacturer signing a memorandum of understanding in August 2013 with the ministry of industry and trade of Vietnam, to develop a 2x1,000 megawatt (MW) coal-fired thermal power plant — Song Hau 2 — in Hau Giang, Vietnam, on a build-operate-transfer basis, with a concession period of 25 years.
Fast forward to January this year, Toyo Ink signed a land lease agreement with the Vietnamese authorities for the plot on which the power plant will be located.
"There are two ways to expand, either by increasing capital expenditure [to upgrade or buy machinery] and go into new markets, or diversify [into new business segments]. For us, the energy business is more stable than oil and gas as every household and industry needs electricity," Song said.
He also acknowledged that once the Vietnam power plant begins operations and generates income for the group, the energy segment will become Toyo Ink's main revenue contributor. But for now, the group can still make do with its reliance on the ink business, owing to its diverse customer base.
The group fell into the red with a net loss of RM7.51 million for FY17, against a net profit of RM1.47 million in FY16, mainly because it recognised provisions for impairment of goodwill of some RM8.76 million, and a RM360,000 investment in a subsidiary. Annual revenue declined 2% to RM79.7 million from RM81.74 million.
For the first quarter ended June 30 (1QFY18), it recorded a modest net profit of RM39,000, down 95% year-on-year (y-o-y) — though revenue strengthened 2% to RM20.41 million from RM19.93 million — as it registered lower sales profit.
The group expects its power plant venture to generate an annual revenue of about US$800 million to US$900 million (RM3.36 billion to RM3.78 billion). Based on feasibility studies, the project could easily generate an annual net profit of US$200 million, Song said.
He said the group is now working on bringing negotiations on the matter of tariffs to a close. It aims to resolve the "last mile" issue — the power purchasing agreement (PPA) — with which it will secure the Investment Certificate (IC) issued by Vietnam's planning and investment ministry and eventually kick-start the project.
"We are at the tail end of finishing it (PPA). Hopefully, we can complete it by the second quarter of the next [financial] year (2QFY19) … but the earlier the better," he said.
Still, with an estimated project cost of US$3.45 billion, Song said Toyo Ink "will not have the financial muscle to stomach it (the project)" on its own.
Hence, Toyo Ink is looking at jointly developing the project via a special purpose vehicle (SPV) with a partner, but will retain a 40% equity interest to remain the single largest shareholder of the project.
"We have readied a few equity partners who are willing to join us in undertaking this project," Song said. He declined to reveal their identities, but said they are energy players.
"There will be a few partners. Since we ventured into energy, we have been speaking to people and they have agreed on the financing part as they have the capabilities ... I think we are ready," he added. The SPV will fund about 25% of the total cost, said Song, while the remaining 75% will be financed via bank borrowings.
That means Toyo Ink will still have to fork out about US$300 million for the project, said Song. The sum, he said, includes some US$70 million development cost it has spent on the project in the past decade for feasibility studies on the power plant. "The divestment of the 60% [stake in the SPV] is expected to allow Toyo to recover US$112 million, and the balance needed will be raised via investment bankers' advisory service," said Song. A rights issue or bonds issue will be among its choices.
If all goes well and project financing is secured, Song said Toyo Ink will begin construction of the power plant in 2019. The first unit of the power plant is anticipated to commence operations in 2023 — six years from now — with the second unit set to come on stream six months later.
Song said the new energy venture should be able to provide a steady recurring income to the group over a 25-year concession period.
Song said power plant players in Vietnam get a "major" incentive from the government — income is only taxable from the fifth year of operation. Subsequently, power plant players will only be taxed up to 10% of the plant's income.
Meanwhile, Song said the group does not expect to pump capital expenditure (capex) into its ink manufacturing division for the next one to two years, citing a weak economic environment and competition as reasons.
"The cake isn't growing bigger when there are so many players. So, it's cut-throat competition ... for us, we will look at more ways to increase our revenue," he added.