This article first appeared in The Edge Financial Daily, on July 25, 2017.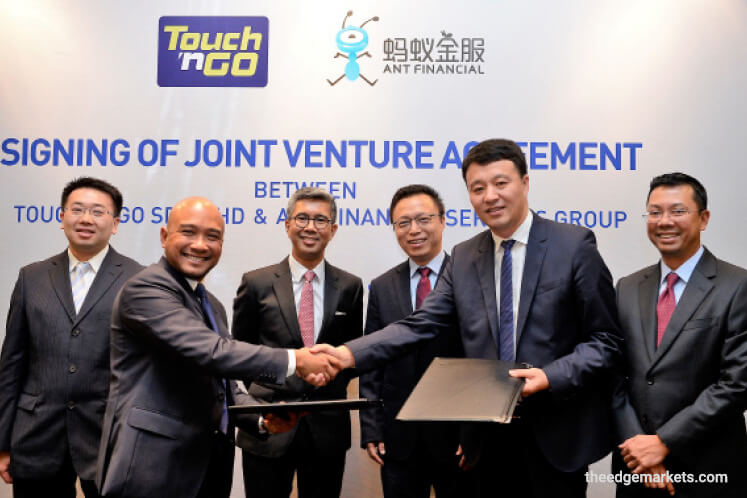 KUALA LUMPUR: CIMB Group Holdings Bhd's 52%-owned unit Touch 'n Go Sdn Bhd (TnG) yesterday inked a joint venture (JV) agreement with Ant Financial Services Group to develop a mobile wallet ecosystem for Malaysians.
The agreement is an extension of the collaboration between CIMB and Ant Financial, which owns mobile and online payment platform Alipay, after they first introduced Alipay on selected tourism sites in Malaysia for Chinese tourists in March.
CIMB chief executive officer Tengku Datuk Seri Zafrul Aziz said during the signing ceremony that a JV company will be formed — with TnG as the majority shareholder and Ant Financial holding a minority stake — with an immediate focus on developing a mobile wallet for local users to allow basic and daily transactions via mobile phones.
"The key thing here is to enable e-wallet users to use it conveniently in many places to perform basic and daily financial transactions. Our immediate focus is to put something in the hands of Malaysians that they will use," said Zafrul.
Meanwhile, Alipay Southeast Asia region general manager Dayong Zhang said the JV will later partner merchants and other banks to link their services to the e-wallet, but the e-wallet ecosystem development will be an exclusive project between CIMB and Ant Financial.
"We are going to have a full commitment with TnG to build the local e-wallet with support from CIMB to develop the ecosystem for individuals and small and medium enterprises," he said.
The two groups have yet to discuss the branding of the products, said Zafrul, but emphasised that TnG is a "very strong Malaysian brand", indicating that the service may have much resemblance to the local brand when the JV is up and running.
Both companies will pump in the "necessary" capital for the JV, he added. The parties however declined to elaborate on the scale of the funding and timeline of the e-wallet's development.
"The collaboration will introduce a world-class e-wallet for Malaysians, and we plan to bring differentiated products for local users," Zafrul said, adding that the platform will be "a new thing" for Malaysia, which is currently without a widely accepted system involving payments to brick-and-mortar merchants via mobile phone.
Since CIMB first bought into TnG back in 2010, the latter has expanded — but within its niche of cashless payment via the Touch 'n Go card. With this tie-up, Zafrul said, the banking group has articulated a clear "multipronged" strategy to further unlock value in TnG and bring it to the next level.
The JV seeks to leverage TnG's existing market presence in Malaysia, with up to 17 million cards in circulation and six million average transactions per day across multiple services such as toll roads, vehicle parking, public transportations and retail outlets.
This is consistent with Zafrul's indication that the JV will only focus on Malaysia. "As long as CIMB and TnG are concerned, this will primarily be a Malaysian business. We do not have any plans to do this in the region," he said.
On the other hand, Ant Financial will bring its technological capabilities and experience in implementing mobile wallet system around the world into the JV company, said Zhang.
"From the user's side, we are more focused on serving people who are underserved, to give them a chance to enjoy this sort of mobile-driven and technology-driven payments," he added.
Alipay has 10 million merchants in China alone. Since the inception of Alipay in China by Ant Financial's associate company Alibaba Group in February 2004, the platform has expanded to India, South Korea and Southeast Asia, with footprints reaching as far as the US and Europe.