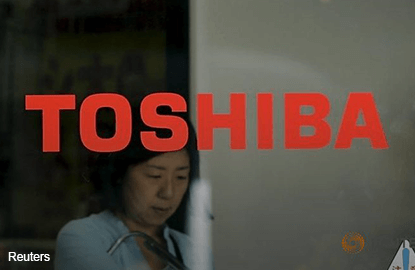 This article first appeared in The Edge Financial Daily, on December 23, 2015.
TOKYO: Toshiba Corp fell to the lowest in more than six years in Tokyo after forecasting a record ¥550 billion (RM19.57 billion) loss and announcing plans to cut more jobs as it restructures businesses.
Its shares finished down 12% at ¥223.5, their lowest since March 2009. Including a decline of 9.8% on Monday, the Japanese company had lost about US$2 billion (RM8.62 billion) of market value over the past two days.
Toshiba has been dogged by an accounting scandal, prompting the company to consider third-party alliances for some units and a restructure of the business that makes TVs and PCs. Toshiba president Masashi Muromachi is considering options such as listing the memory chip division or selling a majority stake in a medical equipment unit after restating earnings across seven years.
"Considering how bad things have gotten, this level of restructuring is the least they can do," said Mitsushige Akino, a Tokyo-based executive officer at Ichiyoshi Asset Management Co Ltd, which doesn't hold Toshiba shares. "They need to do more, but it's not as simple as cutting people and closing unprofitable businesses. The question is what will the results be two years after the restructuring."
The projected net loss for this financial year includes ¥260 billion in taxes because of a reversal of deferred income tax assets, it said in a statement on Monday. The forecast doesn't include possible impairment of goodwill and fixed assets at the company's nuclear power system business because Toshiba is still checking that, it said.
The company plans to sell a majority stake in Toshiba Medical Systems, a maker of diagnostic imaging systems, such as MRI, X-ray and ultrasound equipment, to outside investors.
"At least 50% and as much as 100%," Muromachi told reporters in Tokyo on Monday. "That will depend on the talk with a buyer, but we already have been approached by several companies." — Bloomberg