This article first appeared in The Edge Financial Daily, on July 10, 2017.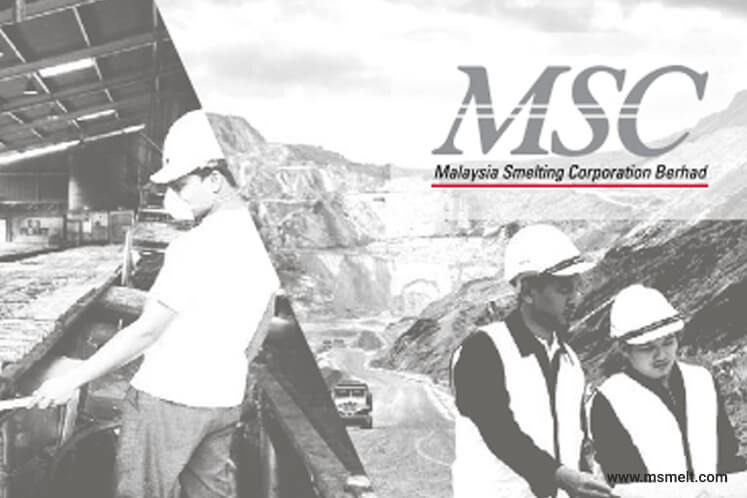 KUALA LUMPUR: The world's second-largest supplier of tin metal, Malaysia Smelting Corp Bhd (MSC), said the recent renewal of its board and senior leadership was part of ongoing initiatives under a strategic revamp to propel the company into the next stage of growth.
"[This includes] changes to its current processes, renewing its board and senior leadership team and acquiring an additional smelter in Port Klang which has a more advanced manufacturing technology compared with the current smelter in Butterworth," MSC's new chief executive officer (CEO), Datuk Dr Patrick Yong Mian Thong, told The Edge Financial Daily in a recent email interview.
Last October, Yong took over the reins from former MSC CEO Chua Cheong Yong who had served at MSC for over 30 years.
The Edge Financial Daily had reported then, citing a source, that Chua's departure — together with former chief operating officer of mining, Mohamed Yakub Ismail — stemmed from disagreements with MSC's largest shareholder, The Straits Trading Co Ltd (STC), which holds a 55.3% stake in the company, over plans to revamp MSC. Mohamed Yakub had been with the company since 2002.
The daily wrote that the disagreements between the then MSC management and STC were over the fate of the land on which the company's Butterworth smelter is located, and that MSC was looking to relocate the smelter to Port Klang.
However, Yong said the group has no immediate relocation plan for its Butterworth smelter.
"The process of relocation is a major decision and will take much planning and time. The Butterworth smelter has been operational for over 100 years and a technology upgrade in our overall smelting process would be beneficial for the business.
"The Port Klang plant which was acquired last year will be retrofitted into a world-class tin-smelting facility, before we commence the licence application process [for the plant,]" he said.
On when the Port Klang facilities were expected to be operational, Yong said the company is in the midst of evaluating the plant's operational processes and has yet to finalise a timeline.
The facilities — comprising three leasehold industrial plots with a plant and machinery on site — were bought last June 15 for RM50 million in all.
MSC returned to the black in its financial year ended Dec 31, 2016 (FY16), after two consecutive years of losses in FY15 and FY14. Net profit came in at RM37.45 million in FY16, compared to a net loss of RM4.79 million in FY15, on higher tin prices and lower losses from foreign exchange. Revenue saw a marginal increase to RM1.48 billion in FY16, from RM1.46 billion a year earlier.
But the momentum of its earnings' recovery appears to have faltered a little. In its first quarter ended March 31, 2017 (1QFY17), the group's net profit fell 30.1% year-on-year (y-o-y) to RM17.43 million from RM24.94 million; revenue was marginally lower at RM406.61 million from RM408.4 million a year earlier.
"Although MSC reported a lower profit before tax (PBT) with of RM24 million in 1QFY17 compared with RM32.8 million in 1QFY16, the group actually delivered a better underlying performance on the back of higher tin prices," said Yong.
This, Yong explained, was because MSC benefited from a favourable valuation adjustment of RM10.1 million on its tin inventory in 1QFY16, as well as a net foreign exchange gain of RM8.7 million. In contrast, no valuation adjustments were made in 1QFY17. On top of that, the company incurred a net foreign exchange loss of RM3.1 million.
If these two items were not taken into account, the group's 1QFY17 PBT would have about doubled y-o-y, Yong said. According to the Kuala Lumpur Tin Market, tin prices as at June 30, 2017 were up 17.7% y-o-y to US$20,000 (RM86,000) per tonne from US$17,000 per tonne.
"So far, tin prices have remained strong in 2017 at an average market price of approximately US$20,000 per tonne, from average tin prices of US$17,900 per tonne in 2016 and US$16,000 per tonne in 2015. Rising tin prices will have a more direct impact [on] the profitability of our tin mining division and a lesser impact on the profitability of our tin smelting division," Yong added.
The group's tin mining division contributed 62.7% of its net profit in 1QFY16, while the smelting division contributed 20.3%.
"We intend to start operations at our Sungai Lembing mines in Pahang, held under our 80%-owned subsidiary SL Tin Sdn Bhd. Initial exploration works there indicate there is good potential, and we expect to produce 100 tonnes per month of refined tin within a couple of years," said Yong.
The group will also be looking at reviving old tin mines in Malaysia, he said. "Tin feed from Malaysia is of high quality with a good yield, superior to most overseas sources. The current tin price environment makes tin mining commercially viable," he said.
As for its smelting division, Yong said the group intends to become one of the lowest-cost smelters in the world that are capable of treating even low-grade ore.
"A key initiative to achieve this would be to upgrade our furnaces to that of the latest Top Submerged Lance (TSL) type which is a much more efficient process, in terms of costs and environmental care.
"The new TSL furnace will enable us to have an even more comprehensive and efficient smelting process and may also be expanded to handle a larger volume of feed materials, using oxygen enrichment," he said.
MSC shares closed down two sen or 0.49% to RM4.04 last Friday, with a market capitalisation of RM404 million. The stock has jumped 52.6% from RM2.65 a year ago.