This article first appeared in The Edge Financial Daily, on October 9, 2019.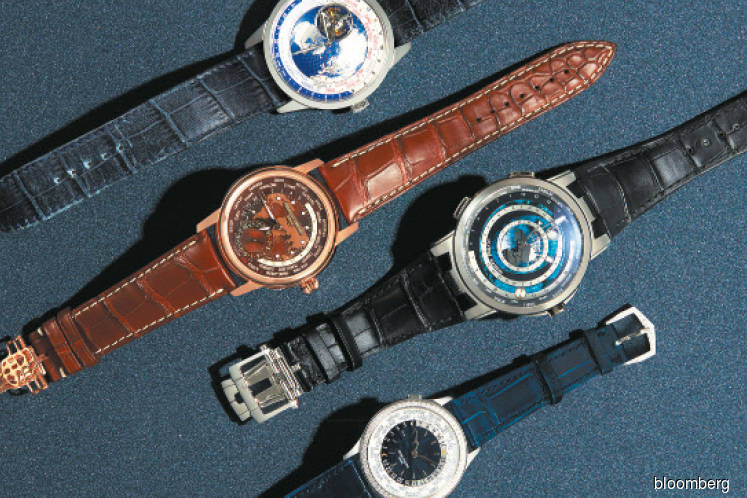 (From top) Jaeger-LeCoultre geophysic tourbillon universal time, price upon request; Frederique Constant Classic Manufacture Worldtimer, US$4,195 (RM17,577); Ulysse Nardin Executive Moonstruck Worldtimer in platinum, US$75,000; and Patek Philippe, 7130G Ladies' World Time, US$45,700. Photo by Bloomberg
World time as we know it began in 1884, when the International Meridian Conference convened in Washington, DC. Leaders there accepted a ­proposal by Scottish civil engineer Sandford Fleming who had helped build Canada's transcontinental railroads, to slice the globe longitudinally into 24 time zones — ­standardising the hours to comply with the Second Industrial Revolution's demands.
The first watches with a world time complication arrived about 50 years later, when Swiss craftsman Louis Cottier devised a pocket watch for Vacheron Constantin and then a wristwatch for Patek Philippe SA. Each house issued a design with a rotating exterior ring or bezel around the perimeter listing the locations to represent each time zone. Moving the bezel made it simple to compute the hour anywhere in the world.
Such a watch's power is plain to see on its face, now typically featuring a God's-eye view of the northern hemisphere, with the North Pole at the centre of the dial. The look conjures the international glamour of a worldwide network of connections — business dinners in Dubai, old friends in the Azores, and urgent appointments in Mexico, Moscow and the Midway Islands. Glancing at the map, a captain of industry feels like he is at the wheel of a ship charting a circum­navigatory course, or maybe in a naughtier fantasy, like a supervillain plotting global domination from his wrist.
For most of these timepieces, the hours are calculated by moving a bezel with a number of cities or countries listed on it. You line up your location at the 12 o'clock position, usually using the crown on the side of the watch. As the day goes on, a smaller interior bezel marked with hours 1 through 24 slowly rotates. By looking at where a city falls against the ring of hours, you know what time it is there, while the hours and minutes in your own time zone are marked by the standard watch hands.
Oddly enough, in an era where a phone can instantly tell the time anywhere you wish, worldtimer watches have become distinctly on-trend. Call it a symptom of an increasingly global society yearning for a bit of tradition. "More companies have adopted worldtimer watches in some shape or form. They are more available," US president of high-end watch retailer Wempe Ruediger Albers observed, wearing a Patek worldtimer himself. Buyers at his Fifth Avenue location are often businesspeople making deals in faraway lands. They do not need a mechanical watch, "but everything else is plastic," he said. "It does not go with your nice suit."
The earth's current revolution around the sun has spun forth beautiful versions from brands making these watches for years. The most exclusive option just might be the Ulysse Nardin Executive Moonstruck Worldtimer, available in two limited 100-piece editions — one platinum, and the other rose gold. Not content with combining horology and cartography, this one also throws in astronomy and oceanography. The 46mm model depicts the motion of the moon and sun in relation to the earth, as well as the phases of the moon and the tides' ebb and flow.
This year, Patek Philippe, where worldtimers began, has rendered its 7130G Ladies' World Time in a new colour, meaning a woman can enjoy this 36mm masterpiece in white gold, with a delicately-etched dial of radiant blue. Granted she is not an everyday woman; there are 62 diamonds on the bezel of her timepiece and 27 more on the buckle of its ­peacock-blue alligator strap.
The most theatrical of these releases is the Jaeger-LeCoultre Geophysic Tourbillon Universal Time, fitted with a flying ­tourbillon — a complex ever-moving gadget protecting the watch's timekeeping from the effects of gravity.
Less showy but no less stately, the Frédérique Constant Classic Manufacture Worldtimer offers a dashing view of the earth, with ­chocolate-brown oceans lapping at the shores of rose-gold land ­masses. As with the Jaeger-LeCoultre, the hour and minute hands come with luminescent strips, so they are easier to read against the busy background. Those clear sight lines do not, however, extend to Antarctica, blotted out on the dial's map by a date subdial. But who cares?  — Bloomberg