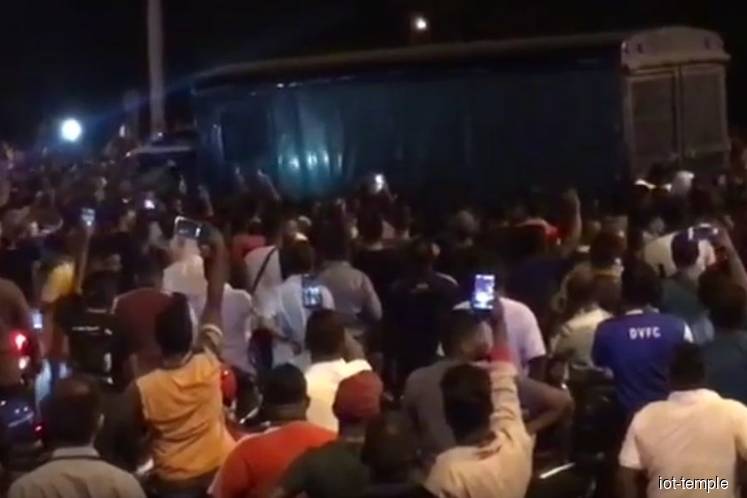 (Nov 28): Leading legal firm Skrine has denied that its lawyers had hired the group of Malays to cause a riot at the Sri Maha Mariamman temple in USJ25 Putra Heights on Monday night.
In a statement issued today, Skrine clarified that while it is acting for One City Development Bhd in civil proceedings involving possession of the Sri Maha Mariamman temple land, it was not involved in the alleged hiring of "thugs", Malaysiakini reported.
"We categorically state that we are not the lawyers referred to by the Home Minister. None of our lawyers has been arrested by the police," Skrine said.
The legal firm issued the statement following the announcement by Home Minister Tan Sri Muhyiddin Yassin earlier today that lawyers from the developer had hired a group of Malays to "take control" of the situation at the Hindu temple on Monday but they intruded into the house of worship.
Muhyiddin added that two lawyers of the developer company, One City Development Sdn Bhd, were among the 21 people arrested to assist in the investigations into the riots.
Skrine's statement added: "The Home Minister also reportedly stated that lawyers who paid the thugs were among the 21 arrested by the police.
"We have no knowledge whatsoever of the alleged hiring of thugs and condemn in the strongest terms any such action," the firm said, adding that its work as solicitors for the developer has been and will continue to be strictly in accordance with the law.
Meanwhile, another law firm Messrs Thomas Philip in a separate statement said it had stopped acting for One City since December 2015.
"Messrs Thomas Philip were solicitors on record for One City in relation to Shah Alam High Court suit no 21-353-1996 which was resolved by way of consent order dated March 11, 2014.
"On Dec 30, 2015, a new firm of solicitors was instructed by One City to take over the conduct and all matters arising from the consent order.
"In that regard, it has been three years since December 2015 that Messrs Thomas Philip had ceased to act for One City," the statement said, Malaysiakini reported.