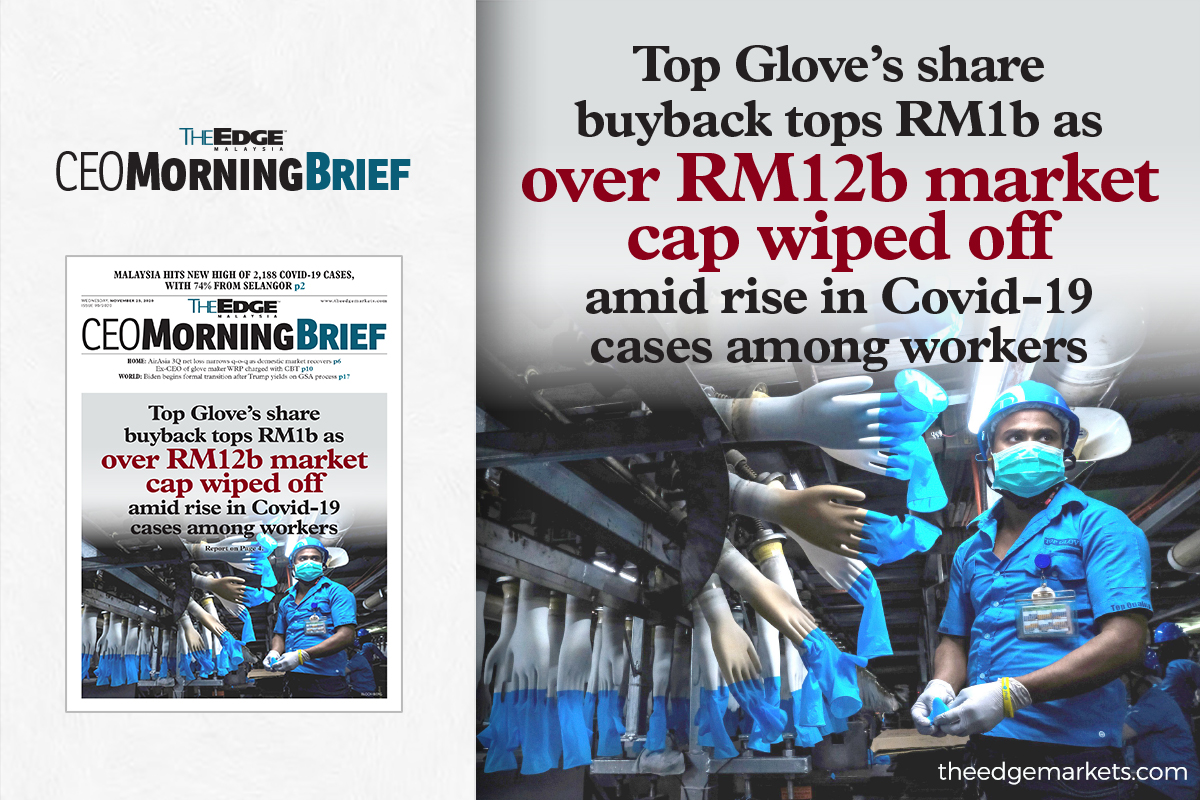 KUALA LUMPUR (Nov 25): Top Glove Corp Bhd has lost over RM12 billion worth of market capitalisation since the start of November, as its share price tumbled amid a slew of unfavourable news — with the latest being the temporary closure of 28 of its factories in Klang — while the number of Covid-19 infections among its workers climbed.
The group, however, estimated that the closure of the factories, which represent 50% of its total production capacity, will only cause a 3% drop in its revenue for the financial year ending Aug 31, 2021.
It said this in a stock exchange filing yesterday, the same day the Health Ministry announced a new record surge of 2,188 Covid-19 cases in the country, with 69% or 1,511 alone coming from the Teratai cluster that originated from the glove maker's worker dormitories in Klang.
The new cases were found just a day after the government said the 28 factories would have to be shuttered temporarily, in stages, to enable health authorities to conduct Covid-19 screening and quarantine those affected, following a spike in infections there. At the time, the ministry had found 1,889 positive cases in Top Glove's premises.
At an analysts briefing yesterday morning, Top Glove said 2,534 of its workers had been found positive after 5,767 workers were screened, AmInvestment Bank wrote in a note to clients. It is unclear as to what the actual tally is now.
The Teratai cluster, which the Health Ministry identified on Nov 7, now has 4,036 positive cases, after 5,777 people have been screened. Among the 4,036 cases, 3,846 are migrant workers, while the balance 190 are Malaysians.
In giving the estimated revenue loss in response to a query from Bursa Malaysia on the factory closures yesterday, Top Glove said 16 of the facilities have halted production since Nov 17. The affected facilities will resume operation in stages, after the balance of employees are tested and the sites sanitised, it said.
"We are now working with the relevant authorities for an orderly screening process to ensure reopening of the facilities with our employees' health and safety [given the] utmost importance. Only the employees cleared of Covid-19 will be allowed to resume work at our facilities.
"The balance 12 facilities are currently operating at about 20% capacity and will be temporarily closed in stages for employee testing and full-site sanitisation, before reopening," said Top Glove.
It added that the impact from the temporary closures is expected to result in some delay in its delivery schedule, with a forecast of two- to four-weeks' delay. It does not see any penalties resulting from the delay, materialising. "As a mitigation measure, the company has rescheduled production plans for those non-affected facilities to produce those very urgent orders," it added.
In a share buyback frenzy
Top Glove shares have been under selling pressure since the start of this month, following news of positive developments in the vaccine discovery space, with Pfizer, AstraZeneca and Moderna unveiling vaccine candidates with over 90% efficacy levels. 
The stock tumbled further amid the rise in infections among its workers, sinking 7.48% or 55 sen to close at RM6.80 yesterday, even as Top Glove continues to mop up its own shares in a bid to prop up prices. The latest share price gives the group a market cap of RM55.73 billion, with RM12.59 billion worth of market cap wiped off from the darling glove stock over the past three weeks.
According to its latest filing, Top Glove spent another RM42.64 million on its share buyback spree yesterday — the 11th consecutive trading day it has indulged in the exercise — with the latest lot of 6.23 million purchased at between RM6.80 and RM6.91 apiece.
This raised the total it has spent on the exercise since September to RM1.08 billion — RM721.72 million spent so far this month, and RM355 million in September.
The sum is equivalent to 57.67% of Top Glove's RM1.87 billion net profit for the financial year ended Aug 31, 2020 (FY20). It also represents 88.96% of its cash and cash balances as at the end of FY20, which amounted to RM1.21 billion. Top Glove also has RM1.67 billion worth of investment securities.
Meanwhile, in a separate announcement yesterday, the Employees Provident Fund said it has purchased 1.09 million Top Glove shares, raising its holding in the group to 534.3 million shares or a 6.64% stake.
Year to date, despite the recent slump in its share price, Top Glove's counter is still up about 339%, from when it was trading at RM1.55 on Jan 2.