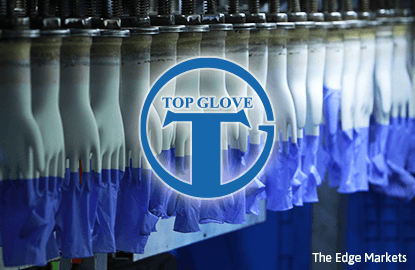 This article first appeared in The Edge Financial Daily, on March 15, 2016.
KUALA LUMPUR: Top Glove Corp Bhd (Top Glove) has proposed to undertake a secondary listing of and quotation for all the company's existing shares, which are listed on the main market of Bursa Malaysia, on the mainboard of the Singapore Exchange (SGX) by way of introduction.
According to a filing with Bursa Malaysia, a shareholder holding Top Glove shares listed on Bursa Malaysia may transfer such shares to SGX and vice versa for trading on the respective stock exchanges following the proposed secondary listing. The proposed secondary listing will not involve any issuance of new Top Glove shares.
The transfer is subject to the fulfilment of transfer conditions and criteria, the announcement said. 
Top Glove also intends to explore with its substantial shareholders the possibility of selling a portion of their shareholdings in the company of approximately S$20 million  (RM59.92 million), in value on the open market in Singapore.
Top Glove explained that the proposed secondary listing "is expected to enhance Top Glove's investor reach and diversify its investor base as well as allow direct participation by investors in Singapore in the equity of Top Glove."
Trading liquidity of the stock is also expected to increase with Singapore being widely recognised as a global financial hub, supported by a high level of participation from international investors.
With the proposed secondary listing, it enables Top Glove to tap new platforms for potential future fundraising as well as merger and acquisition exercises.
"It enhances the visibility of Top Glove's profile among international investors, analysts and media, thereby potentially resulting in a stronger brand awareness for Top Glove," it said.
In conjunction with the secondary listing announcement, the glove manufacturer has proposed amendments to the articles of association of Top Glove to facilitate the proposed corporate exercise.
The company also said that this will not have any effect on the issued and paid-up share capital, and the shareholdings of the substantial shareholders as no new shares will be issued pursuant to the proposals. 
The proposals are conditional upon approvals from the Securities Commission of Malaysia for the proposed secondary listing, the SGX for the eligibility-to-list on the mainboard of SGX, the shareholders of Top Glove for the proposed amendments to the articles of association, and other relevant authorities if required.
The submissions to the relevant authorities in Malaysia and Singapore are expected to be made within three months from the date of announcement and expected to complete by the third quarter of 2016.