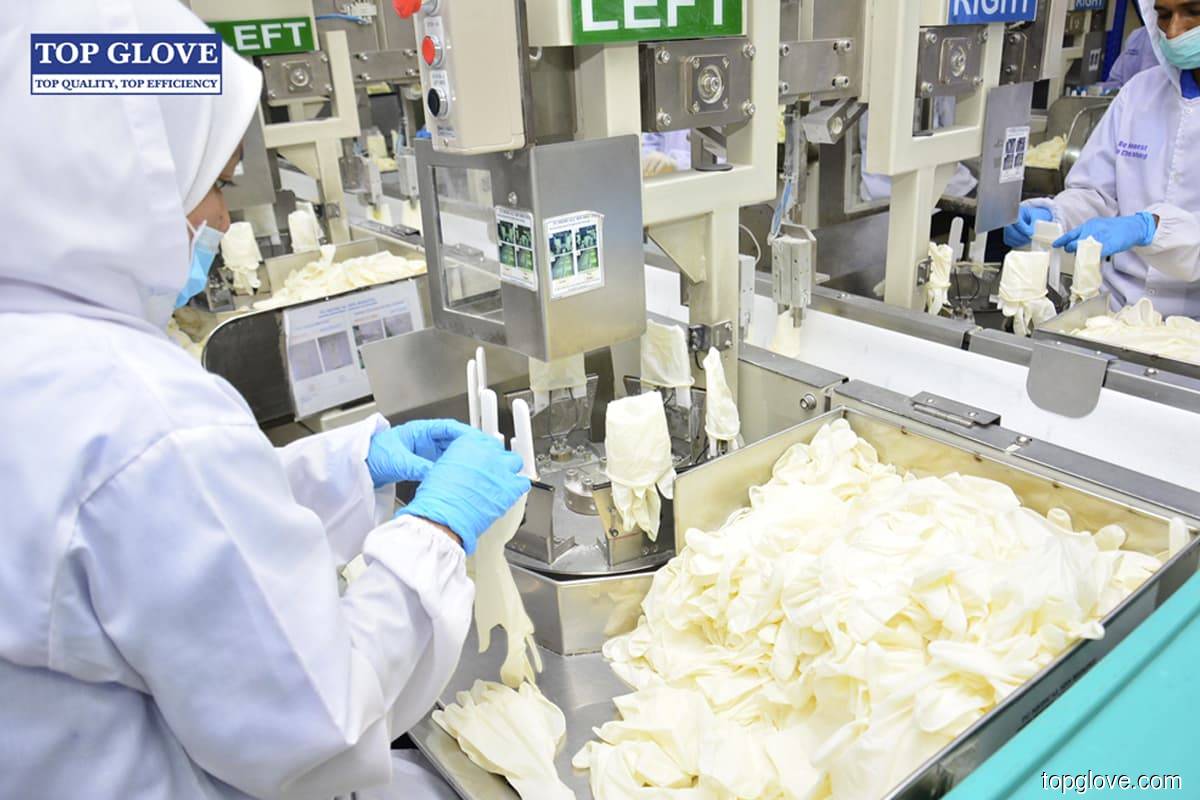 KUALA LUMPUR (Oct 7): Top Glove Corp Bhd told analysts that the company will start paying dividends on a quarterly basis starting from the financial year ending Aug 31, 2021 (FY21), and that a special dividend is possible as the group moves away from its existing semi-annual payout scheme.
UOB Kay Hian Private Ltd analyst Philip Wong, who attended a recent conference call with Top Glove, wrote in a note today that should Top Glove declare any special dividends, it will be for the third quarter of FY21 (3QFY21) at the earliest.
"Based on the company's dividend payout policy of 50% and our projected earnings, the implied dividend yield for FY21 is 7.7%. For every 10% additional payout, the dividend yield increases by 1.6%. That said, dividend yields would moderate to 2.1% and 1.2% for FY22 and FY23 respectively," Wong said.
Wong said today that Top Glove during the conference call also provided updates on the status of the US Customs and Border Protection's (CBP) detention order on disposable gloves manufactured by two of the company's subsidiaries, namely Top Glove Sdn Bhd and TG Medical Sdn Bhd, since July 15, 2020.
On July 16, Top Glove said in a Bursa Malaysia filing that there was a possibility the detention order may be related to foreign labour issues.
Today, Wong said Top Glove indicated during the conference call that it remained uncertain when the CBP detention order, also known as the withhold release order (WRO), will be lifted.
Wong said: "Top Glove announced a revision of its foreign worker remediation fees amounting to RM136 million — almost three times higher than the management's initial expectation of RM53 million. The deviation arises from official foreign government recruitment fees, versus agency-imposed fees, discovered only through an audit interview with its foreign workers.
"The lifting of the WRO on the two subsidiaries of Top Glove now lies with the CBP with no indicative timeline. That said, [Top Glove's] utilisation rates remain maxed out as demand remains robust with sales to North America contributing a healthy 20% of the overall sales mix. The WRO issue has been alleviated with sales diverted through other subsidiaries unaffected by the WRO. Therefore, we believe the CBP's lifting of the WRO is a non-factor for now," he said.
Meanwhile, CGS-CIMB Securities Sdn Bhd analyst Walter Aw wrote in a note today that the research house believes Top Glove's revised remediation fees should aid in expediting the lifting of the WRO imposed on disposable gloves manufactured by the two subsidiaries.
Aw said CGS-CIMB understands that Top Glove continues to be in active conversation with the CBP to identify and mitigate any other outstanding issues that led to the implementation of the WRO. 
"Even in the worst-case scenario where the WRO will only be lifted by end-CY20 (calendar year 2020), we believe that this will not have a negative impact on our FY21-23 EPS (earnings per share) estimates for Top Glove. This is because gloves exported to the US by both subsidiaries (whose US sales made up 12.5% of Top Glove's FY20 sales according to our estimate) can be rerouted to other countries or markets on the back of the current acute shortage of gloves globally," he said.
As at the time of writing today, Top Glove's share price had risen 21 sen or 2.43% to RM8.85 on Bursa, bringing the company a market capitalisation of about RM71.95 billion.
The stock saw some 31 million shares traded.
For 4QFY20, Top Glove proposed a dividend of 8.5 sen a share, bringing its full FY20 payout to 11.83 sen a share, the company said in a Bursa filing on Sept 17.
Read also:
Board yet to decide on special dividend payout, says Top Glove