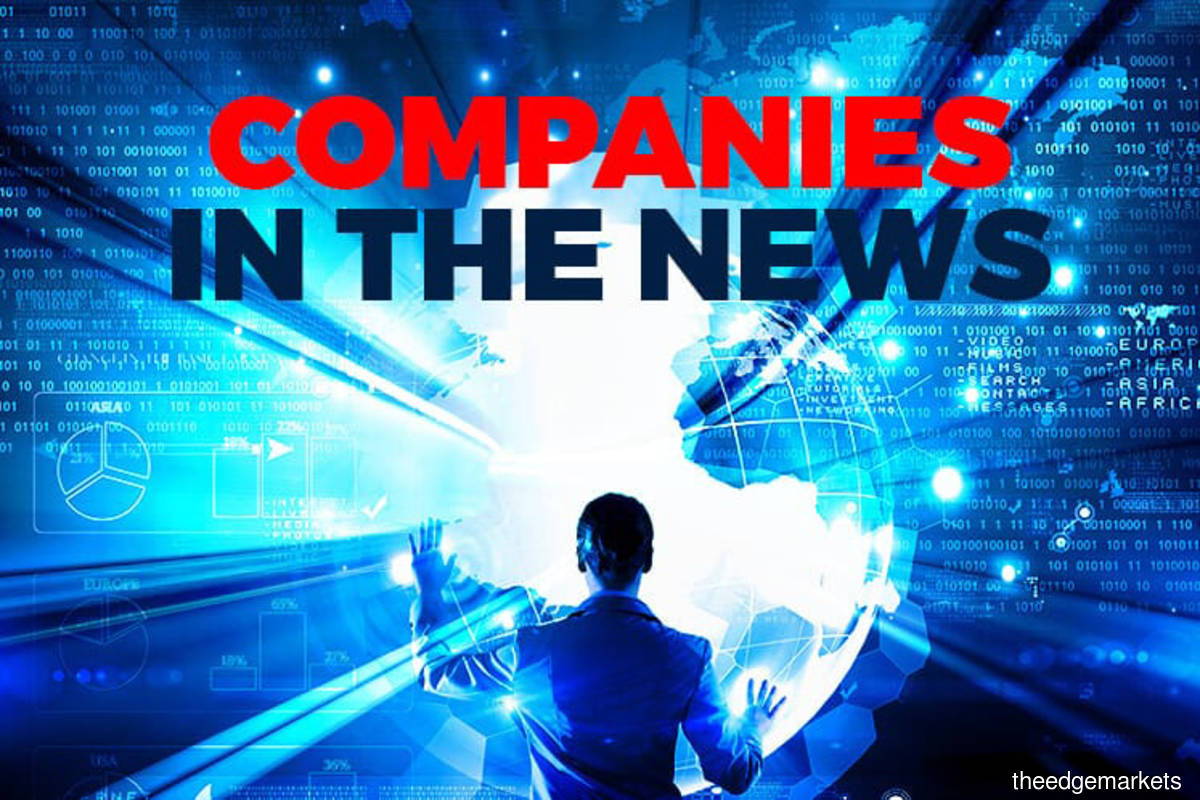 KUALA LUMPUR (Jan 4): Based on corporate announcements and news flow today, the following companies are likely to be in focus tomorrow: Top Glove Corp Bhd, Malaysian Resources Corp Bhd (MRCB), George Kent (M) Bhd, Destini Bhd, T7 Global Bhd, New Hoong Fatt Holdings Bhd, Aeon Credit Service (M) Bhd, Ageson Bhd and Focus Dynamics Group Bhd.
Top Glove Corp Bhd sprang a surprise on investors by announcing that the company will be declaring a special dividend of 20% for the remaining financial quarters in the financial year ending Aug 31, 2021 (FY21). Top Glove said the move is in recognition of its good profits and strong cash flow, as well as to reward its shareholders. The special dividend will be on top of its existing dividend policy of a 50% payout ratio on profit after tax and minority interests (PATAMI). Top Glove shareholders will receive 70% of the company's PATAMI as dividend.
Malaysian Resources Corp Bhd and George Kent (M) Bhd joint venture (JV) and Light Rail Transit 3 (LRT 3) contractor MRCB-George Kent Sdn Bhd (MRCBGK) said Prasarana Malaysia Bhd's payment on Oct 2, 2020 were only for construction works done up to end-June 2020. MRCBGK said Prasarana's delayed payments of more than RM700 million were from July 2020 to October 2020, which have been certified for payment by Prasarana's independent consultant KL Prima Consult Sdn Bhd. As of October 2020, the certified payment owed to the contractor is RM723.89 million, while November 2020's payment amount is still pending certification. Prasarana's non-executive chairman Datuk Seri Tajuddin Abdul Rahaman told a press conference today that Prasarana had paid RM3.47 billion to MRCBGK up to Oct 2, 2020. He also said Prasarana had not withheld any payment to MRCBGK.
Destini Bhd has bagged an extension for its maintenance, repair and overhaul (MRO) contract with the Royal Malaysian Air Force. The extension is for a one-year period from Oct 3, 2020. The contract is also for the supply of safety and survival equipment to the RMAF. The contract ceiling is about RM30.37 million.
T7 Global Bhd has secured a 10-year contract from Petronas Carigali Sdn Bhd for the leasing, operation and maintenance of a mobile offshore production unit (MOPU) for Phase 2 of the Bayan gas redevelopment project. T7 Global did not reveal the value of the charter contract, inked on Nov 25, 2020, other than saying it is based on prices stipulated in the contract, and that the agreement's effective date is Feb 1, 2020.
New Hoong Fatt Holdings Bhd said 79 of its employees tested positive for Covid-19 at its plastic parts production factory in Meru, Klang. They were among 337 foreign and Malaysian workers of the group's wholly-owned subsidiary Auto Global Parts Industries Sdn Bhd (AGP) who underwent a mass planned screening test on Dec 30, 2020. This is a follow-up to an earlier screening test at AGP's metal parts production factory in Meru on Dec 24, 2020, which saw 94 infections among 314 employees tested. The affected metal parts production factory had been closed from Dec 25 until further notice to contain potential infections.
Aeon Credit Service (M) Bhd reached an out-of-court settlement with the Inland Revenue Board (IRB) today, under which the unpaid taxes sought from the company have been significantly reduced.  Aeon Credit said the amount sought from the financial services company, inclusive of penalties, has been brought down to RM10.31 million, from RM96.82 million previously. It added that the taxman has agreed to withdraw the legal proceedings launched against the company at the High Court, while Aeon Credit has agreed to withdraw its appeal before the Court of Appeal.
Ageson Bhd's 75%-owned subsidiary Ageson Holdings Sdn Bhd (AHSB) has inked a development rights agreement with Menteri Besar Inc (Perak) to develop a mixed development with an estimated gross development value of RM1.24 billion on some 475 acres of land in Batang Padang district in Perak. The development will comprise a District Health Department Office, a District and Land Office, a District Council Office, a Community Development Department Tapah office, together with 365 units of shop offices, 1,038 units of terrace houses, 332 units of semi-detached houses, 191 units of detached houses, and 33 units of industrial lots. The project is expected to commence in the first quarter of this year and be completed in 15 years.
Separately, it announced that it will pay part of an outstanding sum it owes to RHB Bank Bhd. Ageson did not disclose the sum involved. RHB had filed a suit against the group over a RM33 million term loan.
Focus Dynamics Group Bhd has proposed to split each of its shares into three shares, in a move to improve the trading liquidity of the shares. The share split will take place based on an entitlement date to be determined later, and is expected to be completed by the first quarter of this year. Focus Dynamics said as at Dec 29, 2020, the group's issued share capital stood at RM203.79 million, comprising 6.15 billion shares.