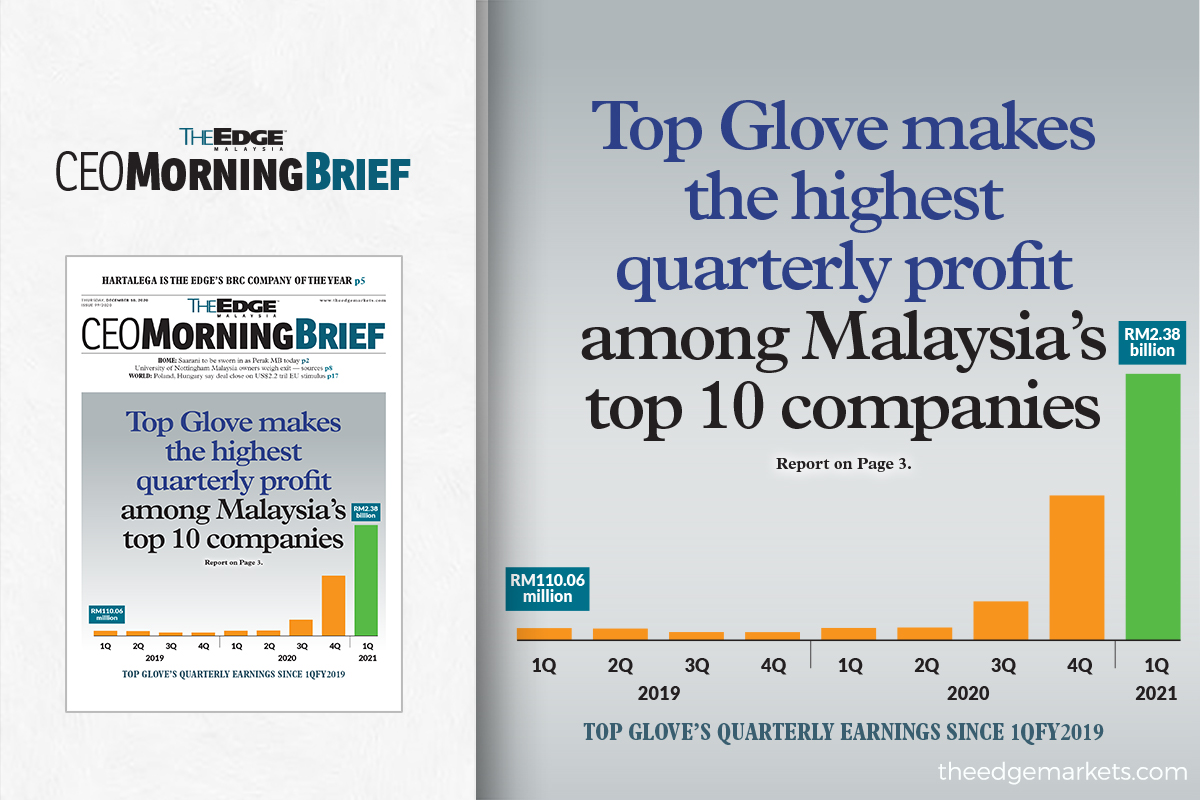 KUALA LUMPUR (Dec 10): Top Glove Corp Bhd broke multiple records in its first financial quarter ended Nov 30 (1QFY21).
The group achieved its highest quarterly net profit of RM2.38 billion, on the back of record high revenue of RM4.76 billion. Its earnings per share (EPS) swelled to 29.64 sen from 1.5 sen a year ago.
Given the super profit earned, Top Glove declared a 16.5 sen dividend per share — the most generous interim dividend in the group's history. This translates into a payout ratio of 56%.
The glove manufacturer's earnings growth has been exponential.
On a year-on-year basis, its net profit has expanded 20 times from RM111 million, while revenue leapt 293.6% from RM1.209 billion a year ago. On a quarterly basis, the group's net profit rose 84% from RM1.292 billion, while revenue grew 53% from RM3.11 billion.  
However, the record-breaking earnings didn't lift Top Glove's shares yesterday. Instead, selling on the stock accelerated in the afternoon following the release of its latest quarterly financial results at lunch break. The sell-off pulled Top Glove's shares to RM6.84, down 25 sen or 3.5%.
The drop in share price might be an indicator that the investing fraternity is not satisfied with the glove maker's quarterly earnings, despite the fact that it has managed to outdo its big cap peers. Its multi-billion ringgit quarterly profit is the highest among Malaysia's top 10 companies.
On top of that, lingering concerns about production disruption following the closure of some of its factories recently — due to a surge of Covid-19 infections among its workers — might have capped its share price.
However, the group has assured that its factories would be fully operational in the next two to three weeks.
According to Bloomberg, the average annual net profit forecast for Top Glove's financial year ending Aug 31, 2021 (FY21) was RM8.61 billion, or RM1.076 per share (based on estimates made prior to the release of the latest quarterly results). This would translate into a quarterly net profit of RM2.15 billion. Top Glove's 1QFY21 earnings have more than met the street estimate.
But when compared with the two highest annual profit forecasts — RM11.22 billion by Maybank Investment Bank Bhd and RM11.05 billion by UOB Kay Hian, which means a minimum quarterly profit of RM2.7 billion — Top Glove's 1QFY21 report card has fallen short of expectations.
On a back-of-the-envelope calculation, based on the closing price of RM6.85, should Top Glove be valued at a price-earnings ratio (P/E) of 20 times, it is expected to deliver an annual earnings per share of 34.25 sen.
Should the P/E multiple be lowered to 12 times, which is closer to the global average P/E of 10 times for the manufacturing industry in general, the expected annual EPS would be 57.08 sen, an amount that Top Glove has achieved by half, given its 1QFY21 EPS of 29.64 sen.
Judging by its 1QFY21, it does not appear to be an uphill task for the glove maker to meet the average consensus estimate.
However, investors may be looking further ahead, beyond FY21, to a post-pandemic period.
Top Glove, as stated, achieved a net profit margin of 50% in 1QFY21, which begs the questions: How long will this fat margin last? What about when demand for rubber gloves normalise?
The average consensus estimate of Top Glove's annual profit for FY22 is substantially lower at RM3.45 billion, or roughly 43.12 sen per share. Based on this, Top Glove shares are trading at a P/E ratio of 15.9 times, which might appear to be too high for a post-pandemic valuation.
According to Top Glove, the group's robust sales figures in 1QFY21 were due to the strong demand for gloves in both developing and emerging markets, owing to the ongoing global pandemic.
The company said the improved profit came on the back of higher sales output, higher factory utilisation levels that amplified production efficiency, as well as higher average selling prices (ASPs), in line with market pricing.
"Even with a vaccine, gloves will still be needed for testing and administering the vaccine. Pre-pandemic, global glove demand was already growing about 10% and is expected to continue to grow steadily, driven by strong market fundamentals across all geographies.
"While demand will stabilise post-pandemic, it will not revert to pre-pandemic levels, owing to increased hygiene awareness.
"The challenging and competitive landscape notwithstanding, the company maintains an optimistic outlook on prospects. With the pandemic, Top Glove estimates that glove demand will keep growing, by 20% per annum in 2020, 25% per annum in 2021 and 15% per annum post-pandemic," said Top Glove in a press release on its latest results.
Read also:
Top Glove: Average glove prices to be 30% higher in 2Q