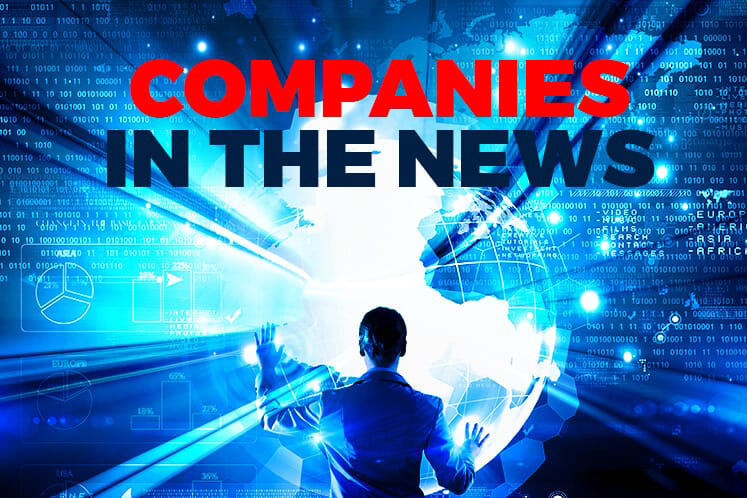 KUALA LUMPUR (March 4): Based on corporate announcements and news flow today, stocks in focus on Tuesday (March 5) may include Top Glove Corp Bhd, KUB Malaysia Bhd, Dagang NeXchange Bhd, Hibiscus Petroleum Bhd, Censof Holdings Bhd, Uni Wall APS Holdings Bhd, Harn Len Corp Bhd, Sunway Bhd, Cahya Mata Sarawak Bhd, Aturmaju Resources Bhd and MCT Bhd.
Top Glove Corp Bhd introduced a stock borrow arrangement with major shareholders in connection with the rubber glove manufacturer's guaranteed exchangeable bonds issue.
Top Glove said the stock borrow arrangement will enable the bonds to attract an even larger investor base while ensuring the terms of the bonds will be more attractive and beneficial to the company.
The group said the bonds issue involving an aggregate principal amount of up to US$300 million (RM1.22 billion) was completed on Friday following the issuance of US$200 million in principal amount of the bonds. The five-year bonds with a 2% per annum coupon rate would be listed today on Bursa and the Singapore Exchange.
JAG Capital Holdings Sdn Bhd has emerged the largest shareholder in KUB Malaysia Bhd after the former acquired a 31.99% stake worth RM121.09 million in KUB from Anchorscape Sdn Bhd.
KUB said the direct transaction between JAG Capital and Anchorscape was completed on Friday. Trading of KUB shares was voluntarily halted from 9am to 10am this morning.
According to Bloomberg, 178.07 million shares were bought at 68 sen each, a significant premium from the closing price on Friday of 39.5 sen.
Based on data from the Companies Commission of Malaysia, Anchorscape Sdn Bhd is an investment holding company linked to Darhim Dali Hashim and Datuk Abdul Rahman Mohd Redza. Prior to the transaction, Anchorscape was the largest shareholder in KUB with a 52.17% stake in the company.
Darhim is a director of Prasarana Malaysia Bhd and chief executive officer of Radimax Group Sdn Bhd, a shipyard, engineering and vessel-building company, while Abdul Rahman is an Umno Linggi State Assemblyman.
Meanwhile, JAG Capital is also an investment holding company linked to the family of former Finance Minister II Datuk Seri Johari Abdul Ghani. The directors of the company include Johari himself, his wife Datin Seri Zurwati Haslinda Zainal Bahry, his son Amir Rasyidi Johari as well as CI Holdings Bhd group managing director Megat Joha Megat Abdul Rahman.
Dagang NeXchange Bhd (DNeX)'s 30%-owned associate, Ping Petroleum Ltd, has signed a rig contract with Stena Spey Services Ltd to drill two wells in the North Sea this year.
DNeX said the first well is the Guillemot A GUA-P1 side-track at the Anasuria Cluster concession, which can unlock about 1.7 million barrels of oil from its current net proved and probable (2P) oil reserves.
The group said this is part of an ongoing capacity enhancement programme, to be executed by Ping's jointly-controlled operating company Anasuria Operating Company Ltd (AOC), to maximise economic recovery of the Anasuria Cluster fields.
DNeX said drilling of the side-track is scheduled to start by the first half of this year with production expected upon completion of the project.
AOC is equally owned by Ping's wholly-owned subsidiary Ping Petroleum UK Ltd (PPUK) and Anasuria Hibiscus UK Ltd (AHUK), which is an indirect wholly-owned subsidiary of Hibiscus Petroleum Bhd.
The second well, meanwhile, is a development well in Avalon field and will be executed by PPUK as the operator of the field.
DNeX said this is part of the development programme to develop and bring production online to the Avalon field.
Censof Holdings Bhd said its contract to maintain the Social Security Organisation's (Socso) accounting system has been renewed. Censof said the RM4.53 million contract will be valid for three years.
Newly-listed Uni Wall APS Holdings Bhd has bagged a RM21.25 million subcontract from Crest Builder Sdn Bhd to supply and install aluminium, glazing and second skin external façade for a six-storey office building.
The office building, with a rooftop carpark, will be developed at the site of a two-storey factory in Section 19, Petaling Jaya which will be demolished.
CBSB, a unit of listed company Crest Builder Holdings Bhd, is the main contractor for the project, which is being developed by Toyoma Aluminium Foil Packaging Sdn Bhd, Uni Wall said.
The contract timeline is from Feb 22, 2019 to March 21, 2020.
Harn Len Corp Bhd has confirmed a report in The Edge Malaysia weekly that it is seeking to dispose of its estates through an open tender.
Harn Len said it is considering disposing of its estates located in Pahang together with an oil mill through an open tender to be handled by an authorised property agent namely, PA International Real Estates (JB) Sdn Bhd.
The group said property agent had advertised in newspapers to invite interested bidders for the tender.
According to The Edge report, Johor-based Harn Len is seeking to sell the 5,230-acre Senang Oil Palm Estate and 5,250-acre Lian Hup Estate located in Keratong.
Sunway Bhd has disposed of shares in four companies to its wholly-owned subsidiary Sunway City Sdn Bhd (SunCity) for RM469.25 million as part of its reorganisation exercise.
Sunway said it has disposed of 2.5 million shares of Sunway Treasury Sdn Bhd for RM17.83 million, 2 shares in Sunway REIT Holdings Sdn Bhd for RM2, 131.12 million shares in Sunway Medical Centre Sdn Bhd for RM444.37 million and 20,000 Class A shares in Sunway Lagoon Club Bhd for RM7.03 million.
Cahya Mata Sarawak Bhd's unit PPES Works (Sarawak) Sdn Bhd (PPESW) is partnering with China Communications Construction Company Ltd (CCCC) to bid for jobs under the Sarawak Coastal Road Network project as well as the Second Trunk Road project in the State.
Cahya Mata said its 51%-owned PPESW has incorporated a joint venture company with CCCC — PPES Works CCCC JV Sdn Bhd —- to tender for jobs under these projects.
The JV is 70% held by PPESW, with the remaining 30% held by CCCC's Malaysian subsidiary, China Communications Construction Company (M) Sdn Bhd.
Aturmaju Resources Bhd plans to jointly develop an intelligence modern lifestyle project in Kuala Selangor with Perkasa Selalu Sdn Bhd.
Aturmaju said its information technology arm ARB Development Sdn Bhd has entered into a Memorandum of Understanding (MoU) with Perkasa Selalu on the proposed joint venture (JV).
Under the JV, ARB Development will provide smart home engineering system integration, procurement and commissioning of the project. The proposed contact value is RM78 million.
Aturmaju said the MoU will have a validity period of six months or until the execution of the definitive joint venture agreement, whichever comes first.
MCT Bhd announced Apollo Bello Tanco's redesignation as executive director and appointment as chief operating officer of the property developer.
MCT also announced Susan Jacob Secreto's appointment as chief financial officer.
Tanco was redesignated to executive director from non-executive director of the group.