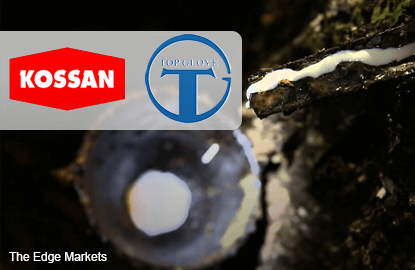 KUALA LUMPUR (April 12): Glove makers Top Glove Corp Bhd and Kossan Rubber Industries Bhd were among the top 10 losers on Bursa Malaysia this morning, following the ringgit's appreciation.
Top Glove fell as much as 19 sen (3.5%) to RM5.13, while Kossan was down 15 sen (2.4%) to a low of RM6.15.
Boosted by the rise in oil prices, the ringgit rose to 3.8927 to the US dollar. Year to date, the local unit has appreciated 9.35% against the greenback.
In its note on the glove sector last Friday (April 8), UOB Kay Hian noted that the share prices of glove companies have plunged by 20% to 34% since the beginning of the year, after the ringgit strengthened to below RM4 to the dollar level.
The research firm conducted sensitivity tests on glove makers earnings, barring any adjustment to average selling prices, and discovered a possible sector-wide aggregate reduction in industry earnings of up to 26%, with Top Glove being the most impacted stock.
"Top Glove [was] the most impacted glove stock under our coverage, due to its lower degree of natural hedge amid its proportionately smaller nitrile glove production mix of 32%, as compared with 75% to 80% and more than 90% for Kossan and Hartalega Holdings Bhd respectively," said UOB Kay Hian.
Nevertheless, the research firm said it expects the sentiment towards the gloves sector to be bolstered by some near-term strengthening of the US dollar in the second quarter of 2015, ahead of the expected US Federal Reserve rate hike.
At 2.34 pm, Top Glove shares were down 15 sen (2.8%) to RM5.17, with 2.33 million shares traded; while Kossan shares were down 13 sen (2.1%) to RM6.17, with 402,800 shares done.
At the same time, Hartalega shares were down 3 sen (0.63%) to RM4.73, with 45,600 shares traded; while Supermax Corp Bhd shares were down 8 sen(2.8%) to RM2.75 with 1.83 million shares done.