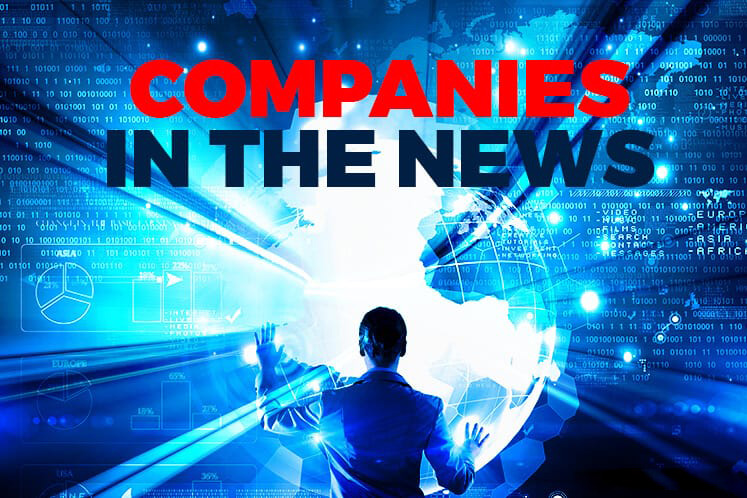 KUALA LUMPUR (Oct 13): Based on corporate announcements and news flow today, companies that may be in focus tomorrow (Oct 14) include Top Glove Corp Bhd, GuocoLand (Malaysia) Bhd, Tune Protect Group Bhd, Symphony Life Bhd, Kanger International Bhd, Reservoir Link Energy Bhd and Handal Energy Bhd. 
Top Glove Corp Bhd is said to have hired banks, namely Citigroup, China International Capital Corporation and UBS, to arrange a Hong Kong listing that could raise at least US$1 billion. 
GuocoLand (Malaysia) Bhd said its wholly-owned subsidiary GLM Real Estate Holdings Sdn Bhd has received a notice of assessment for 2016 of RM82.6 million, comprising income tax of RM56.3 million and a penalty of RM26.3 million. This is as IRB considers the gains made by GLM from the disposal of shares in a property subsidiary as chargeable under the Income Tax Act, instead of the Real Property Gains Tax Act. There is a potential net tax impact of RM70.2 million to the company, as GLM had previously paid real property gains tax of RM12.4 million.  
Tune Protect Group Bhd has appointed Indian national Rohit Chandrasekharan Nambiar as its group CEO, effective tomorrow. Rohit, who was the former CEO of AXA Affin Life Insurance Bhd, is filling the post that has been left vacant by Khoo Ai Lin, who resigned on July 31. 
Symphony Life Bhd's wholly-owned unit Prestige Capital Sdn Bhd is planning to sell six parcels of industrial development land in Ulu Langat, Selangor to Perdana Park City Sdn Bhd for RM250 million, which is more than two-thirds of Symphony Life's market capitalisation. The disposal of the parcels is expected to result in a gain after tax of RM74.24 million for the group. 
Kanger International Bhd has proposed a private placement of up to 386.97 million shares or 20% of the total number of its issued shares to raise RM68.88 million to third party investors to be identified later. Of this amount, RM34.38 million will be allocated for future viable investment, while RM34.38 million will be used as working capital for existing businesses. 
Reservoir Link Energy Bhd said its 60%-owned subsidiary has bagged a contract from Thailand's national petroleum company PTT Exploration and Production Public Company Ltd (PTTEP) to provide downhole heating technology complete with equipment and services. The two-year contract to Reservoir Link Solutions Sdn Bhd was awarded by PTTEP's units PTTEP HK Offshore Ltd, PTTEP Sabah Oil Ltd and PTTEP Sarawak Oil Ltd.  
Handal Energy Bhd's wholly-owned unit Handal Offshore Services Sdn Bhd (Handal Cranes) has received a letter of award from Carigali Hess Operating Company Sdn Bhd for the provision of pedestal crane inspection and maintenance services. The contract is for a duration of three years, with an additional two years extension option.