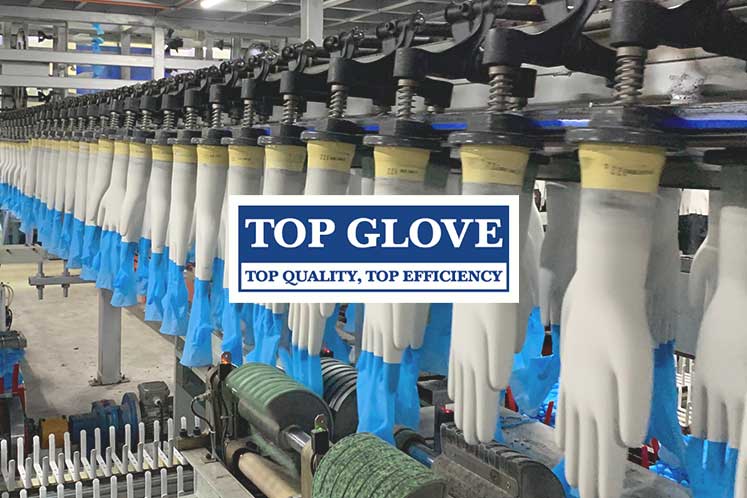 KUALA LUMPUR (June 11): Top Glove Corp Bhd, one of the world's best performing benchmark index component stocks, made a record high net profit of RM347.9 million in the third financial quarter ended May 31, 2020 (3QFY20) — a quantum leap from RM74.67 million a year ago. 
The rubber glove maker's profit margin swelled to 21% versus 6% in 3QFY19.
Its record quarterly net profit is almost equal to its annual profit of RM370.56 million for FY19. 
Still, Top Glove believes it has yet to see the peak of its exponential earnings growth, which will be fueled by soaring demand for rubber gloves and higher average selling prices (ASPs). 
"While this may be our most outstanding results to date, prepare to watch us break our own record in the upcoming quarters, because our best days are still ahead," Top Glove executive director Lim Cheong Guan said in a virtual press conference via Zoom.
He added that strong orders and demand are expected to continue for the next one to two years. In 3QFY20, sales of nitrile gloves jumped 47% year-on-year (y-o-y), natural rubber gloves sales leaped 8%, and surgical gloves sales rose 21%.
Vinyl glove sales, however, declined 15% year-on-year, no thanks to an oversupply and lower ASPs. On a quarter-on quarter basis, it is up 17% over the sales in 2QFY20.
Demand for gloves has not only been rising from the healthcare-related businesses but also the food and beverage sectors and even hair salons, among many others.
Top Glove managing director Lee Kim Meow said the huge demand initially came from China, followed by Europe, and the US. "Fear is driving a lot of people to book into capacity as they fear losing out," he added. 
Strong sales have resulted in lead times to increase tremendously, Lee said. Prior to Covid-19, the average lead time was only 30- to 40 days.
In June, the lead time for nitrile gloves was 420 days. For latex gloves, it was 400 days, while vinyl and surgical gloves have a lead time of 190 days and 160 days respectively.
With this, Top Glove will be consistently expanding its capacity to meet the strong global demand, Lee said.
For the current financial quarter ending Aug 31, Top Glove has a capacity of 78.7 billion pieces, and it expects this to reach 100.4 billion pieces by the end of FY21 in August next year.
This means a 36% increase in total capacity, from 73.8 billion pieces as at end-May this year.
Furthermore, some customers start to stock up inventory on expectation of rubber glove makers raising the ASPs by 15% a month in July and August respectively. The price hike widens profit margin.
Highest ever dividend 
Given the bumper net profit, Top Glove has declared an interim dividend of 10 sen per share. This is the highest dividend declared for a single quarter and a financial year. 
The group paid a total dividend of 7.5 sen per share for FY19.
The group did not only achieve an all-time high net profit, but also record revenue, earnings before interest, taxes, depreciation and amortisation margin and dividend.
Moreover, the record high earnings has put the group on a net cash position, said Lim. As at May 31, 2020, Top Glove's net cash stood at RM279 million. It has been in a net debt position after it acquired Aspion Sdn Bhd in early 2018.
Some bullish analysts have projected Top Glove's net profit to hit RM3 billion or higher for FY21. 
Top Glove's share price, however, dropped 38 sen or 2.22% at RM16.70, despite the record-breaking earnings today. This brings its market capitalisation to RM44.29 billion. Year-to-date, the counter has surged by more than three times from RM4.70.
Read also
Top Glove posts record net profit of RM348m in 3Q, declares 10 sen dividend
Selling on Top Glove continues right before quarterly earnings announcement later