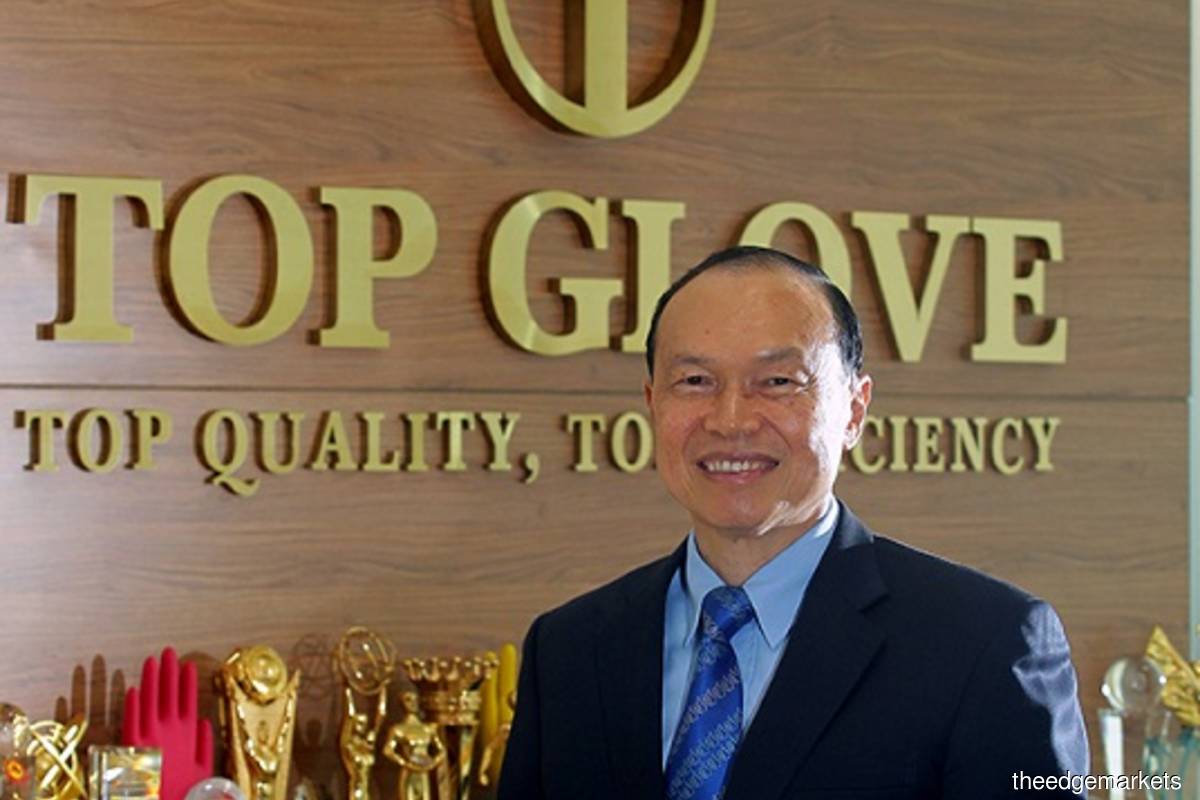 KUALA LUMPUR (Nov 25): Top Glove Corp Bhd executive chairman Tan Sri Dr Lim Wee Chai said today the company's estimated dividend yield will be more than 6% in current financial year ending Aug 31, 2021 (FY21), because the company is expected to do well as the Covid-19 pandemic generates demand for rubber gloves.
"We know that the company will continue to do well, especially for FY21," Lim said in a virtual press conference today.
When asked if the recent share buybacks by Top Glove are deemed aggressive, he said he thinks "it's a good management recommendation to buy [the shares]."
According to Lim, Top Glove's current net cash position is at about RM2 billion, after the company spent some RM1 billion in share buybacks over the last three months.
Top Glove shares have been under selling pressure, following positive news on Covid-19 vaccine trials and as investors weighed the company's updates on the impact from the temporary stoppage by stages of its manufacturing facilities within Meru in Klang, Selangor to curb the spread of the pandemic.
On Bursa Malaysia today, Top Glove's share price closed 15 sen or 2.21% lower at RM6.65, which values the company at about RM54.5 billion. The stock saw some 76 million shares traded.
According to Top Glove's Bursa filings, the company declared for 4QFY20, a dividend of 8.5 sen a share, which brings cumulative full-year dividends to 11.83 sen a share.
Based on Top Glove's closing share price at RM6.65 today, the full-year dividends at 11.83 sen a share translates into a dividend yield of 1.78%.
It was reported today that Top Glove has lost over RM12 billion worth of market capitalisation since the start of November 2020 as positive news on Covid-19 vaccine trials has been perceived as negative for glove manufacturers in anticipation that there will be less demand for gloves.
News on the temporary stoppage by stages of Top Glove's manufacturing facilities in Meru has also not augured well for the company's shares.
At a glance, selling pressure on Top Glove shares, however, appeared to have eased today after the stock's price fell by as much as 20 sen or 3% to RM6.60 compared to yesterday's 7% drop when markets closed.
Top Glove said in a Bursa filing yesterday that the company estimates about 3% of its FY21 sales revenue will be impacted by the temporary stoppage by stages of Top Glove's manufacturing facilities in Meru.
The authorities have implemented the Covid-19-driven Enhanced Movement Control Order (EMCO) from Nov 17 to Nov 30 at Top Glove's specific foreign workers' dormitories in Meru.
In Top Glove's Bursa filing yesterday, the company, referring to the EMCO's impact on its production capacity, said the affected 28 facilities in Meru represent about 50% of the glove manufacturer's total production capacity.
"As a mitigation measure, the company has rescheduled production plans for those non-affected facilities to produce the very urgent orders," Top Glove said.
According to updates on Top Glove's website, the world's largest rubber glove manufacturer by output capacity can produce up to 90 billion pieces of gloves a year as at October 2020 across its 36 glove factories.