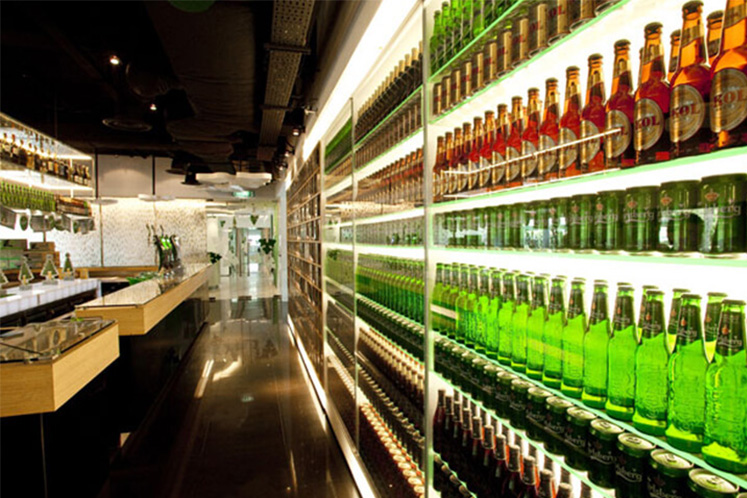 KUALA LUMPUR (Sept 19): Top Glove Corp Bhd did not disappoint its shareholders when it delivered a record high quarterly net profit of RM1.29 billion on Thursday. But the world's largest rubber glove maker was not even among the week's top 20 gainers.
The top gainer or gainers were actually the two listed brewers on the local bourse — Heineken Malaysia Bhd and Carlsberg Brewery Malaysia Bhd — who are known to be consistent dividend payers.  
Heineken shares jumped RM2.46 or 13% to RM22 yesterday from RM19.54 last Friday, though trading volume was not high, at just 917,600 shares. Its latest price gives the group a market capitalisation of RM6.65 billion. As for Carlsberg, it rose RM2.1 or 11% to close at RM21.60 yesterday from RM19.50, for a market cap of RM6.60 billion. It saw 3.12 million shares done.
According to Bloomberg data, Carlsberg's dividend yield now stands at 3.41%, while Heineken's is at 3%.
There are no buy calls among analysts who cover Carlsberg, which has drawn six 'hold' calls and five 'sells', with a consensus target price or TP of RM22.20. Heineken, however, has garnered three 'buys', five 'holds' and three 'sells', with a consensus TP of RM22.44.
 
Top Glove, on the other hand, closed the week at RM7.98, up 3% or 22 sen from the past week, for a market cap of RM65.2 billion.
The gain seems unimpressive against the record net profit it handed in for its fourth quarter ended Aug 31, 2020, which is about 18 times the RM74.17 million it posted in the corresponding quarter last year. It also announced a final dividend of 8.5 sen per share, which rounded up its FY20 payout to 11.8 sen, which is five times more than the 2.5 sen it paid in FY19.
It was even outperformed by two of its competitors, namely Hartalega Holdings Bhd and Kossan Rubber Industries Bhd.
Hartalega shares rose RM1.72 or 14% over the week to close at RM14.16 yesterday, with a market cap of RM48.64 billion; Kossan gained RM1.40 or 13% to finish at RM12.08, with a market cap of RM15.45 billion. Out of the Big Four rubber makers, Supermax registered the least gain, as it finished at RM7.60, up just 1.33% or 10 sen from the prior week.
Nevertheless, Top Glove was the fifth most actively traded stock of the week, while the group's earnings dominated headlines. Analysts also maintained their positive stance on its earnings prospects, with Maybank Investment Bank, Credit Suisse and CGS-CIMB being among the most bullish with their forecasts.
Maybank IB is projecting an RM11.22 billion net profit for Top Glove for FY21, while Credit Suisse is expecting RM10.97 billion and CGS-CIMB is anticipating RM10.38 billion.
New rubber glove entrants still in favour
Some companies that have previously announced plans to embark on rubber glove manufacturing also saw gains this week.
Among them were HLT Global Bhd, which jumped 29% or 37 sen to RM1.63 after it fell to RM1.26 last week, and Kanger International Bhd, which rose four sen or 15% to settle at 30 sen after 1.08 billion shares were traded. Kanger was the second most actively traded counter of the week.
Parkson, Ekovest, Macpie pique investor interest
The top most actively traded stock last week was department store operator Parkson Holdings Bhd, which saw trading volume surge to 1.61 billion shares. The penny stock was also a top percentage gainer, as it jumped 89% or 8.5 sen to close at 18 sen per share, versus 9.5 sen last Friday.
It appears that interest in the stock was piqued after it announced on Tuesday that its 68%-owned Singapore unit, Parkson Retail Asia Ltd (PRA), had received a final award of S$10.64 million or RM32.39 million from an arbitration hearing. This ended a nearly two-year legal dispute against Hassan (Cambodia) Development Co Ltd (HCDC) over the latter's delays in handling over new store premises in Phnom Penh.
Another counter that saw a jump in upward momentum was Macpie Bhd, whose shares finished 23% or 9.5 sen higher at 51.5 sen, versus 42 sen last Friday. The event management company, whose shares have been trending up since the start of this month, was queried by Bursa Malaysia over the steep rise in its share price.
In response, it revealed that its largest shareholder, executive director Ng Chee Heng, had disposed of his entire 24.54% stake or 86.71 million shares held in Macpie via SEG Capital Intelligence Sdn Bhd. The shares were sold in the open market for 33 sen apiece. Subsequently, the company also announced it was aborting a planned private placement that would have raised up to RM6.48 million for it to buy mobile phones to meet the demand of customers under its ICT segment.
Also in investors radar this week was Ekovest Bhd, which is currently in talks to acquire a 40% stake in IWC-CREC Sdn Bhd. The stock, which was the third most actively traded stock of the week with 905.57 million shares done, rose 13% to 56.5 sen.  
In an interview with The Edge published on Sept 16, Tan Sri Lim Kang Hoo, the controlling shareholder of the two entities, said the stake is estimated will cost RM1.5 billion. 
IWH-CREC is a joint venture (JV) that owns a majority 60% stake in the Bandar Malaysia development project near Sungai Besi in the capital city. The Ministry of Finance holds the remaining 40%.