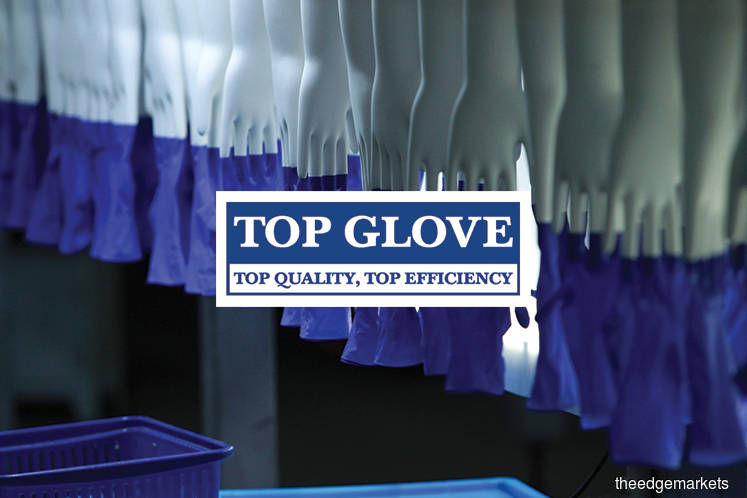 KUALA LUMPUR (March 16): Top Glove Corp Bhd has added another RM100 million to its current financial year's capital expenditure (capex) of RM213.3 million to set up a factory in Vietnam, tailored for vinyl glove production.
Executive chairman Tan Sri Dr Lim Wee Chai said the factory, which will be completed in one to two years, would also complement its China operation.
Lim said the world's largest rubber glove manufacturer's decision to venture into Vietnam was because of lower labour and other costs.
"The operation cost in China is getting higher so instead of expanding in China, we plan to expand in Vietnam on vinyl gloves and potentially for latex gloves as well," he told a media briefing.
Lim said the Vietnam factory, developed on 20 acres of land, will feature 10 production lines in the initial stage to produce at least 1.5 billion pieces of vinyl gloves annually. Currently, the group produces 2.2 billion pieces per annum.
As for its new condom business, Lim said the group plans to launch its own "Top Feel" brand by the end of this year, once its production kicks off in June or July. The group is in the midst of installing the machines.
Lim said 80% of the condoms produced would be for the original equipment manufacturer (OEM), while the remaining 20% will be under its own brand.
"Basically our condom business will follow the same model as our glove business, where we will produce and supply for them (OEM) and will also have our own brand," he said.
In addition to that, Top Glove also plans to export its condoms to Europe, Africa and Latin America.
"We will start with two production lines, and we will increase to 10 production lines over time," he said, without elaborating on the capacity.
Earlier today, Top Glove secured a US$310 million syndicated facility to part finance the acquisition of Aspion Sdn Bhd, one of the largest surgical glove producers globally, for RM1.37 billion from Adventa Capital Pte Ltd.
Lim said it is not easy to draw interest from several international and local banks.
"It is not easy for us to get a lot of banks' support, so a good track record is important. We will never fail the banks' expectation and will continue to build our reputation as a company or person.
"Bankers like to deal with people with good image and we will continue to practise good business ethics to deliver a good track record," he said.
The US$310 million credit facility comprises a US$155 million two-year term loan facility and a US$155 million five-year murabahah facility.
The syndication credit facility was led by Citibank Bhd with seven other financial institutions, which are Bank of Tokyo-Mitsubishi UFJ (Malaysia) Bhd, Hong Leong Bank, Mizuho Bank (Malaysia) Bhd, Sumitomo Mitsui Banking Corp Malaysia Bhd, BNP Paribas Malaysia Bhd, Bangkok Bank Bhd and Bank of China.
Lim said the strong response from investors had led to an oversubscription of 2.5 times of the facility size.
"This syndicated credit facility with Citi and its partners also underscores their confidence in our business prospects and growth strategy," he added.
The proposed acquisition comes with a profit guarantee of two years, up to a maximum of RM100 million.
The acquisition, targeted for completion by early April, will make Top Glove the largest surgical glove manufacturer with a market share of up to 20%, as against 12% as of last year.
For the second quarter ended Feb 28, 2018, Top Glove's borrowings increased by 80.43% to RM585.3 million, from RM324.4 million a year earlier, mainly due to the cost of acquiring packaging company Eastern Press Sdn Bhd for RM46.25 million and payments of 10% deposit for the acquisition of Aspion (RM137 million).
Top Glove shares closed down five sen or 0.51% to RM9.80, giving it a market capitalisation of RM12.3 billion. Over the past 12 months, the group has gained about 92.24%.