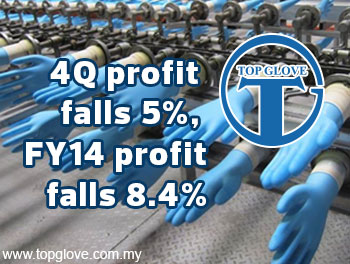 KUALA LUMPUR (Oct 14): Top Glove Corporation Bhd's net profit for the fourth quarter ended Aug 31, 2014 (4Q14) fell 5.2% to RM45.9 million, compared with RM48.4 million in the previous corresponding quarter.
This is despite a 5.9% increase in revenue to RM580.2 million, which Top Glove attributed to the steady rise in demand for rubber gloves and 3% year-on-year "modest" growth in total sales volume, in its filing with the local bourse today.  
The group has also recommended a single-tier final dividend of 9 sen per share for the FY14, bringing the total payout for the year to 16 sen per share.
For the full year ended Aug 31, 2014 (FY14), net profit dipped 8.4% to RM180.1 million, with revenue also falling 1.6% to RM2.28 billion.
"The decline in profit before tax (PBT) for 4Q14 and for FY14 was mainly attributed to the intensification of competition in the nitrile glove segment, which resulted in margin pressure," Top Glove's filing read.
It added that the increase in natural prices, together with knock-on inflationary effects following the increases in electricity and natural gas tariffs, further aggravated the situation.
Notably, PBT margin for FY14 stood at the lowest in the past three financial years, at 9.4%.
"Unrealised forex losses owing to an unexpected strengthening of the Ringgit at the close of the financial year, also accounted for the softer performance," Top Glove said.
Nitrile gloves, which now accounts for 24% of total group sales volume (up from 20% in FY13), saw a substantial volume growth of 23.7% this FY14.
"At the same time, the group recorded increased sales in Asia where market share expanded to 16%, in line with the general uptrend in usage for natural rubber gloves within emerging markets," Top Glove noted.
On costs, Top Glove pointed that raw materials continued to trend down in FY14, as natural latex fell by 17.3% to an average of RM4.77/kg and nitrile latex price contracted by 8.3% to an average of RM3.51/kg.
"However, the positive impact from this was minimal, in light of the competitive environment which compelled any cost savings gained to be passed on to the customers," it noted.  
In a media statement, Chairman Tan Sri Lim Wee Chai said: "It has been a tough year for us. The business environment has been challenging and we also recognise there are further improvements that can be made operationally. We are determined to further step up our efforts in quality enhancement and cost saving, to deliver a better performance."
Lim, nonetheless, remains upbeat about the company's and industry's prospects.  
"The demand for rubber gloves is still strong, as evidenced by the sales volume we are seeing. There may be a temporary slowdown, but there is still overall growth. With our on-going quality and automation improvement initiatives across our operations, we are optimistic of a better showing in the quarters ahead," he said.
Top Glove remarked in the statement that given the present business climate, increased merger and acquisition (M&A) opportunities are also likely to present themselves, thus enabling the group to expand faster via the inorganic route, in addition to the organic expansion being pursued.
In a separate filing, Top Glove announced it has resolved to adopt a dividend policy, to declare and pay annual dividends of not less than 50% of its profit after tax and minority interest.  
This is after taking into account the company's available cash and cash equivalents, return on equity and retained earnings, and the company's projected capital expenditure and other investment plans.  
As at Aug 31, Top Glove said it sat on a net cash pile of RM157.6 million, after factoring in acquisitions and capital expenditure of RM226.5 million and interim dividend payment.  
Additionally, the group has also benefited from a lower effective tax rate, it said. For the 4Q14, Top Glove paid taxes of RM1.48 million, compared with RM15.99 million in 4Q13.