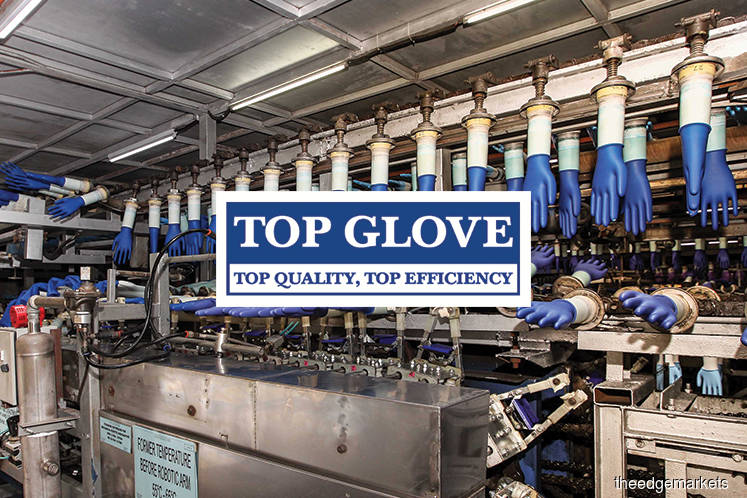 KUALA LUMPUR (March 15): Top Glove Corp Bhd saw its net profit for the second quarter ended Feb 28, 2018 (2QFY18) rose about 31.25% to RM109.01 million, from RM83.05 million last year on higher sales volume.
Its quarterly revenue grew about 12.55% to RM958.44 million from RM851.54 million in 2QFY17, due to the increase in demand for natural rubber gloves, said Top Glove in a filing to Bursa Malaysia today.
Moreover, Top Glove noted that the raw material prices were lower compared with 2QFY17, with average natural rubber latex and nitrile latex prices decreasing by 26.1% to RM4.40 per kg and 1.9% to US$1.06 respectively.
For its cumulative six months ended Feb 28, 2018 (1HFY18), net profit stood at RM214.46 million, up 37.15% compared to RM156.37 million. Its revenue increased about 15.85% to RM1.9 billion versus RM1.64 billion in 1HFY17.
Top Glove also attributed the improved performance to the higher utilisation rate from stronger demand, an upward revision of the average selling price and additional natural rubber glove capacity from a factory which was acquired from A1 Glove Sdn Bhd in June 2017.
"We have delivered a solid set of numbers which include our highest year-on-year volume growth and strong growth in profit, in spite of the shorter work months within the quarter and cost increases," said its executive chairman Tan Sri Dr Lim Wee Chai.
"It is not easy to do well in a challenging environment and we believe our commendable performance is largely credited to our commitment towards continuously improving our quality and the cost efficiency of our manufacturing operations," Lim added.
Moving forward, Top Glove said it will continue to pursue strategic expansion via the organic and non-organic routes.
With its two new manufacturing facilities, namely Factory 31 and Factory 32, which are to be operational by June 2018 and early 2019 respectively, Top Glove, in a separate statement today, noted that this will boost its total number of production lines by an additional 78 lines and production capacity by 7.8 billion gloves per annum.
Meanwhile, preparations for Top Glove's condom manufacturing facility have also commenced, and it is expected to be operational by June 2018.
"Top Glove will also continue to explore mergers and acquisitions opportunities, as well as new set-ups in synergistic industries, towards faster and more efficient growth," said the group.
The acquisition of Aspion Sdn Bhd is targeted for completion by early April 2018, and this will add another three glove factories with 65 production lines, a capacity of 4.6 billion gloves and 3,000 employees.
With these additional factories, Top Glove is projected to have 40 factories consisting of 34 glove factories and six other supporting factories, 693 glove production lines and a glove production capacity of 64.3 billion gloves per annum by early 2019.
"While we have performed well this quarter, we will not be complacent and are preparing ourselves for a challenging second half of the financial year. With this in mind, we will continue to embark on quality improvement and cost-saving projects to ensure we continue to deliver strong results in the quarters ahead," said Lim.
At 2.30pm, shares in Top Glove were 12 sen or 1.22% higher at RM9.94, with a market capitalisation of RM12.44 billion. Over the past year, the stock surged about 95.02% from RM5.10.