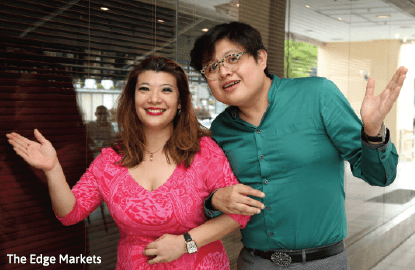 This article first appeared in Unlisted & Unlimited, The Edge Malaysia Weekly, on January 11 - 17, 2016.
LAST year, Malaysia's economy started to experience the effects of what is possibly a coming downturn, and many small and medium enterprises (SMEs) have already started to feel the pinch. 
Chris Tan, a practising lawyer and founder of Chur Associates, and Freda Liu, producer and presenter of the Enterprise show on BFM, who has interviewed more than 5,000 SMEs on her show, saw which way the wind was blowing and decided to write a book. In Shake & Spear Your Business — The Romeo & Juliet Way, they offer SMEs some strategies to help them make it through the rain.
1 Invest in talent
SMEs require a strong team to weather the tough economic times. Thus, it is important that they invest in building internal and external relationships and leverage the collective wisdom of their networks, says Tan. 
"Compared with the bigger corporations, SMEs can be a lot stronger in internal marketing. The good relationships will get you through, even if your business doesn't," he points out.
Tan cites the example of international property and investment company IQI Holdings Sdn Bhd, which focuses more on the staff's personal development and growth than on high commissions for selling as much as they can. The end result is even better, he says. "Investing in talent is actually a better way to create the best customer response team."
Treating customers well is essential, but it is not the only thing, Liu says, adding that companies should also be mindful of how they treat their own staff.
"Datuk Micheal Tio, group chief operating officer of PKT Logistics, talks a lot about how employees are very important. He has a very good connection with his staff and pays them well. One of his notable efforts is the Anak Bersekolah Ibu Bekerja programme, which allows mothers to send their children to school, come to work and finish their shift when classes are over," she says.
2 Look for opportunities
Tan says SMEs should not get too caught up in the current economic situation but focus instead on the opportunities that arise. "The key thing is to learn that there is no such thing as a world economy. There is only what is known as my economy — it is how you react to your environment. The slogan 'think global, act local' is actually a very good mindset to have because you observe the general environment and ask yourself how you can thrive in it."
Even in challenging times, SMEs need look for opportunities to take advantage of, rather than being conservative and not acting on anything, says Liu. "If we think there is going to be a recession and it is going to be tough, those are the thoughts and words that we are going to process. Instead, we need to think about the opportunities that are here, the areas that we haven't looked at. We need to ask ourselves how come some people still do well in such times."
One of her case studies is her own boss, Malek Ali, the founder of BFM. "Right after BFM started in 2009, there was a financial crisis. We started a business station when everyone was cautious about spending. Malek realised that it was going to be tough for a couple of years, but he saw an opportunity. So, when there is a gap, you have to find opportunities within the gap," says Liu.
Tan says there are always gaps that SMEs can explore, especially now that the boundaries are no longer as visible as they used to be. "For example, if you had said a couple of years ago that you wanted to start a business in Thailand, you would have needed to learn to speak Thai as well as other things. But now, you don't necessarily have to. You just need to look and know how to solve problems." 
Now is the time for high technology companies to be innovative as local and foreign funds have become widely available, says Liu. "They are not limited to Malaysian funds, but can also look at crowdfunding platforms like Kickstarter, or get funding from the many foreign venture capital firms and angels coming into the country." 
3 Be prepared to change
Business is about sustainability and the end game is about staying alive until the next payoff, say Tan and Liu. But this doesn't mean a hand-to-mouth existence. Businesses should test their boundaries and look beyond their present horizons without fear, they add.
Being the "best" is always a work in progress. Liu points out that a company should always be prepared to turn on a dime; to re-evaluate its business model and, if need be, change it to move forward.
"When Annabelle Co-Martinent, founder of La Juiceria, started her business, she sold everything online. But after she set up a physical store, she found out that the business had changed dramatically. Now, her online store is only there to support the physical one," she says. 
While it is alright to look at big corporations as models, Tan thinks that SMEs need to recognise that their strengths lie in being small enough to be flexible and adaptable to change. "Now that organisations have become more fluid and less compartmentalised, SMEs should capitalise on their strengths because it is easier for them to change and adapt to new environments."
4 Be pragmatic and generate options
Some SMEs can be too idealistic, says Tan. They should be pragmatic in their work and make sure everything they do is within their means. "We want them to know that there is a different way of doing things. The bigger mission here is to tell Malaysian entrepreneurs to see possibilities in everything. It is important to know the options because the more options you have, the better off you are."
Generating more options is important for SMEs because if they do not generate enough options in good times, it will lead to desperate measures in bad ones. "It all starts with your own failure to recognise the depth of your own biases. Your mind is more condoning of some things than you may be aware," Tan says.
In good times, the money coming in may cover a multitude of sins, but these show up quite quickly the moment the market turns sour. So, Tan and Liu's advice is to be self aware and constantly question whether you are doing everything the right way.
The way to overcome this in business is to always stay humble and be curious to pin down any new perspectives and ideas to make them yours. Your competitors are your best friends when it comes to learning and generating options. While there is never any need to reinvent the wheel, there are infinite ways to use existing options, they say in the book. 
5 Find a good partner
Although entrepreneurship might be perceived as a lonely journey, no one can make it to the top alone. A successful entrepreneur requires trusted partners and a strong web of connections. 
However, beware of the wolves in sheep's clothing. In a bleak economy, having an untrustworthy partner will take a huge toll on the company. To maintain the trust, you have to declare, constantly observe and check on where amendments should be made in the partnership agreements.
In any partnership, never sleep on any issue, especially the smaller ones. Address each issue as they arise as this will build trust, say Tan and Liu in the book. How you do anything is how you do everything. If you cannot deal with the smaller things, how will you deal with the bigger ones? 
Of course, finding the right partner is never easy, so SMEs should be prepared to take chances. Liu cites La Juiceria as an example. 
"Annabelle found her supplier by chance. The supplier she first contacted came to her house just to deliver vegetables. She thought that the partnership might work and took a chance. Now, in less than two years, La Juiceria has 13 outlets."
6 Contribute socially
Companies should look at all aspects of the business, including social contributions that can help maintain the longevity of their business. Tan says this is precisely what they are trying to convey in their book.
"We are trying to inject some warmth into the popular conception of a business. We believe that all businesses should be driven by a sense of purpose. It goes beyond the facts and figures, annual reports and those kinds of things. Even in accounting, there is something known as goodwill. How do you evaluate goodwill? What goes into it?"
Liu reminds SMEs that to survive, they should not focus solely on making money. "You need to think about the triple bottom line; you can think about how you can make money, about the planet, as well as the people whom you work with and the community that you serve," she says.