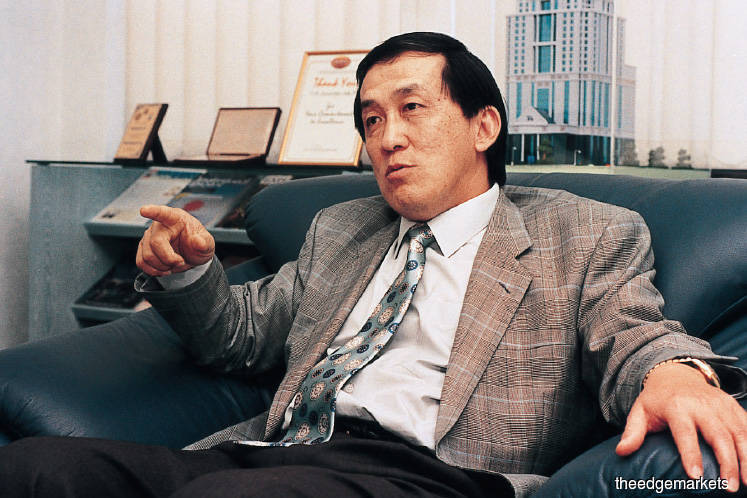 KUALA LUMPUR (Feb 12): Stockbroking baron Datuk Tony Tiah is pumping fresh capital into TA Enterprise Bhd to finance the privatisation of his flagship's listed property arm TA Global Bhd, which is said to be the biggest landlord around the KLCC Twin Towers.
TA Enterprise (TAE) announced to Bursa Malaysia that it is making a conditional voluntary offer to buy out 2.12 billion shares, which is equivalent to a 39.83% stake in TA Global it does not already own. TAE currently owns a 60.17% stake.
The stockbroking group offers two options, namely cash offer or a share swap, for TA Global's minority shareholders, according to the filing with Bursa Malaysia yesterday.
TA Global shareholders may choose from either a cash offer of 28 sen per existing share held, or a share swap based on an exchange ratio of 0.4211 new ordinary share in TAE to be issued at 66.5 sen each for every TA Global share surrendered.
The offer price of 28 sen is 20.85% above TA Global's five-day volume weighted average market price. The issue price of TAE shares at 66.5 sen also represents a 22.29% premium, the filing said.
TAE was last traded at 54 sen, giving it a market capitalisation of RM924.43 million, whereas TA Global shares were last done at 23 sen, valuing the company at RM1.22 billion.
The offer is not conditional upon any minimum level of acceptance of the offer shares as the offeror holds more than 50% of the voting shares in TA Global. However, it is conditional upon the approval of shareholders of TAE, who will experience massive shareholding dilution.
To finance the cash offer, TAE will place out one block of 550.54 million new shares to its founder-cum-controlling shareholder Tiah at 66.5 sen each.  
The offer is extended to all the offer shares held by the parties acting in concert (PACs), who currently hold 15.34% or 816.27 million shares, in TA Global.
The PACs include Tiah and his spouse Datin Tan Kuay Fong, who is TAE managing director and TA Global's executive director, Tiah's son Tiah Joo Kim, who is the chief executive officer of TA Global, Tiah's sister-in-law Kimmy Khoo Poh Kim, as well as other TA Enterprise and/or TA Global shareholders who are Tiah and Tan's brothers, brother-in-law and daughters.
Tiah, his spouse Tan, Joo Kim and his sisters have indicated that they will accept the offer in respect of all their TA Global shares via the share exchange option.
With the additional new TAE shares issued to Tiah and PACs as a result of the share swap, their shareholding will hit the threshold that triggers a mandatory general offer (MGO) to TAE. Consequently, Tiah and PACs will make the MGO at 66.5 sen per share.
Trading in shares of both TAE and TA Global, which were suspended yesterday, will resume tomorrow (Thursday) at 9am.