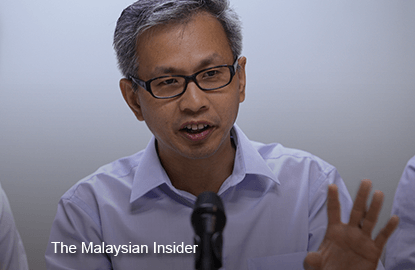 (Aug 19): Petaling Jaya Utara MP Tony Pua, who has been banned from travelling overseas, wants the High Court to declare unlawful the order issued by the Immigration Department.
Pua, who filed his leave application for judicial review today, also wants the court to quash the order.
His lawyer, Gobind Singh Deo, told reporters that his client had to obtain leave from the court before the merit of the application was heard.
He said Pua, who is also DAP national publicity chief, asked for damages to be awarded for losses suffered following the restriction to travel out of the country.
Pua named the department's director-general and Putrajaya as respondents and said the decision to stop him from travelling abroad was arbitrary as he was not given prior notice.
"Such action is a breach of my fundamental right (to travel) under the Federal Constitution," he said.
Pua said the decision was unreasonable, unfair, a wrongful exercise of discretion and tainted with mala fide.
He said since his passport was valid until 2020, he could travel unhindered.
Pua, who has been critical of 1Malaysia Development Berhad (1MDB), was stopped by immigration authorities from leaving the country on July 22.
He was to fly to Yogyakarta, Indonesia, for work purposes when he was stopped by immigration at low-cost carrier terminal klia2 at 3.15pm.
He was recently implicated in two video confessions by former journalist Lester Melanyi, who alleged that Pua and a clutch of opposition politicians had fabricated 90% of the documents related to 1MDB with whistleblower site Sarawak Report as part of a campaign to topple Prime Minister Datuk Seri Najib Razak.
He is also being sued by Najib who has accused the DAP lawmaker of incessantly attacking him over the Finance Ministry-owned fund to gain political mileage for the opposition.
Gobind said the court papers would be served to the Attorney-General's Chambers for them to appear during the hearing of the leave application. – The Malaysian Insider