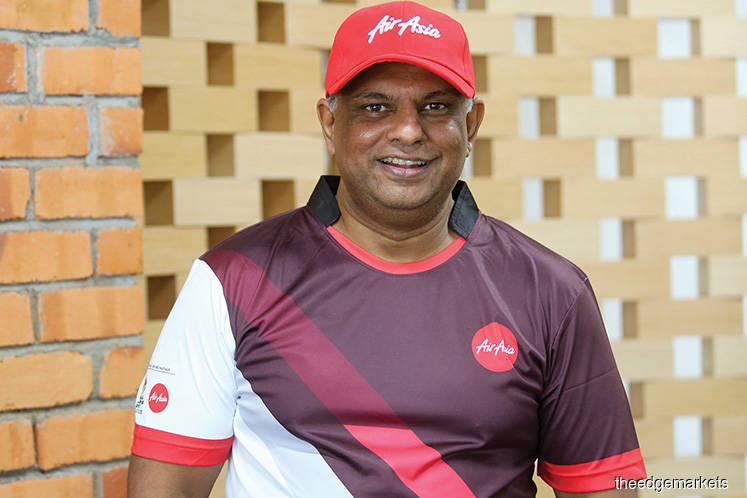 KUALA LUMPUR (July 27): AirAsia Group Bhd group chief executive officer (CEO) Tan Sri Tony Fernandes said today Malaysia is expected to have more low-cost carrier terminals (LCCT) as Malaysia Airports Holdings Bhd (MAHB) now understands what AirAsia can do for the country's aviation sector.
Fernandes said via Twitter that he had a great meeting today with Finance Minister Lim Guan Eng, Transport Minister Anthony Loke Siew Fook and MAHB acting group CEO Raja Azmi Raja Nazuddin.
Fernandes said: "More low-cost terminals coming. Malaysia Airports (MAHB) now understands what we can do. Exciting time for guests, Malaysians. More jobs and economic growth."
"Let's hope the war is finally over and we both win together. MAHB and AirAsia. And of course the main winner Malaysians," he said.
According to news reports, the AirAsia-MAHB spat involves the relocation of AirAsia's operations to Kota Kinabalu International Airport's Terminal 1 (T1) since December 2015 from T2.
In 2018, news reports quoted MAHB as saying in a statement that "at no point in time did MAHB force AirAsia Group to move to T1".
Fernandes was quoted as saying that AirAsia was back in talks with relevant agencies, as well as the Sabah state government, to restart T2 as a dedicated LCCT.
He said since AirAsia relocated to T1 on Dec 1, 2015, the airline has been posting "flat growth" and failed to spur tourism for Sabah.
Yesterday, it was reported that the Transport Ministry will study the technical aspect of AirAsia's proposal to return to Kota Kinabalu International Airport's T2. Loke said the ministry's decision on the matter cannot be based on sentimental reason only.