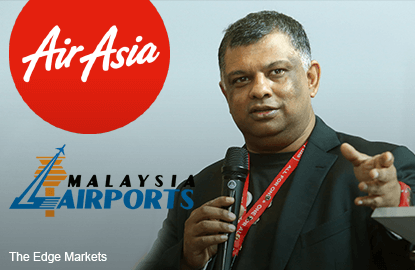 KUALA LUMPUR (June 13): AirAsia Bhd group CEO Tony Fernandes urged Malaysia Airports Holdings Bhd to acknowledge Kuala Lumpur International Airport 2 (KLIA2) as a low-cost hub, as the airport had been positioned as a centre for budget airlines.
 
In a statement today, Fernandes said AirAsia and Malaysia Airports had "built up together" KLIA2's low-cost branding. He said AirAsia would launch a campaign to promote KLIA2 as Low-Cost Carrier Terminal 2 (LCCT2).
"As we grow towards becoming the Dubai of Asia, we want the world to know that the best value fares are here in Malaysia.
 
"To me, KLIA2 doesn't mean anything. LCCT2, on the other hand, is synonymous with low-cost. It is a brand that we built up together with Malaysia Airports and it shouldn't go to waste. I urge MAHB (Malaysia Airports) to stop denying the fact that it is a low-cost hub," he said.
Fernandes said LCCT2 would reinforce Malaysia's position as an international low-cost aviation gateway.
At 5 p.m., AirAsia shares fell two sen or 0.7% to close at RM2.67, for a market value of RM7.4 billion. The stock saw some 27 million shares traded.