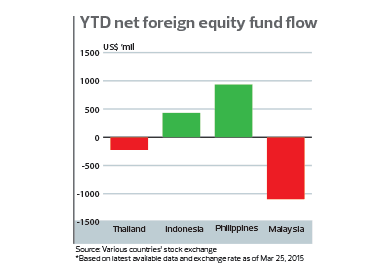 THE headline FBM KLCI gained 1.8% over the past two weeks, accounting for about 60% of cumulative gains for the year-to-date.
In the earlier half of this period, local institutional fund buying lifted prices, as they have for much of this year. Notably though, foreign buying provided the boost in the later half. Some of the biggest gainers were index-linked stocks such as Petronas Chemicals, PPB Group, IHH Healthcare, CIMB, RHB Capital, YTL Corp and Genting. Retail investors, by and large, remained on the sidelines.
It is unclear if the recent inflow of foreign funds is sustainable or just a blip in the broader downtrend. Malaysia has seen the largest net outflows so far this year, compared to our neighbours, weighed down largely by domestic issues. In fact, Indonesia and the Philippines enjoyed net inflows while Thailand saw comparatively mild net selling.
Regional markets were broadly higher last week, due, in part, to the US Federal Reserve's statement, which pared projections on the pace of interest rate hikes. As a result, monies have resumed their flow to emerging markets, where average valuations are also lower compared with US stocks.
In line with this, the US dollar gave up some of its gains. The ringgit traded slightly stronger against the greenback, now at around 3.685 from as low as 3.73 at the end of the previous week.
The weaker dollar lent strength to commodities. Oil prices rose further after Saudi Arabia initiated military operations in Yemen, fanning concerns that the conflict will spread and threaten the flow of supply. But gains were tempered by prevailing supply glut. Brent crude futures are hovering around US$58 per barrel, at the point of writing.  
Shares in my portfolio did well last week amid improvement sentiment for the broader market.
Total value for my portfolio was up 0.98%, outpacing the 0.54% gain for the FBM KLCI. Last week's gains boosted the portfolio's total returns, since inception, to roughly 7.8%.
I continue to outperform the benchmark index, which has fallen by 0.9% over the same period.
My latest acquisition, Lii Hen (Fundamental score: 2.5/3, Valuation score 2.4/3) did well enough. The stock traded as high as RM4.14 before closing at RM4.04 last Friday. Notably, Oceancash (Fundamental score: 1.4/3, Valuation score 0.6/3) gained 12.7% on renewed investor interest.   
I kept the portfolio, now 56% invested, unchanged.
I am still cautious on the market's outlook, despite the benchmark index's recent gains. There remain many unresolved domestic uncertainties that had resulted in hefty foreign fund selling and sharp fall in the ringgit thus far.
Come April 1, the Goods and Services Tax (GST) will be implemented. Prospects for corporate earnings growth remains muted. The impact of rising costs on consumer spending may not be fully reflected in prevailing projections.
A ratings downgrade by Fitch, though the smallest of the three global rating agencies, if it comes to pass will further weigh on investor confidence.
This article first appeared in The Edge Malaysia Weekly, on March 30 - April 5, 2015.