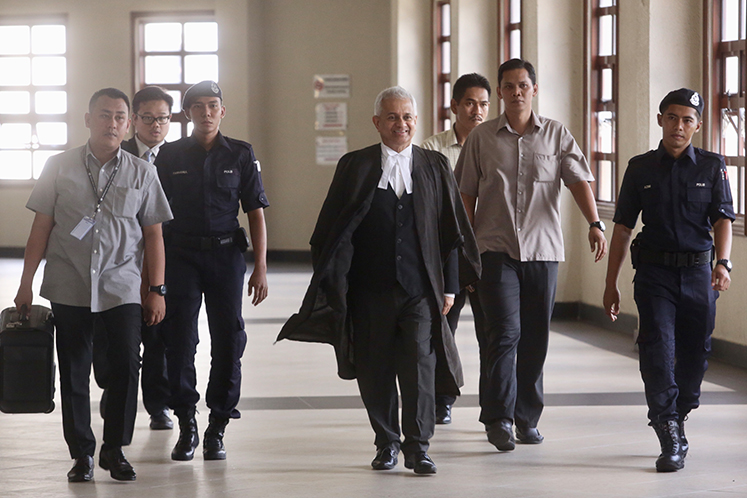 KUALA LUMPUR (April 17): An article by Attorney-General Tommy Thomas lauding news reports which exposed the 1MDB fiasco was used by Datuk Seri Najib Razak's defence team to secure an application to bring to court communication transcripts involving AmBank staff and holders of bank accounts linked to the state fund and the former Prime Minister.
Also quoted during the application was the best-selling book 'Billion Dollar Whale' which underlined the exploits in 1MDB and the involvement of those involved, including controversial businessman Low Taek Jho, better known as Jho Low.
The application was brought up after the fourth witness in the Najib-SRC trial, Bank Negara Malaysia (BNM) officer Ahmad Farhan Sharifuddin, confirmed that he possesses documents relating to AmBank relationship liaison manager Joanna Yu.
Farhan obtained the documents during the BNM raid on AmBank in July 2015.
Yu is one of three AmBank staff who liaised with holders of the bank accounts relating to Najib and 1MDB as well as its former subsidiary SRC International Sdn Bhd. The other two were Krystale Yap and Daniel Lee, said Farhan during the proceeding.
The prosecution reminded the court that Section 51 of the Criminal Procedure Code (CPC) dictates that when a trial is already ongoing, any request for new documents to be brought in should undergo a formal application and based on its relevance to the trial.
It added that it is not planning to use such documents, and that Yu will be called up as witness anyway so the defence "can ask her" instead.
Defence lawyer Havinderjit then started quoting the Billion Dollar Whale and Wall Street Journal (WSJ) reports which revealed Blackberry Messenger conversations between Yu and Jho Low.
Lead defence lawyer Tan Sri Muhammad Shafee Abdullah later brought up Thomas' article in July 2016 on the Malaysiakini news portal, which referred to "brave reporting" on 1MDB by multiple news agencies.
This, he said, provided some ground that the reference to these articles — referring to the mobile conversation published in some of the news articles or blogs — is relevant as the reports provided "a lot of truth".
"This case is relevant not so much on what is disclosed, but on what is not disclosed," Shafee said.
After more than an hour of argument on the matter, High Court judge Mohd Nazlan Mohd Ghazali said: "Given the grounds by the defence, the request to documents relating only to the communications is relevant.
"As such, the witness needs to produce the documents pertaining only to the communications," he said.
This ruling will unveil conversations between AmBank staff and 10 individuals, including Jho Low, SRC chief executive officer (CEO) Nik Faisal Nik Ariff Kamil, 1MDB top management including ex-CEO Shahrol Azral Ibrahim Halmi and Tan Sri Ismee Ismail as well as ex-finance director Terence Geh.
On July 6, 2015, BNM raided the Ambank branch and headquarters along Jalan Raja Chulan to obtain information relating to 12 bank accounts, including those of Najib and SRC International.
The ongoing trial involves seven charges against Najib over alleged siphoning of RM42 million from SRC into his bank accounts. The trial resumes at 9am tomorrow.