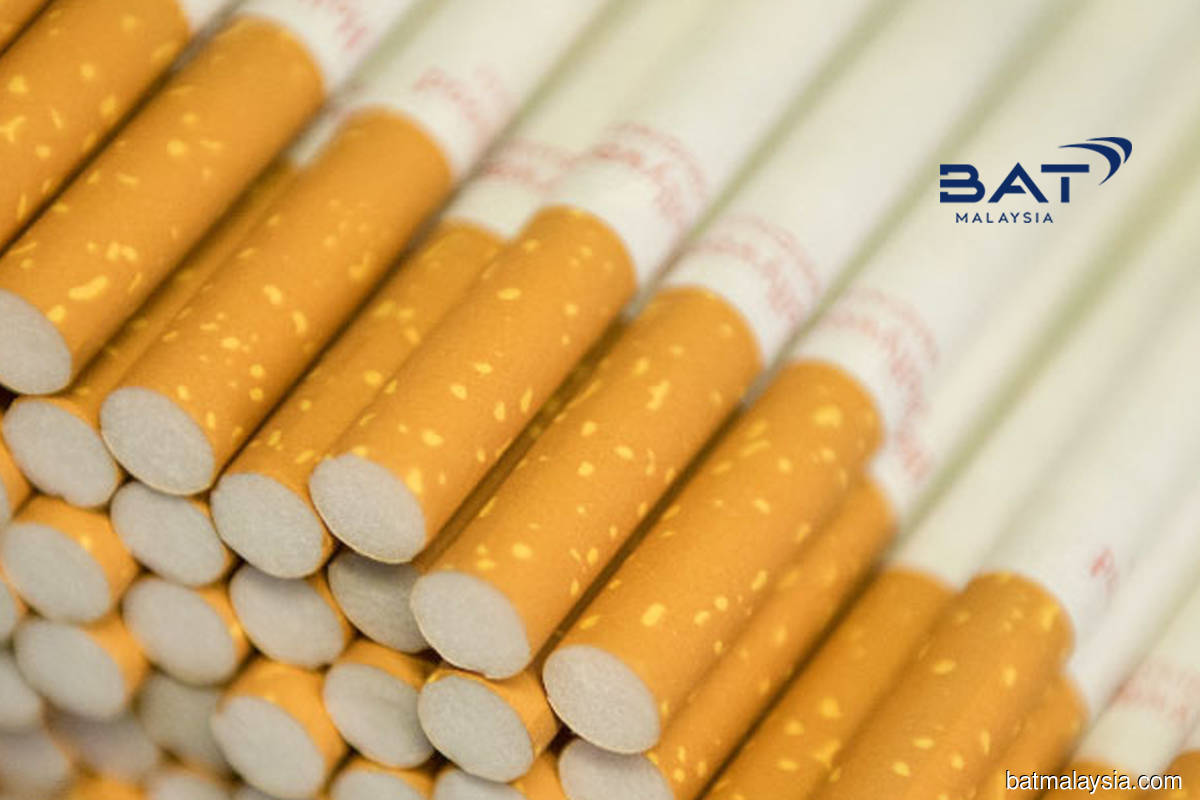 KUALA LUMPUR (July 15): The "generation end game" clause in the proposed Tobacco and Smoking Control Bill poses a long-term risk to British American Tobacco (Malaysia) Bhd's (BAT) earnings, CGS-CIMB Research has said.
The clause bans people born after 2005 from buying and smoking cigarettes and vapes.
In a note on Friday (July 15), CGS-CIMB analyst Kamarul Anwar said the finance ministry's decision to impose a RM1.20/ml excise duty on vape gels and liquids could also impede BAT's plan to diversify its product portfolio.
"The excise duty would more than double the prices of some vape gels and liquids on the grey market, based on our channel checks and conversations with vape traders. When the government raised the excise duty on cigarettes in 2010-16, an unintended consequence was that illicit cigarette market share rose to over 60%, as most Malaysian smokers were no longer able to afford cigarettes from licensed manufacturers and trading companies," said Kamarul.
On Thursday, Health Minister Khairy Jamaluddin was reported as saying that he had received the Cabinet's go-ahead to table the Tobacco and Smoking Control Bill at the upcoming parliamentary meeting.
"Our FY22-24F forecasts have somewhat incorporated the potential corollaries from the Tobacco and Smoking Control Act. We have yet to assume sales forecasts from BAT's vapes because the group has not provided information on the product and pricing structure.
"Plus, we have our doubts that BAT's products can take off immediately — especially if existing vape players on the grey market refuse to play ball by raising prices to factor in the excise duty.
"Our DDM (dividend discount model) valuation's long-term growth rate is set to zero, as the 'generation end game' policy could exhaust BAT's customer base in the long run," said Kamarul.
The policy, he said, is likely to further galvanise the black market, rather than curb Malaysians' smoking habits.
"The losers from the generation end game, in our view, would be BAT, Malaysian smokers, and the government. On both the fundamentals and ESG (environmental, social and governance) points, we believe the ban would take the shine off BAT's investment proposition," said the analyst.
CGS-CIMB reiterated its "reduce" call on BAT shares with an unchanged DDM-based target price of RM8.77. "Its 7.6-7.7% CY22-24F yields pale in comparison to the 18.6% potential downside risk to the stock," Kamarul added.
BAT's share price was down 10 sen or 0.93% to RM10.68 in afternoon trading, giving the group a market value of RM3.05 billion. The counter has fallen 23.05% year-to-date from RM13.96.