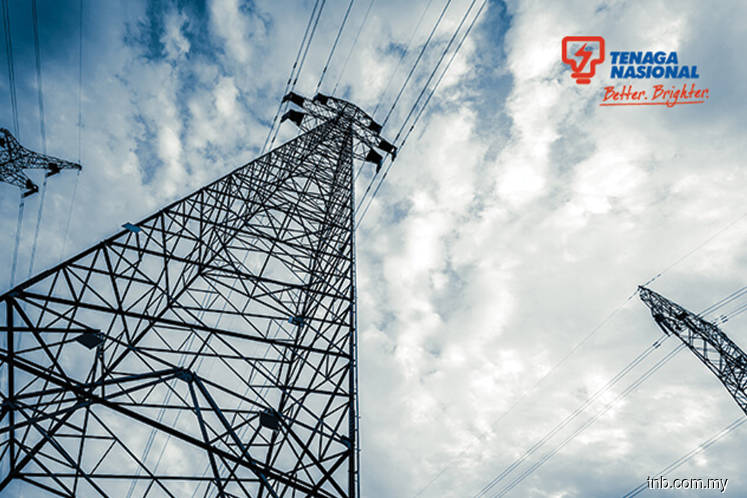 KUALA LUMPUR (Oct 27): Tenaga Nasional Bhd (TNB)'s net profit could be lower by as much as RM1 billion per year if the Energy Commission's revision of the Incentive Based Regulation (IBR) parameters for the second framework regulatory period (RP2) starting 2018 lowers the allowable return and removes the 2% mark-up in tariff.
Under the IBR framework RP1 (2014-2017), TNB's return on its transmission and distribution (T&D) assets is 7.5%, said CIMB Investment Bank Bhd in a note to clients today.
However, its actual average tariff is about 2% higher than the base tariff set by the IBR due to higher electricity consumption by the commercial sector.
"As such, when the regulator revises the IBR parameters for RP2 starting in 2018, the allowable return may be lowered and we see potential earnings risk as it may no longer enjoy the additional 2% tariff," said its analyst Ngo Siew Teng.
"Assuming TNB is only allowed to earn a 6.5% return (its weighted average cost of capital based on CIMB estimates) on its T&D assets and the 2% mark-up in tariff is entirely removed, we estimate that TNB's net profit could be lowered by as much as RM1 billion per annum.
"This, plus the risk of a higher effective tax rate, may lead to a RM2 billion reduction in TNB's annual net profit," she added.
However, Ngo said, even if all these risks materialise, TNB would trade at 16 times to its price earnings ratio (PE) for the financial year ending Dec 31, 2019, which is below Petronas Gas Bhd's PE at 17 times, Malakoff Corp Bhd at 26 times and Gas Malaysia Bhd at 20 times.
TNB's year-to-date share price performance of about 4.3% lagged behind KLCI's +8.8% return due to uncertainty from the upcoming tariff review.
CIMB maintained its "add" call with an unchanged target price of RM15.70 as the current undemanding valuation has largely priced in the negatives, and trades at 11 times to FY18 PE, making it the cheapest big-cap utility stock in its coverage.
Conversely, Hong Leong Investment Bank Bhd finds that TNB's earnings and cash flow are expected to be stable due to the implementation of the IBR fuel cost past through mechanisms.
"The expected IBR revision to lower return on regulated assets by 2018 will be offset by new contributions from joint ventures or associates and power plants," it said in a note today.
It maintained a "buy" call with an unchanged target price of RM17, remaining positive on TNB's long-term growth and strong cash flow and potentially higher dividends.
At 10.49am, TNB shares rose 80 sen or 5.58% to RM15.14 with 7.08 million shares done, for a market capitalisation of RM81.15 billion.