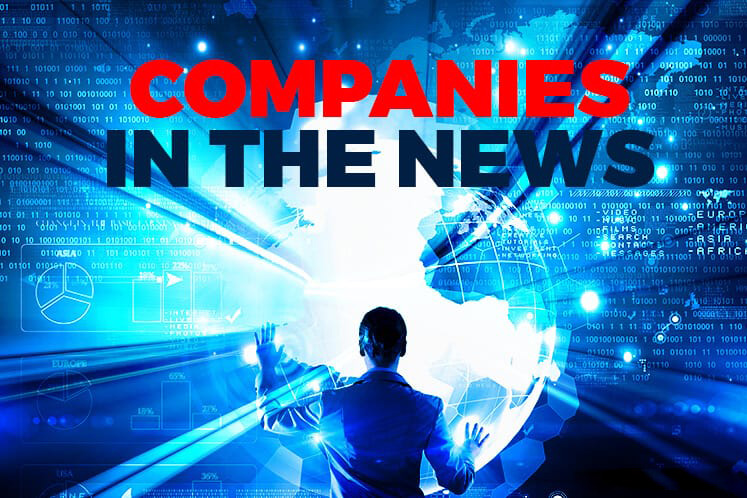 KUALA LUMPUR (March 4): Based on corporate announcements and news flow today, companies in focus tomorrow (March 5) may include Tenaga Nasional Bhd, Telekom Malaysia Bhd, Eden Inc Bhd, Malayan United Industries Bhd, Xinghe Holdings Bhd, Sino Hua-An International Bhd, Priceworth International Bhd and APFT Bhd.
Tenaga Nasional Bhd has completed its acquisition of two UK-based renewable energy (RE) firms following the purchase by its unit, Tenaga Wind Ventures UK Ltd, of the remaining 20% stake in GVO Wind Ltd and Bluemerang Capital Ltd for £18.6 million (RM100 million).
The combined platform makes up the largest Feed-in Tariff (FiT) wind portfolio in the UK, comprising 53 operational onshore medium wind turbines with a total combined capacity of 26.1MW.
Singapore-based Vodoke Pte Ltd, an IPTV solution provider, is seeking to claim from Telekom Malaysia Bhd (TM) a total of US$34.54 million (RM144.39 million) arising from a dispute in relation to IPTV Package orders in 2015.
Vodoke has referred its dispute with TM to arbitration under the Singapore International Arbitration Centre.
Eden Inc Bhd had received compensation amounting to RM16.71 million from the Government following the compulsory disposal of Eden's 6.39ha land in Kuantan, Pahang for the proposed East Coast Rail Link (ECRL) project. The proceeds will be used to pare down the remaining balance of its Ijarah loan facility.
Malayan United Industries Bhd (MUI) has secured two term-loan facilities totalling £100 million (RM539.3 million) to refinance its existing term-loan facility, as well as to finance the refurbishment and renovation of Corus Hotel Hyde Park in London.
After three consecutive loss-making years, China-based edible oil producer Xinghe Holdings Bhd is upbeat over its prospects of a turnaround in financial year ending Dec 31, 2020 (FY20), supported by its new aquaculture food business.
The company acquired a prawn farm and related facilities and assets from Pegagau Aquaculture Sdn Bhd for RM100 million last Dec.
Metallurgical coke manufacturer Sino Hua-An International Bhd, which recently ventured into the digital space, has partnered with two companies to develop a smart modelling farming project for agriculture markets.
Through its unit, Wavetree Technologies Sdn Bhd, it has inked a Memorandum of Understanding (MoU) with agricultural company Top Fruits Sdn Bhd (TFSB) and anti-counterfeit solutions provider Mybeecop Sdn Bhd for the development.
Priceworth International Bhd has terminated a sales and purchase agreement to acquire timber extraction and replanting rights for a forest reserve area in Sabah known as Forest Management Unit 5 (FMU5). The termination is with immediate effect.
Practice Note 17 company APFT Bhd will be delisted from the Main Market of Bursa Malaysia on March 16 unless an appeal is made, following the bourse regulator's dismissal of the company's request for more time to submit its regularisation plan. Prior to the delisting, trading of APFT's shares will be suspended from March 12.
Should the company appeal against the delisting, it should be made on or before March 11, Bursa Securities said.