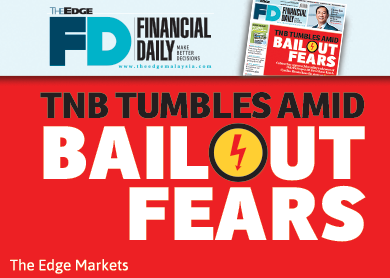 KUALA LUMPUR: It is unlikely to be a raw deal for Tenaga Nasional Bhd (TNB), whose share price plummeted to an eight-month low yesterday, on news that the Cabinet has approved the utility group's takeover of 1Malaysia Development Bhd's (1MDB) failed power plant project called Project 3B. 
According to sources, the government has also granted a tariff rate hike of up to one sen per kWh for the electricity produced by the 2,000MW coal-fired power plant, which will be located in Jimah, Negeri Sembilan.
The tariff hike was given after taking into account the weaker ringgit, borrowing costs and expenditure on additional infrastructure, said industry sources. A one sen hike will cost an additional RM3.5 billion over the life of the concession and will help TNB to offset any cost escalation that may arise from delays in the project that 1MDB's energy unit — Edra Global Energy Bhd — has not been able to kick-start due to a lack of financing.
Simply put, because of the delay by 1MDB, the public will have to bear the extra costs in the form of a higher electricity tariff, said the sources. 
The power plant project could not be scrapped as it is crucial for the country to ensure sufficient supply of electricity. Without Project 3B, which was originally due for completion in October 2018, there will be a power shortage by then.
TNB's share price fell as much as 6.5% to an intraday low of RM12.30 after Energy, Green Technology and Water Minister Datuk Seri Maximus Ongkili told the press that the Cabinet had approved TNB taking over the 70% stake held by Edra in Project 3B. The shares closed at RM12.60, down 4.3% or 56 sen, with 26.43 million shares traded.
1MDB's existing partner, Japan's Mitsui & Co, will retain a 30% stake in the project.
Ongkili, however, did not reveal the amount that TNB needs to bear. He only mentioned that the project would be transferred on a willing buyer, willing seller basis. "We could have gone for an open bidding [but] because the project has been delayed, it needs to be given priority," Ongkili told reporters at the Parliament lobby yesterday.
The lack of details has reinforced the earlier fears that the utility group might have to pay a steep price to take over the project, considering that debt-laden 1MDB is cash-strapped now.
TNB is certainly not in a weak bargaining position. If 1MDB drags its feet and the project collapses, 1MDB will be stuck with huge liabilities from the contractual obligations to the engineering, procurement and construction contractors, said industry executives, who believe that it would be a relief for 1MDB if the investment fund could get the project off its hands.
However, TNB issued a statement yesterday saying that it had not received any official notification with regard to the takeover of Project 3B. 
Yesterday's news from Parliament was not quite a surprise as TNB chief executive officer Datuk Seri Azman Mohd had previously expressed interest in taking over Project 3B, on condition that the project's tariff is revised, so the internal rate of return is above the group's weighted average cost of capital.
In an interview with The Edge weekly last month, Azman stressed that TNB would not pay a premium for Project 3B.
"No premium. The principle is that we will pay Edra for whatever cost they have put in [Project 3B]. To make the project viable, they may have to take a haircut. We are not going to do any bailout here," said Azman.
TNB, which is also the offtaker for electricity generated by the independent power producer, has not signed the power purchase agreement (PPA) with Edra. If the two companies have done so, there would be a step-in clause in the PPA that allows TNB to take over the project when the project misses significant milestones.
However, it is a different scenario for Project 3B. Hence, TNB will have to negotiate with 1MDB on how much the latter deserves for the land and the development costs it has already incurred.
This article first appeared in The Edge Financial Daily, on June 19, 2015.