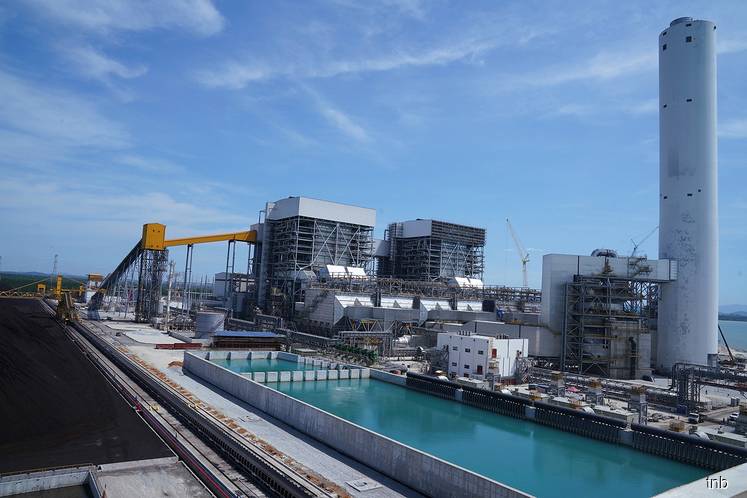 Jimah East Power's first of two coal-fired power plants has achieved its commercial operation date at midnight yesterday. (Photo by TNB)
KUALA LUMPUR (Aug 22): Tenaga Nasional Bhd (TNB) said today the first of the two proposed 1,000 megawatt (MW) coal-fired power plants owned and run by its subsidiary Jimah East Power Sdn Bhd (JEP) has started producing electricity to expand Peninsular Malaysia's existing generation capacity of 22,748 MW.
In a statement today, TNB said JEP is building the ultra-supercritical (USC) coal-fired power plants in Port Dickson, Negeri Sembilan. The first 1,000 MW power plant achieved its commercial operation date (COD) at midnight, according to the utility giant.
"The two plants are strategically located and are crucial in reinforcing the security of Peninsular Malaysia's power supply. JEP's second plant (another 1,000 MW) is on track to achieve its COD in December 2019.
"Apart from the JEP project, TNB's two other USC coal-fired plants are Manjung 4 and Manjung 5 in Lumut, Perak. Both are among the first ultra-supercritical coal-fired plants in ASEAN. USC technology is an efficient coal-burning technology with 40% efficiency compared with conventional coal-fired power plant which has a 36% efficiency," it said.
TNB owns a 70% stake in JEP while Mitsui & Co Ltd and The Chugoku Electric Power Co Ltd hold 15% each, according to TNB.