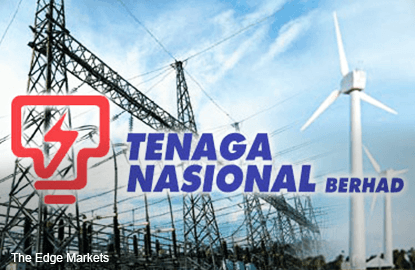 KUALA LUMPUR (Feb 29): Tenaga Nasional Bhd has inked a new power purchase agreement (PPA) with Powertek Energy Sdn Bhd to extend the deadline of the PPA by 3 years and 10 months.
In a filing with Bursa Malaysia today, TNB said it's new PPA was pursuant to a conditional letter of award dated Aug 5, 2015 issued by Suruhanjaya Tenaga to Powertek.
Powertek is a wholly-owned subsidiary of 1Malaysia Development Bhd (1MDB).
According to TNB, the new PPA was to govern the rights and obligations of both parties throughout the term of the extension and on the sale and purchase of all the capacity and the electrical energy generated by Powertek from its 434MW open-cycle power plant located at Telok Gong, Melaka.
"Three of the units in the Powertek Facility is scheduled to commence operations from March 1 this year until Dec 31, 2019; while another unit is scheduled to commence operation from March 15, 2016 until Dec 31, 2019," according to the power giant.
TNB and Powertek had previously on Dec 10, 1993 executed an original PPA for the sale and purchase of all the capacity and the electrical energy generated by the Powertek Facility, in accordance with the terms and conditions set out in the agreement.
"The original PPA has expired on Jan 13," it added.
TNB said the signing of the PPA will have a neutral impact on the earnings of TNB over the term of the extension.
It added none of its directors or major shareholders has any interest, direct or indirect, in relation to the abovementioned PPA, save for Tan Sri Leo Moggie and Datuk Seri Ir. Azman Mohd being the nominees of Minister of Finance Incorporated, as well as Ahmad Farouk Mohamed, being the nominee of Khazanah Nasional Bhd.
Shares in TNB was traded unchanged at RM13.18 so far today, for a market capitalisation of RM74.72 billion.