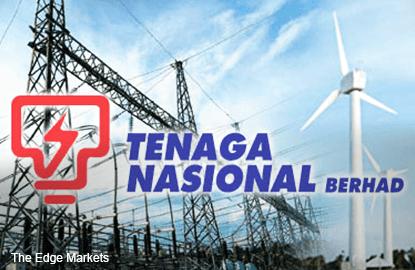 This article first appeared in
The Edge Financial Daily,
on October 21, 2016.
Tenaga Nasional Bhd
(Oct 20, RM14.36)
Maintain buy with a revised target price of RM18.60 versus RM18.20 previously: We expect Tenaga Nasional Bhd's (TNB) earnings to moderate in the fourth quarter of financial year 2016 (4QFY16) as weather conditions normalised. Our forecast implies 4QFY16 core earnings coming in at RM1.5 billion.
We noted that in the first two months of TNB's final quarter, industrial demand stayed weak — down 0.9% year-on-year (y-o-y) and 0.6% for the 11-month period — while demand growth for the commercial and domestic segments slowed drastically to 2.8% and 2.3% y-o-y respectively. This was after demand was boosted by 3QFY16's El Nino effects.
We forecast stable 4% economic growth in 2017. This could see TNB's earnings growth stabilising in FY17. We also expect regulated weighted average cost of capital (WACC) for the FY18 to FY20 regulatory period to be stated in 2017. Given the low interest rate environment, the cheaper borrowing costs could see its regulated WACC being reduced.
Coal prices rallied strongly in recent weeks after the Chinese government capped mining output, according to Reuters. Bloomberg data, sourced from globalCOAL, shows the current one-month futures contract now at US$90 (RM376.20) per tonne, 3% over the imbalance cost pass-through (ICPT) benchmark price of US$87.50 per tonne.
Weighing on the coal cost is also the weak ringgit. Should the rally sustain and the ringgit stay depressed, a tariff surcharge is possible. This assumes that savings from the power purchase agreement renegotiations with the first-generation independent power producers in 2012 would be exhausted. 
Despite the incentive-based regulation in place, tariff changes based on the ICPT mechanism is still subject to government approval.With the 14th general election deadline in May 2018, a tariff hike may be a political risk for the incumbent.
We revisited our earnings assumptions for TNB and tweaked our FY17 earnings mildly by 0.3% and reduced FY18 earnings by 4.7% on lower revenue growth assumptions. The onset of higher energy prices risks a tariff surplus that may dampen electricity demand.
Key risks to our earnings forecasts are a sharp drop in electricity sales, a poor electricity sales mix and construction delays for new power plant projects. — RHB Research, Oct 19