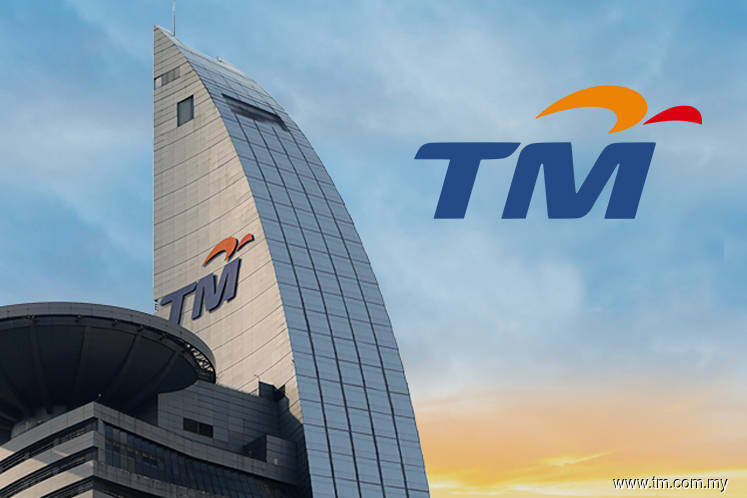 KUALA LUMPUR (Feb 26): Telekom Malaysia Bhd's (TM's) net profit for the fourth quarter ended Dec 31, 2018 (4QFY18) slumped 74.9% to RM69.66 million, from RM277.01 million a year ago, after a year that the group's acting group chief executive officer/chief operating officer Imri Mokhtar has described as "one of most challenging" TM has ever faced.
Earnings per share (EPS) fell to 1.86 sen, from 7.37 sen previously. The group declared an interim dividend of two sen per share, with an EX-date of March 14, to be paid on April 12.
In a stock exchange filing today, TM said the lower profitability was due to higher finance cost and lower foreign exchange gain on the group's borrowings, as well as tax charges. Revenue was also 3.5% lower at RM3.09 billion, compared with RM3.2 billion a year ago.
For the full FY18, TM's net profit fell 83.5% to RM153.15 million from RM929.75 million in FY17, while revenue declined 2.2% to RM11.82 billion from RM12.09 billion. EPS fell to 4.08 sen, from 24.74 sen previously.
TM said its full year revenue was affected by lower revenue from voice, data and non-telecommunication related services. "Data service was affected by the provision made on estimated impact of regulatory mandated access pricing," it said.
TM said 2018 has been a challenging year for the industry and the group expects the environment to remain challenging and impact its business operations.
"TM will accelerate Convergence and empower Digital in line with its transformation that reinforces Customer Centricity.
"The transformation plan will be anchored on the Performance Improvement Program 2019-2021 and will focus on bringing a convergence digital lifestyle to all Malaysians and on enabling enterprise and public sector industry verticals to realise their full digital potential whilst being the industry backbone, connecting Malaysia to the world," it said.
TM said total capital expenditure (capex) investment for 2018 was RM2.14 billion, or 18.1% of revenue, which was lower than TM's full year capex guidance of 19%-20% of revenue. By asset type, access comprised 57.4% of total spending, followed by core network at 17.8% and the remaining 24.8% was for support systems. In 2018, investments were focused on expanding connectivity via deployment of broadband ports and mobile coverage, as well as on digital infrastructure for ICT, data centre, cloud and smart solutions, it said.
"2018 was undoubtedly one of the most challenging times TM has ever faced. We worked tirelessly to address the competitive landscape and industry dynamics, without losing focus on our strategies and organisational mission. We took a big hit but this has only strengthened our resolve to make good on what we need to deliver to all our stakeholders," said Imri.
"We are continuing on our next phase of transformation via the Performance Improvement Programme 2019-2021(PIP2019-2021) to ensure our resilience and long-term sustainability towards shaping a 'New TM' that reinforces customer centricity.
"The 'New TM' does not mean that we are going to emerge as something totally 'different'. The 'New TM' is TM as you have always known it, in an enhanced state," he said.
In transforming to become the "New TM" by 2021, Imri said TM will "incrementally and continuously" improve on doing things in a new and simpler way, in order to serve customers better.
"We will be here for our customers as a one-stop shop, enabling them to access our multitude of offerings and effortless support to fulfil all of their digital lifestyle needs. We will also work towards futureproofing our people through capability-building, future-skilling and new ways of working," he said.
"On the customer front, we are able to serve our customers better across products from end-to-end with our converged networks of fixed and wireless; connected seamlessly with ICT infrastructure and digital platforms," he added.
In the meantime, Imri said TM will continue sweating its assets to optimise performance and achieve better focus through convergence.
"We will leverage on connectivity to defend and grow our core business and partnership ecosystems to explore new businesses. We will also prudently manage our costs to deliver better value for investors, shareholders and stakeholders," he added. 
At 2.56pm, TM shares were down 3 sen or 0.98% to trade at RM3.02, after 2.36 million shares were traded. In the past 12 months, TM's share price has retreated near 49%.